The Chinese Foreign Ministry on Tuesday accused the United States of influencing the increasingly violent pro-democracy protests that have rocked Hong Kong for two months.
"As you all know, they are somehow the work of the US," Foreign Ministry spokeswoman Hua Chunying said at a press conference in Beijing.
Hua added that China would "never allow any foreign forces" to interfere in the semi-autonomous city, and warned that "those who play (with) fire will only get themselves burned."
The comments are one of the most direct accusations Beijing has so far made of US interference in Hong Kong politics, and follow months of speculation inside China that Western forces have had a hand in the movement.
Protesters have been seen waving American flags at some of the demonstrations.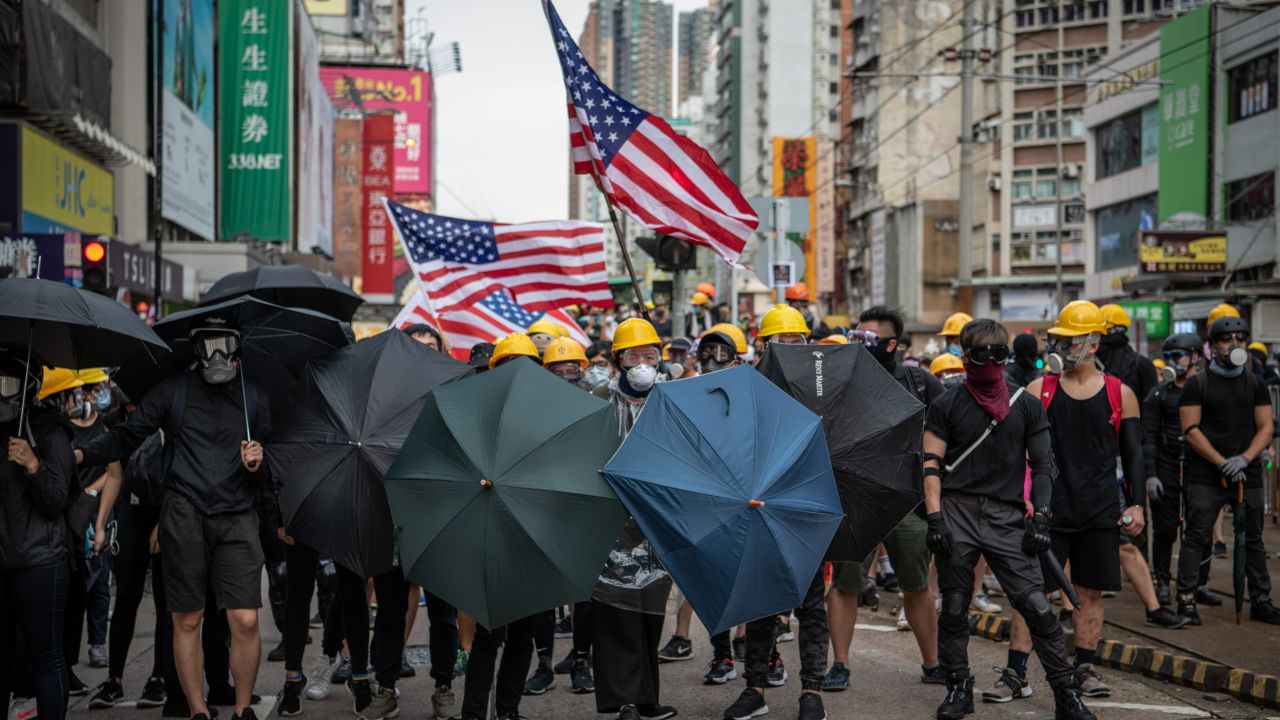 Chinese state media has run multiple editorials blaming the US for the chaos. The state-run tabloid Global Times alleged Monday that there had been "unprecedented levels of contact" between Hong Kong pro-democracy leaders and Western governments.
"It is an open secret in Hong Kong that the forces protesting the extradition bill have been sponsored by the US," the paper said.
North Korea has also leveled such claims at the US. In an editorial on Friday, state-run media Rodong Sinmun claimed the protests were the "outcome of a plot hatched by the US and other Western countries."
However, neither country has provided any evidence for its allegations. At the press conference, Hua only made reference to public meetings between well-known Hong Kong pro-democracy leaders and US politicians.
In a statement to CNN, the US State Department initially called Beijing's claims a "ridiculous statement."
"It is not credible to think that millions of people are being manipulated to stand for a free and open society," the statement said.
However, the department spokesperson later revised the statement to take a more diplomatic stance. "We categorically reject the charge of foreign forces as being behind the protests," the updated statement said.
'The US black hand'
Hong Kong's summer of discontent was initially sparked by a controversial bill that would have allowed extradition to mainland China.
While Hong Kong is part of China, it is governed under a separate political system that allows for greater freedom of speech and rule of law. Protesters were concerned the extradition bill would undermine the city's special freedoms.
That bill has since been suspended, but mass protests have continued and broadened in scope with hundreds of thousands of people taking to the streets over a range of issues, according to police and demonstrators, including greater democracy for Hong Kong, the resignation of the city's leader, Chief Executive Carrie Lam, and an inquiry into police brutality.
The demonstrations have grown more frequent and violent. In two back-to-back protests last weekend, police attempted to clear large crowds with rubber bullets and tear gas, while protesters pushed a flaming cart at police.
Bonnie Glaser, director of the China Power Project at the Center for Strategic and International Studies, said there was a "long-standing tradition" of Beijing blaming external forces during domestic demonstrations or unrest.
"Chinese officials have been telling US officials that they know the US black hand is behind the protests," she said.
After the pro-democracy Tiananmen Square protests in 1989, Beijing accused the US of encouraging the unrest.
"It's pretty typical of how the Chinese describe outside interference, but it's also convenient as it supports a narrative about the evil West trying to undermine China's national rejuvenation," Glaser said.
Hong Kong's protests starting to hurt its economy
Little evidence
There is no evidence of US involvement in the Hong Kong protests. However Washington has been linked to other countries' politics in the past.
Declassified documents in 2011 revealed that the 1953 overthrow of Iranian Prime Minister Mohammed Mossadegh was "carried out under CIA direction as an act of US foreign policy."
Decades later, in 2018, US officials met in secret with Venezuelan military officers plotting a coup against President Nicolas Maduro, but Washington ultimately decided against supporting their cause, a current and a former US official told CNN.
Hua noted Tuesday that top Trump administration officials, including Secretary of State Mike Pompeo and Vice President Mike Pence, had meetings with "opposition personnel" in July.
Both men publicly met Hong Kong pro-democracy media tycoon Jimmy Lai.
It isn't clear, however, whether Beijing genuinely believes the US – and the West more broadly – is behind the protests, or if the claim is propaganda.
"It is a lot easier to tell the outside world (that the US is interfering) than it is to admit the Chinese might have some serious problems in their relationship with Hong Kong and with how the people of Hong Kong view the mainland," Glaser said.
CNN's Steven Jiang contributed to this article.