Tears streamed down her cheeks and she gulped at the sky as the enormity of her achievement sank in.
Teenager Khadijah Mellah was not only the first jockey to race in a hijab in Britain but she won the amateur ladies-only Magnolia Cup at "Glorious" Goodwood after only taking up riding race horses in April.
The 18-year-old from Peckham, a member of the Ebony Horse Club in Brixton, south London, edged her mount Haverland home in front of a cheering crowd on top of the Sussex Downs Thursday and was still crying when she entered the winner's enclosure.
In front of massed ranks of photographers, TV cameras and craning onlookers, she beamed through the tears and punched the air.
"It's been a whirlwind, it's been crazy," she told a scrum of reporters after the official presentation. "Traveling, meeting a lot of different people, early mornings, fitness training. It's been well worth it."
The rapturous scenes were reminiscent of a big win for legendary jockey Frankie Dettori, who Mellah met for the first time at the prestigious race meeting Wednesday.
"He gave me a hug and I was like, 'Oh my god, is this happening?" said Mellah, who is the subject of a TV documentary on her journey.
READ: Female jockey lands historic win at Royal Ascot
READ: Royal Ascot: A day in the life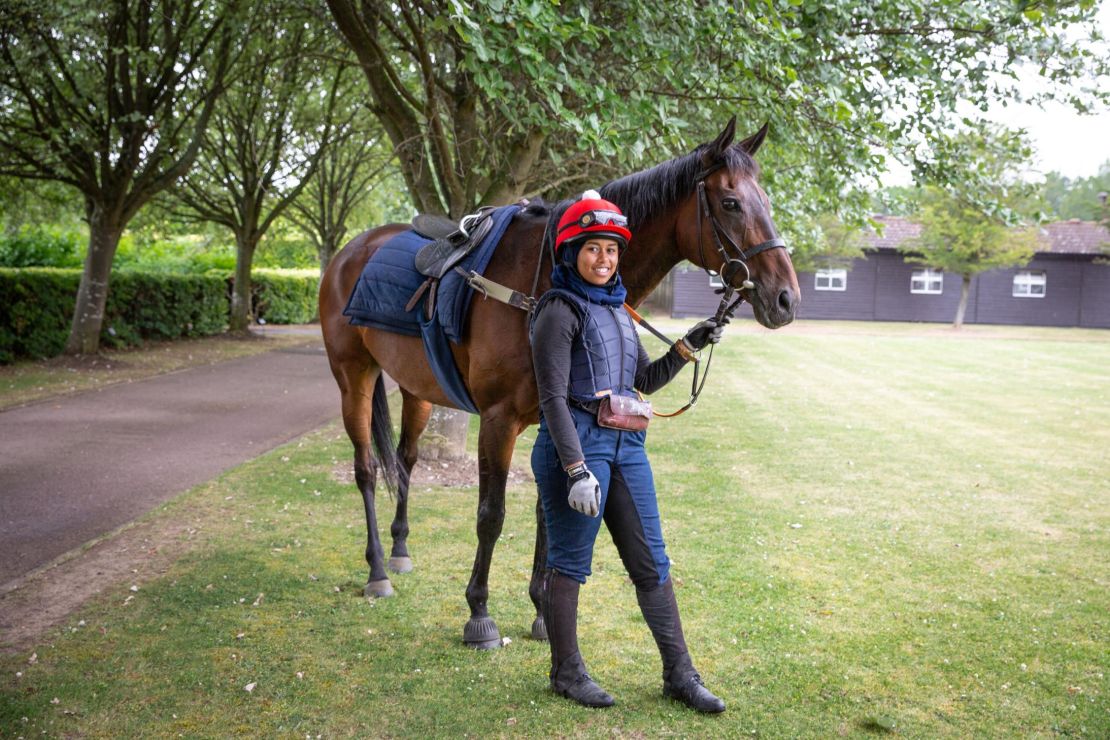 'I'm just so happy'
Mellah found herself blocked in at the start but steered her mount into a gap and kicked on to win.
"We set off and there were three horses right in front of me, the kick back was flying in my face like a brick wall," she said. "I didn't know what to do so I was like let's just pull out and see what happens."
She said of crossing the line first: "I said to the person next to me, 'I cant believe this is happening. Oh my God, I'm doing it.'
"It's been amazing. I'm just so happy that Haverland is OK, he's such an amazing horse."
The Ebony Horse Club, where Mellah began her journey, is a community riding and horse care center intended to give fresh opportunities to young people living in one of London's most disadvantaged areas.
She said she hoped her win would inspire others to aim high.
"Be ambitious and do it," she said. "I've had so much support and I can't wait to see other stories of other women. I definitely want to keep going at it."
READ: London's boutique horse sale in Prince William's back yard
READ: Meet the trainer to royals, rulers and billionaires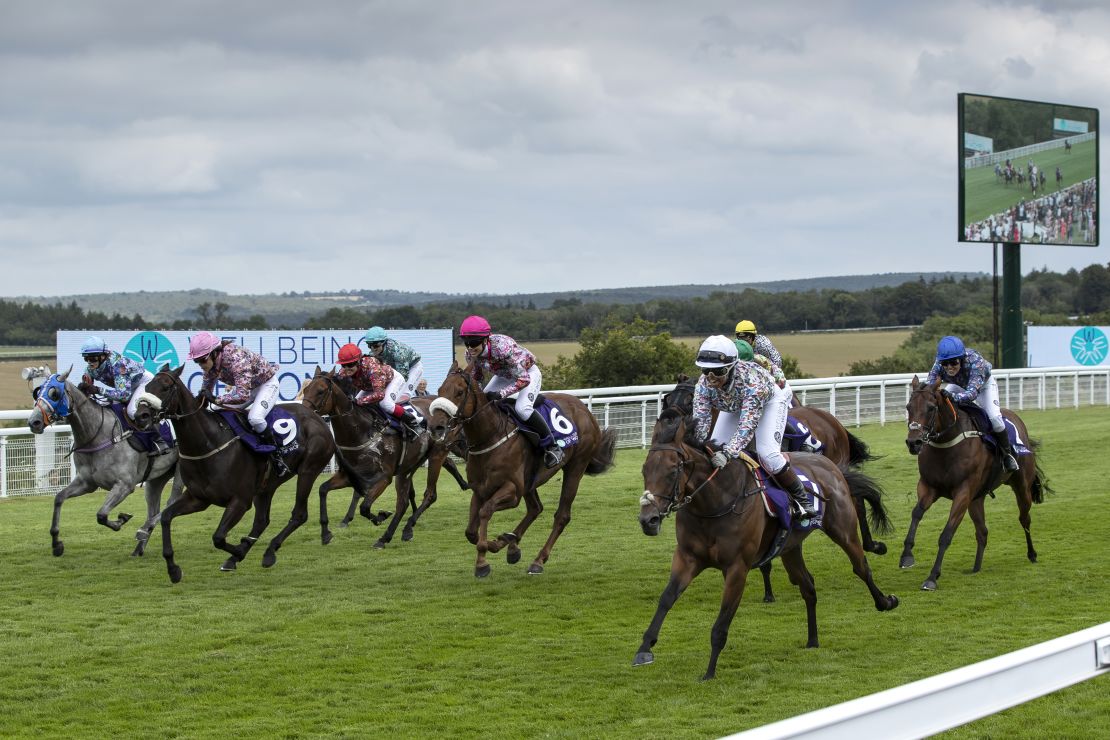 'She's so brave'
Trainer Charlie Fellowes took Mellah to Newmarket in Suffolk, England, for the last few weeks to complete her race riding education.
"She's so brave," Fellowes told reporters at Goodwood. "It never phased her one bit. Every time we've taken baby steps. She'd never galloped before last week, never been this pace before last week.
"She's incredibly competitive but she's very relaxed. I came here to take the saddle off her and there were press everywhere, there were cameras in her face – she's 18 years old and I thought, 'oh my God, is this going to be getting to her?'. But the rest, as they say, is history.
"There are no words to describe how proud I am of her."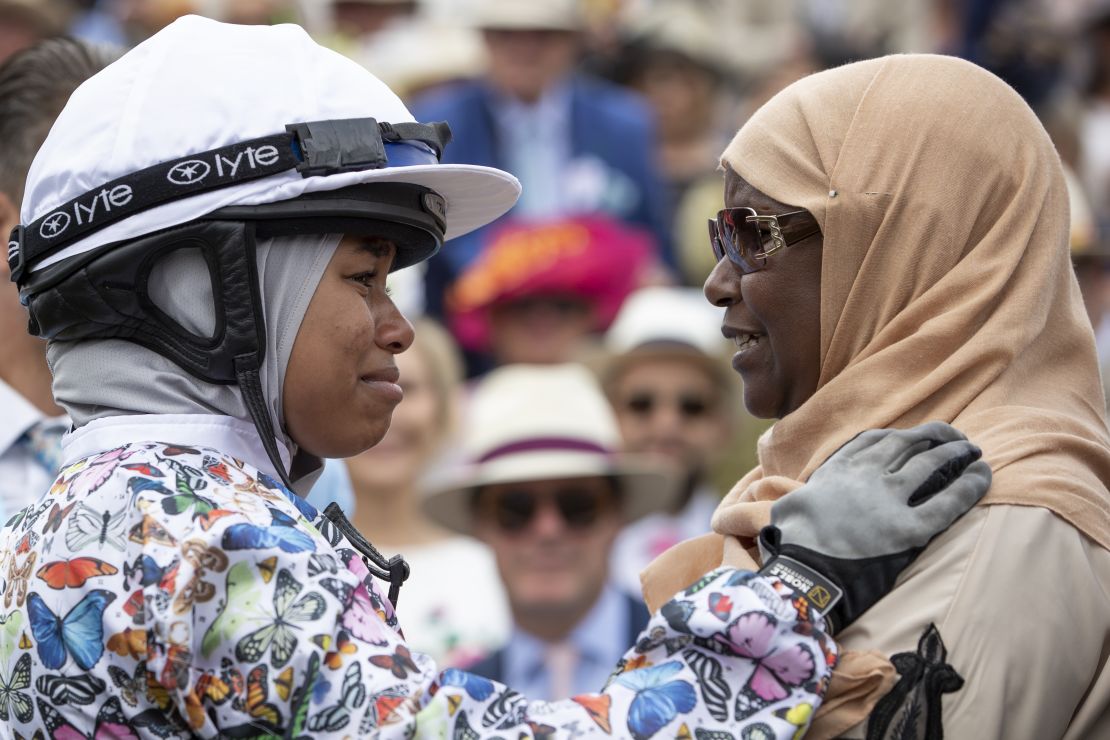 Now in its ninth year, the Magnolia Cup charity race features 12 female amateur riders. Also in the field this year were former Olympic track cycling champion Victoria Pendleton and Irish model Vogue Williams.
Visit CNN.com/sport for more news, features and videos
"It is an incredible result with Khadijah winning - she was so nervous at the start, bless her. Her journey is the stuff of fairytales, and I love a fairytale," said Pendleton.
Racing Post journalist Kitty Trice – another rider who took part in the Magnolia Cup – said: "It is a thrill to see Khadijah win – she is a true role model and just what the sport needs."