Hong Kong stocks had their worst day in months on Monday as investors worried about the city's deteriorating political crisis, slowing economic growth in the region and escalating trade tensions between the United States and China.
The Hang Seng (HSI) Index closed nearly 2.9% lower, marking the biggest single-day percentage decline since the beginning of May. Earlier in the day the index had slumped more than 3%. The Hang Seng (HSI) hasn't closed that low since October.
Just one of the 50 component stocks of the benchmark index eked out a gain as widespread strikes and protests across the city caused major disruptions in the Asian financial hub.
The Hang Seng has dropped 13% since April, wiping out most of its gains for the year.
Local real estate developers and financial services firms all dropped. The top loser was Sun Hung Kai Properties (SUHJF), one of the city's largest developers. It sank 5.2%. BOC Hong Kong, a major lender owned by Bank of China (BACHF), fell 3.4%.
The MTR (MTCPY) — the city's subway system and a major real estate developer — dropped 3.4%.
Elsewhere on the market, local airline operators and retailers fell sharply.
Cathay Pacific (CPCAY), the city's flagship carrier, dropped 4.2%. Tse Sui Luen Jewellery, a Hong Kong jewelry brand, plummeted 12.1%. Department store operator Lifestyle International (LFSYF), which owns stores in Hong Kong, tumbled 6.4%.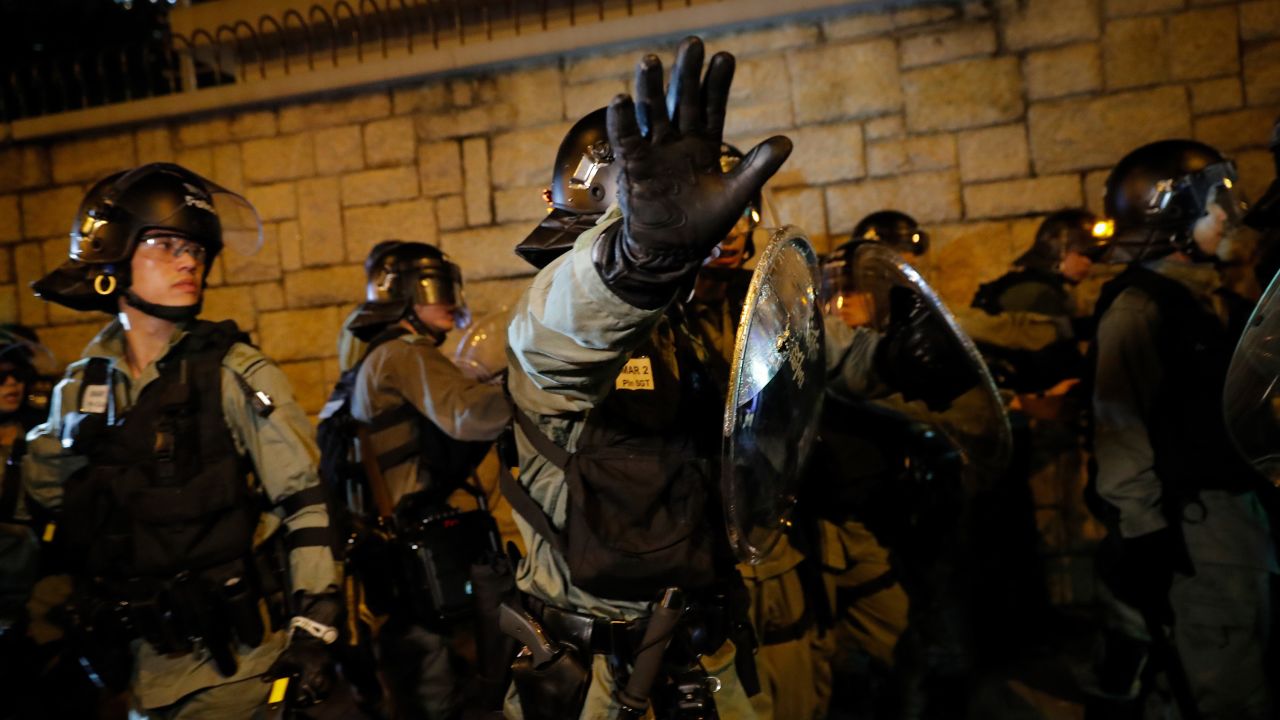 Monday's mass demonstrations caused disruption throughout the city. Hundreds of flights were canceled at the city's international airport and major subway lines were obstructed.
The city is one of the world's most important financial centers, and is widely considered safe and stable for foreign companies and investors. But the protests have begun to shake investor confidence. Hong Kong authorities have warned that the city is beginning to seem insecure to foreign companies and tourists.
Global brands and local merchants are taking a hit. Swiss watch makers Swatch (SWGAF) and Richemont both recently said that sales in Hong Kong were suffering from the street protests.
"Investors are worried the protests will drag down further Hong Kong's economy, especially the retail and tourism sectors," said Alex Wong, director for asset management at Hong Kong-based Ample Capital.
Ongoing trade tensions between the United States and China aren't helping. China let the yuan drop to 7 against the US dollar on Monday, its lowest level in more than a decade. That triggered fears of a further escalation in the US-China trade war.
The yuan slump has triggered the "panic selling" of Chinese companies, Wong said, adding that investors are "scared about a potential currency war between the US and China."
New data about China's services sector also contributed to market anxiety. The sector grew at the weakest pace in five months in July, according to the Caixin/Markit purchasing managers' index, a private survey.