Rep. Tim Ryan wants to be America's "zen president."
On Tuesday night, the Ohio congressman and 2020 Democratic presidential contender held a New York City fundraiser that featured a yoga class and a breathing session. "Healing America Through Mindful Leadership," the yoga portion, was led by two military veterans, former Army Ranger Rolf Gates and Dan Nevins, who lost his legs to a roadside bomb as a US soldier in Iraq.
The event was part of what Ryan said he expects to become a continuing theme of his candidacy: Be mindful.
By placing that – and yoga – at the center of his campaign, Ryan said, he wants to emphasize "reconnecting and starting with taking the temperature down in the country."
"I think America's going to be looking for a zen president after this," he said. "You look at the presidents we admire over the years, and they have that quality of equanimity in rocky times."
He pointed to Abraham Lincoln and Franklin Delano Roosevelt during times of war and John F. Kennedy during the Cuban missile crisis, who were collected under intense pressure.
"That's what it means to be a president – not what we have now," he said.
Ryan said yoga and mindfulness techniques are part of what he sees as "the next version of America" – coping with and overcoming challenges from economic anxiety and addiction to a lack of sleep.
"Where we learn how to take care of ourselves; where the technology and the systems don't run us, but we run the systems. And right now, I think the systems are running us," Ryan said.
"The systems are chewing us up now," he said, "and what we have to do is kind of reconnect with ourselves and transform these systems so that they work for us again. And that only starts by getting out of the rat race mentally, and having leaders that will get us out of the rat race."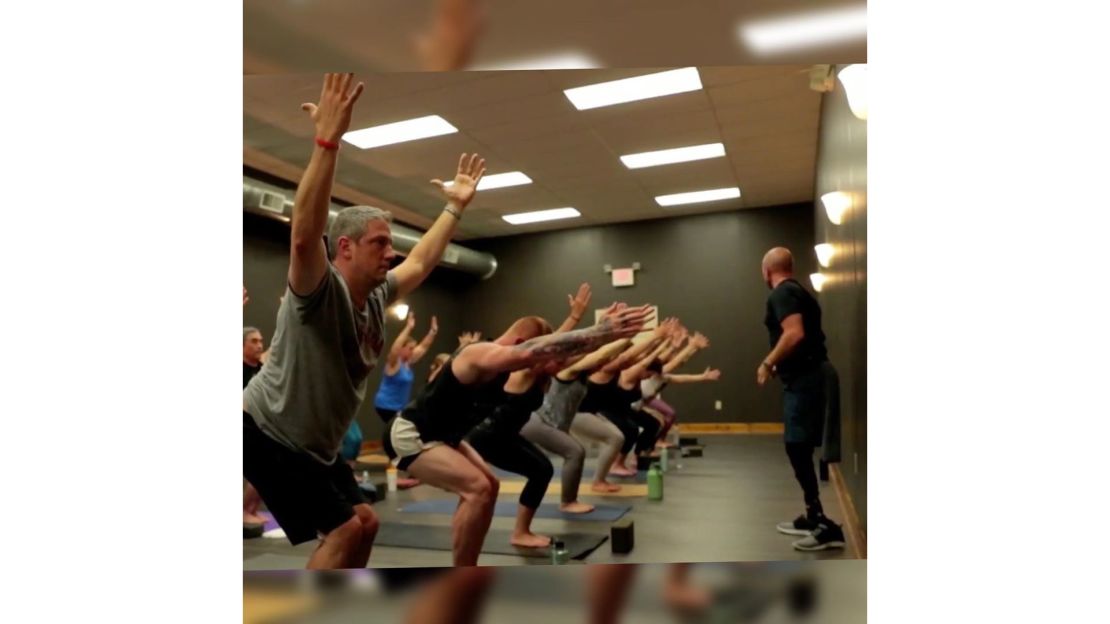 His campaign plans to schedule another yoga and mindfulness-focused event for Portsmouth, New Hampshire, within the next two weeks, he said.
Among the attendees Tuesday night was Johane Ligondé, the principal of John W. Dodd Middle School in Freeport, New York, who said she had met Ryan several years ago when she spoke to members of Congress about stress in students.
Ligondé said students at her largely Hispanic school have had to deal with trauma such as their family members being deported. She said the school has implemented eight minutes of breathing techniques every morning.
"The building shuts down – everybody drop everything and breathe, and kind of get a reset for your day – and we've seen a tremendous improvement in our student population with those techniques," she said.
"Stress is an everybody issue, and Tim gets it," she said. "Tim is the only candidate right now who I believe gets it."
"He actually speaks from experience, and he's able to say, hey, this works for me," Ligondé said.
Ryan said he meditates every day. He also does hot yoga at a studio in Georgetown when he is in Washington – which he said hasn't happened as often as usual lately, given the travel that running for president requires.
The nine-term congressman's interest in yoga and mindfulness started with basketball great Michael Jordan.
"I was a Cavs fan but everybody was a Michael Jordan fan," he said. And Jordan's coach with the Chicago Bulls was Phil Jackson, a basketball legend and author who was nicknamed the "Zen Master." Ryan said he read Jackson's books, first from an athlete's perspective – Ryan was a star quarterback in high school, played briefly in college and has coached basketball – and later realized the same philosophies applied to politics.
Ryan said that while attending a mindfulness retreat, he realized how the practices could be helpful for children dealing with attention deficit disorder and for veterans combating post-traumatic stress disorder and other challenges.
As a member of the House Appropriations Committee, Ryan said, health practices that were cheap and had "no side effects, no pills to take" appealed to him – and led him to write a book on the topic in 2012.
"I really started to see it as an extension of my own practice," he said.
In a text message after the interview, Ryan added: "Interesting too that one of the benefits of mindfulness is that it reduces inflammation in the body. So a more mindful society is like reducing the inflammation of the body politic."