Muhammad Ali's fights against George Foreman – "the Rumble in the Jungle" – and Joe Frazier – the "Thrilla in Manila" – helped establish boxing's heavyweight division in the global public's consciousness.
Boxing promoter Eddie Hearn is hoping the rematch between Anthony Joshua and Andy Ruiz Jr. in Saudi Arabia – dubbed the "Clash of the Dunes" – could do the same and "change boxing forever."
The fight is due to be held in Diriyah, on the outskirts of Riyadh, on December 7.
Saudi Arabia has hosted a number of fights in recent times, including Amir Khan's win over Billy Dib, but Amnesty International UK has urged Joshua to "inform himself of the human rights situation" in the Middle East country ahead of the rematch.
"We had approaches from Saudi Arabia, Dubai, Qatar and Abu Dhabi," Hearn told a media conference in London, explaining the decision to stage the fight In Riyadh.
"We wanted to go somewhere that believed in the sport of boxing, which had a vision. We already knew Saudi Arabia was for real and knew they were investing in the sport of boxing. That was very important for us."
READ: Jurgen Klopp leads praise for history-making female referee
READ: Equal pay talks between US Soccer and USWNT break down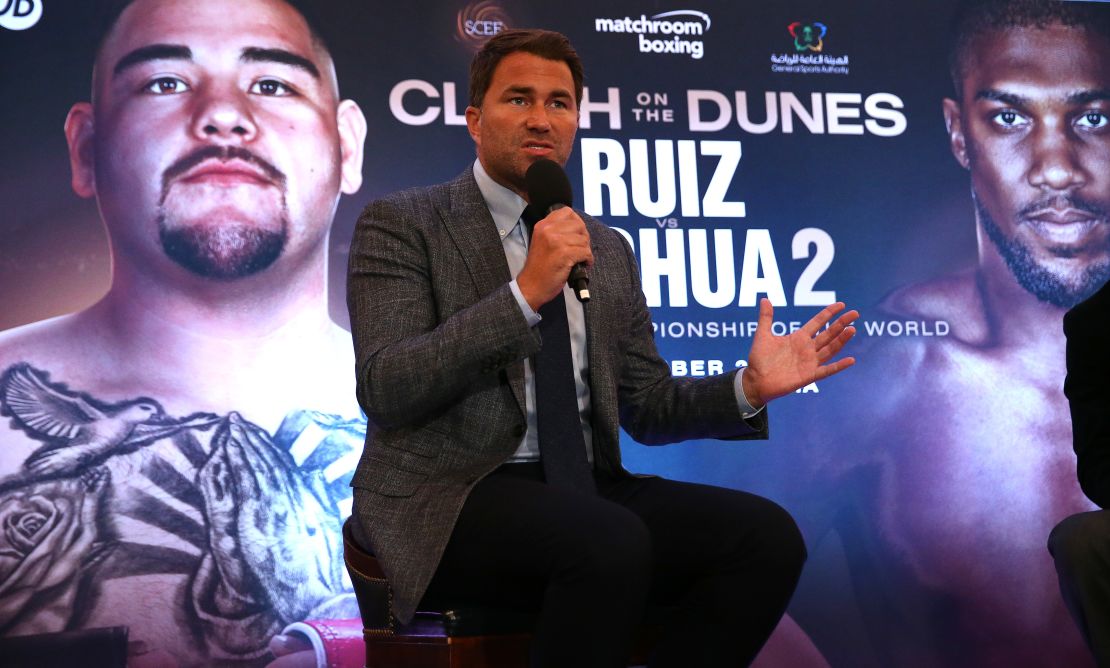 'Sportswash'
Saudi Arabia has recently hosted sporting events such as soccer's Italian Super Cup, the opening race of the 2018-19 Formula E season and will stage the world's richest horse race in 2020.
However, there are fears over the current human rights crackdown "with women's rights activists, lawyers and members of the Shia minority community all being targeted," according to Amnesty International UK.
"It's likely to be yet another opportunity for the Saudi authorities to try to 'sportswash' their severely tarnished image," said Felix Jakens, Amnesty International UK's Head of Campaigns.
"I knew that when we made the decision not every response would be positive, and that there would be criticism and controversy," Hearn told the Guardian, in response to the criticism of staging the fight in Saudi Arabia. "I'm a boxing promoter and sometimes the criticism and the curiosity will lead to an event of an extraordinary magnitude."
Hearn also believes the country's growing population – over 34 million – can give boxing a platform to reach new levels of popularity.
"If Saudi Arabia is going to invest in these fights, with the population they have, with the potential to grow the sport of boxing, you could be seeing a big change in the dynamics of the sport, which truly excites me," Hearn added.
CNN has reached out to Saudi Arabian government officials but has yet to receive a reply.
READ: 'An inspiration for all fat people': Tyson Fury praises Andy Ruiz Jr.
READ: 'I had no panic attack,' says Anthony Joshua after shock defeat
Tyson Fury looking to save lives and win belts (2019)
Ruiz confusion
Joshua, who suffered a shock defeat when the heavyweight pair first met in New York City in June, posted a message on social media confirming the fight but his Mexican opponent seems to have other ideas.
On Wednesday, a video on social media appeared to show Ruiz Jr. dismissing the fight would be held in Saudi Arabia and a widely reported television appearance later added to the confusion.
"I have not signed anything yet, we are negotiating everything," he told ESPN in Mexico, before stating he would prefer the rematch to take place in New York.
However, Hearn said that both fighters have signed the contract and confirmed the fight would go ahead.
Visit CNN.com/sport for more news, videos and features
Ruiz, who was born in California but has Mexican parents, had made calls for the rematch to be held in Tijuana where he made his professional debut in 2009.
The Principality Stadium in Wales – the site of two professional victories for Joshua – had previously been thought of as the most likely site for the fight.
"Ruiz had a moan about the UK," added Hearn. "We said: there's your neutral venue."