Thirteen-year-old Moustafa Hamed said he and his mother, Reem Mohamed Desouky, were looking forward to their trip to Egypt.
"We were excited to come to Egypt so we could spend time with our family during summer break," the Pennsylvania teenager said in a video obtained by CNN.
That excitement quickly vanished on their arrival in the country last month. Desouky, a dual US-Egyptian national, was jailed after she and Moustafa were detained and interrogated at the airport.
Moustafa is now pleading for anyone, including US President Donald Trump, to help secure his mother's release.
"Please, President Trump, please help. America, please, I just need my mother," he said in another video. "We're not supposed to be in this problem right now."
Human Rights Watch reported last week that Egyptian authorities have arrested six dual nationals – including a Canadian, an Australian and two Germans – in recent months. Michael Page, the deputy Middle East and North Africa director at Human Rights Watch, told CNN that the arrests "are starting to appear as a pattern."
'I was so scared'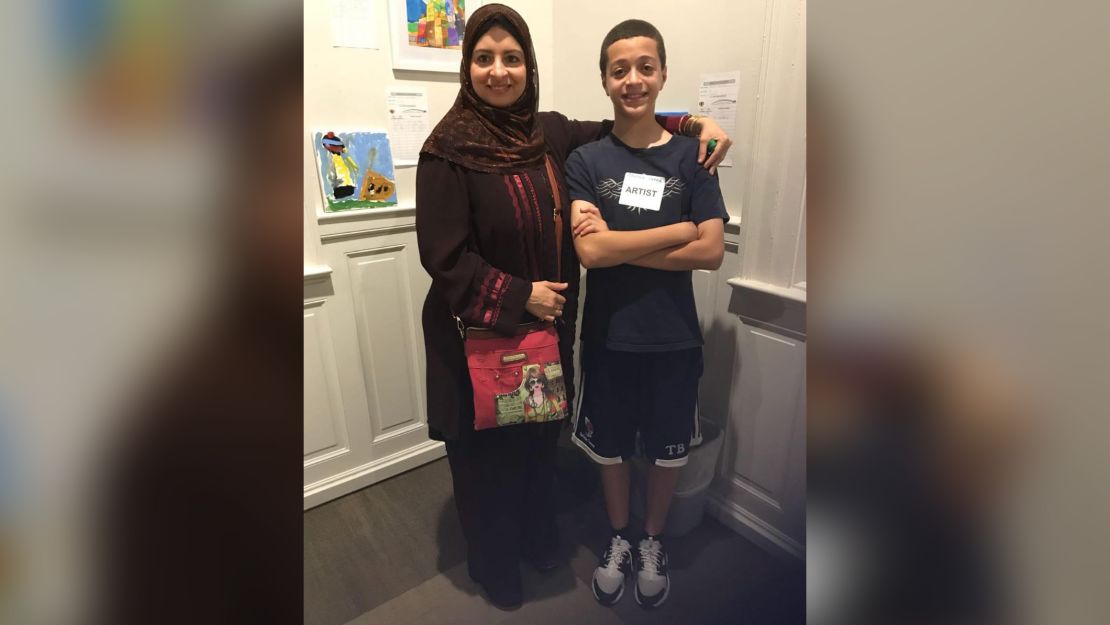 "It was a horrifying experience for me," Moustafa said in the video about being interrogated. "I was so scared."
Moustafa said authorities confiscated their phones. He was released after 11 hours at the airport, he said; his mother was not. Moustafa said he was taken in by his uncle, Reem Desouky's brother Nour Desouky.
Egyptian authorities have reportedly charged Desouky, an art teacher and single mother, with "administering Facebook pages that aim to shake the grandeur of the state," according to Mohamed Soltan, the leader of the Washington-based human rights organization The Freedom Initiative.
In another video, Moustafa said that when he and his uncle went to visit his mother, his uncle was also detained. Both remain in custody, according to Soltan.
"Now my whole family is scared to visit my mother," Moustafa said. "They're scared whatever happened to my uncle would happen to them."
Soltan said Nour Desouky faces the same charge as Reem Desouky but that he believes Nour's "only crime is getting legal representation for his sister and trying to shed some light on his sister's case."
Soltan, who has been in touch with the family and the lawyer and is himself a former political prisoner in Egypt, said that before he was detained, Nour Desouky had been applying for a visa to accompany Moustafa back to the United States.
"He's applying for a tourist visa so he can come with Moustafa, so that Moustafa can come back to school and to have a little bit of normality in his life," Soltan told CNN. "It's heartbreaking. It's really heartbreaking."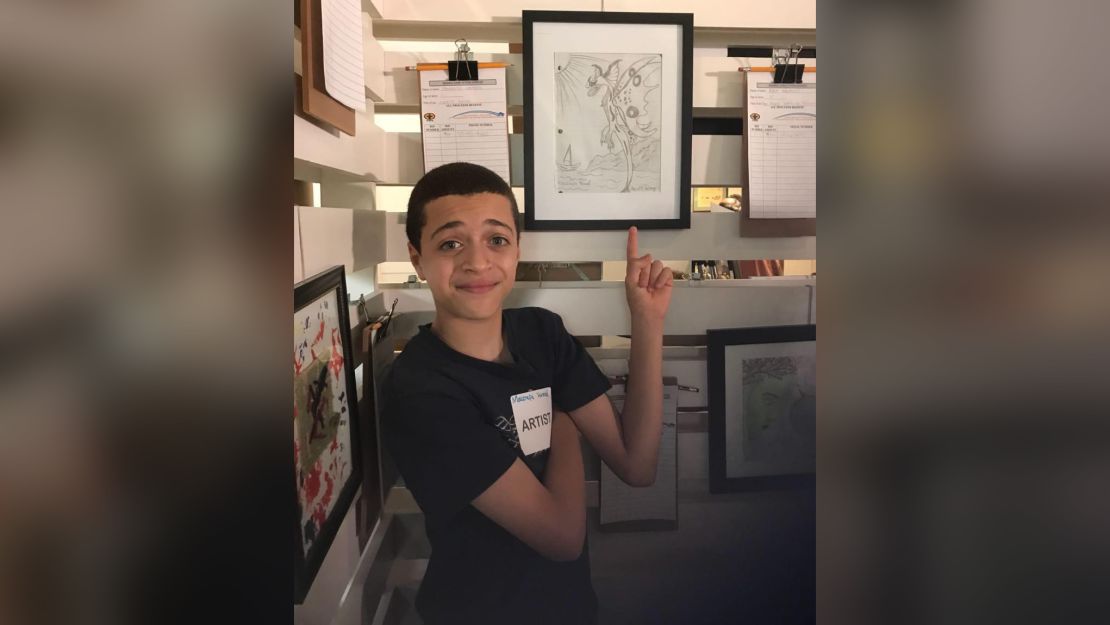 Moustafa said in one of the videos that he does not want to return to the US without his mother. The rising eighth grader is also pleading for help for his uncle's release.
The US State Department, asked about Reem Desouky's case, said it was "aware of the reports of the detention of a US citizen in Egypt."
"As always, when we learn of the report of a detained US citizen, we request immediate consular access from the Egyptian authorities," a State Department official said. It is unclear if Desouky has been granted consular visits. The US Embassy in Cairo did not immediately reply to a request for comment.
Egypt's Embassy in Washington and the Foreign Ministry in Cairo have not replied to several requests for information about Reem Desouky and the status of her case. Soltan told CNN that Reem and Nour Desouky "have representation on the ground from the Egyptian Commission on Human Rights."
'He attempted suicide'
Reem Desouky, who was detained on July 7, is not the only US dual national who has been jailed in Egypt.
Last week, Human Rights Watch and The Freedom Initiative urged Egyptian officials to investigate the reported suicide attempt of another Egyptian American, Khaled Hassan.
Hassan, a limousine driver who had been living in New York, was detained in secret and forcibly disappeared for four months starting in January 2018, according to Human Rights Watch. He reported having been tortured and raped. In a statement in October 2018, Egyptian authorities denied Hassan's allegations of torture, rape and enforced disappearance, according to Human Rights Watch.
"On July 29 around noon he attempted suicide by slitting his wrist and taking large amounts of hypertension pills. After other inmates found him unconscious, prison authorities transferred him to Tora Istikbal prison hospital, where his wounds were treated," the rights groups said in its report.
"Hassan's family said that he saw a psychiatrist that day who provided him with medication, and that he was returned to his cell the same evening. They raised concerns about whether he was receiving appropriate medical care."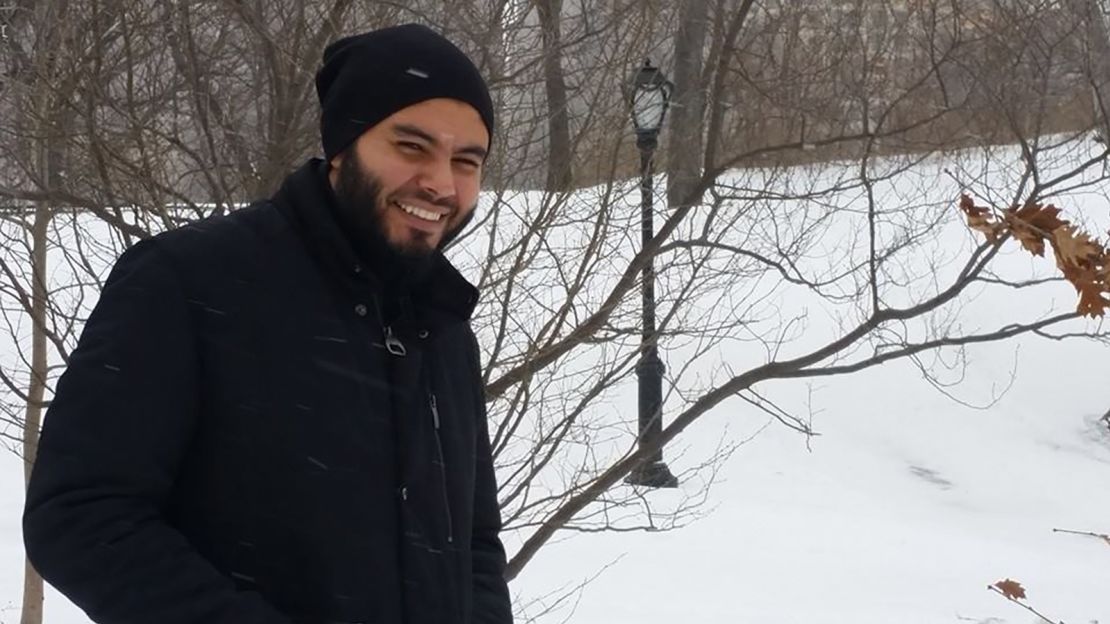 According to Human Rights Watch, "Egypt's military prosecutors had included Hassan in a 2018 case known as the 'Sinai Province Case II,' in which hundreds of defendants are accused of joining the Egyptian ISIS affiliate and aiding its goals through spying on the army and plotting violent attacks."
Hassan denied any involvement with the group, according to Human Rights Watch, and said he knows only one other person accused in this case – someone who was also severely abused and needed surgery afterward.
According to the report, Hassan made the suicide attempt after being denied a visit with his brother, who was in Egypt from the US. Hassan's family said the visit was denied four times.
A second State Department official said they were following Hassan's case "closely and are concerned for Mr. Hassan's health and well-being." Egyptian authorities in Cairo and in Washington did not respond to questions about the case. Page, of Human Rights Watch, said Hassan remains detained.
"We urge the Egyptian government to ensure Mr. Hassan and all detainees are treated humanely and their fair trial guarantees are respected," the official said. "We are in close contact with his family and continue to provide all possible consular services to Mr. Hassan. We are troubled by allegations of torture and continue to strongly urge the Government of Egypt to provide humane treatment for Mr. Hassan and for all prisoners."
The official said they "do not generally release the number of US citizens detained abroad, both due to privacy considerations and to the difficulty in establishing authoritative numbers in many countries."
'Bring these Americans home'
Both Page and Soltan said the Trump administration could use its leverage to make a difference for Americans detained in Egypt.
"The US in particular has a huge potential leverage and role if they should seek to do so," Page told CNN, noting that the US could consider trying to restrict or withhold aid until the Egyptian government commits to reforms.
"I think this administration has been at work on these issues. I think they've been very effective at bringing Americans home and I would like to see a lot more being done on the Egypt cases," Soltan said. "There's a lot of people in this administration that have a good relationship with Sisi and his folks, but I think that they need to use that leverage and pressure the Egyptian government and bring these Americans home."
"We know that these are very, very politicized charges. We should be using the leverage that we have," Soltan added.
In 2017, Trump successfully negotiated the release of Egyptian-American charity worker Aya Hijazi and her husband from an Egyptian prison where they had spent nearly three years behind bars. Then-White House press secretary Sean Spicer said that Trump "directly engaged behind the scenes" to secure Hijazi's release and raised the issue with Egyptian President Abdel Fattah el-Sisi.
The US President welcomed Hijazi to the Oval Office in April 2017, telling her she showed "great strength" in her ordeal.
Trump has been less vocal about the Egyptian president's human rights abuses, instead heaping praise on Sisi in April when he hosted the Egyptian leader at the White House.
"I think he's doing a great job," Trump said, calling Sisi a "great person."
The White House declined to speak on the record about Desouky's or Hassan's cases.