Two years ago, a chemical strike by the Syrian regime in Khan Sheikhoun killed dozens and resulted in the Trump administration carrying out airstrikes mostly targeting against Syrian airfields, a warning from the most powerful nation in the world, that was more of a slap on the wrist.
Local residents recall the attack with horror. "I saw the wounded, they were lying out there naked, they looked yellow." Umm Ahmed told CNN by telephone. "I cant forget the images – children, a woman, and a man, a family …" her voice trails off.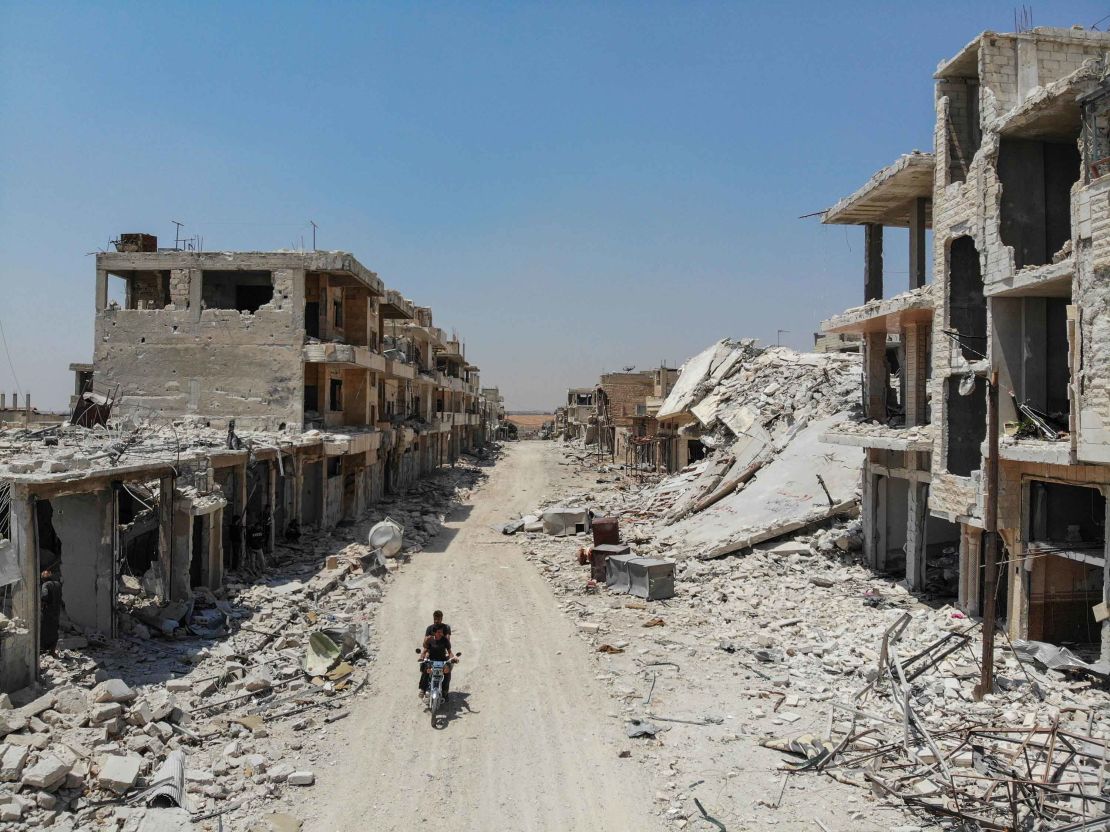 The US airstrikes failed to deter President Bashar al-Assad from continuing his campaign of brutality of course. And now, for the first time in five years, the Syrian army has entered the northwestern town, strategically located on a highway connecting the capital Damascus to Aleppo, as Assad bombs with impunity in an attempt to end the brutal eight-year civil war.
"The Syrian military are inside the city of Khan Sheikhoun," one media activist told CNN on Thursday adding that "opposition fighters tried to repel the Syrian military but came under heavy fire last night and fled the city."
The move comes after yet another cease-fire between government forces and rebels crumbled. Russian and regime fighter jets then pulverized remaining rebel positions to force a withdrawal, sending a wave of fear through civilians trapped in the province.
"I was thinking to myself, we don't have anywhere to go," added Umm Ahmed, who fled Khan Sheikhoun seven months ago after an airstrike shattered the windows of her home. Her voice is steady but filled with the pain of the past eight years. "Death is death. It's coming. There is no choice. What sort of hell are we going to see?"
'Playing with fire'
Khan Sheikhoun is located in the southern part of Idlib province, to the north of a demilitarized zone established a year ago following negotiations between Turkey and Russia. To advance on the city, ground forces arched around, surrounding a Turkish military observation post. Last week there was a regime strike close to a Turkish resupply convoy.
"We have no intention of moving it and it will continue to serve out its purpose," Turkey's Foreign Minister Mevlut Cavusoglu said. "The regime should stop playing with fire."
These latest moves are perhaps an indication of dangerously shifting dynamics in Syria's sickening war, the start of what everyone CNN has spoken to in Idlib is terrified of: the ground assault.
But when it comes to Syria and its powerful ally Russia, there are no rules of engagement, no red lines and no real ramifications. And it remains unclear what Turkey can do to prevent the ground push that would constitute a blatant disregard to the demilitarized zone.
Khan Sheikhoun is Syria's last remaining rebel stronghold, home to some 3.5 million civilians – one-third of them children. This is the province that people fled to as Aleppo, Hama, Homs, Douma and other areas fell back into Syrian government control. Most of those here have been displaced multiples times, trying to stay ahead of the bombings; but where do you run when there is no where left to go?
Turkey's border is now closed, the camps along it are bursting and new arrivals set up makeshift tents under olive trees, even giving birth there. Hospitals are constantly and regularly targeted, along with agricultural fields.
Syria's Foreign Ministry said it's opening "a humanitarian corridor" for civilians to leave the region, state-run SANA news reported Thursday. SANA said the Syrian army will provide protection "in order to enable citizens willing to exit the areas controlled by terrorists in the northern countryside of Hama and southern countryside of Idlib to leave."
But for those residents it's an impossible choice. Stay in Idlib and risk death or leave into regime-held territory and risk death or detention.
CNN visited Idlib early last month. The roar of fighter jets was a terrifying constant, mothers sat shell-shocked by their wounded children in one of the few remaining hospitals, and people we spoke to begged just for a blanket.
Umm Ahmed is staying with relatives along with her husband and remaining children. She fears death is coming.
"I have nothing left. I live hour by hour, minute by minute, what can I say about hope?"
From CNN's Kareem Khadder in Jerusalem, Mohammed Tawfeeq and Hande Atay Alam in Atlanta.