Boris Johnson's surprise decision to suspend the British parliament in the runup to the next Brexit deadline appears to have had its desired effect.
Opponents of the British Prime Minister's tactics were left scrambling on Thursday for a response to the move, which limited their options to prevent Britain leaving the European Union without a deal on October 31 if Johnson were determined to pursue that route.
Opposition leaders released a joint statement via Twitter on Thursday night, announcing they will work together to stop Johnson's "smash and grab on democracy."
The joint statement from the Labour Party, the Scottish National Party, Liberal Democrats, Plaid Cymru, The Independent Group for Change and The Green Party demanded that Johnson reverse his decision to suspend parliament, or "allow MPs to vote on whether there should be one."
Earlier, Jeremy Corbyn, leader of the opposition Labour Party, said he would support efforts to "legislate rapidly" against a no-deal Brexit in the limited timeframe available.
"What we're going to do is try to politically stop him, on Tuesday, with a parliamentary process in order to legislate and prevent a no deal Brexit and also to try and prevent him shutting down parliament during this utterly crucial period," Corbyn told Sky News.
The Queen on Wednesday approved the Prime Minister's request to prorogue Parliament in order to restart the political calendar – usually a routine annual event. But the timing has been criticized because it limits opportunities for MPs to legislate against a potential no-deal Brexit.
Jacob Rees-Mogg, Leader of the House of Commons, argued the suspension was "completely constitutional and proper." Parliament will reconvene for a Queen's Speech – which sets out the government's legislative program for the new session – on October 14, around a week later than they would likely have returned from a separate recess for party conferences.
Amid the fallout on a hectic day in Westminster, Johnson lost an important figure from his party. Ruth Davidson, the leader of the Scottish Conservatives, announced she was resigning on Thursday – citing both a desire to spend more time with her family and a "conflict" she has felt over Brexit.
Davidson, who has been an outspoken critic of a no-deal Brexit, urged Johnson in her announcement to "get us a deal with the European Union" and told MPs who three times voted down Theresa May's agreement: "For God's sake, get behind it."
The outgoing leader had revived the party's fortunes in Scotland, touring the country with charismatic flair and energy. There is no obvious successor, and her departure imperils the party's standing in a nation where the party has traditionally struggled, and where voters backed remaining in the European Union in 2016.
In her resignation speech in Edinburgh, Davidson said the Prime Minister had "categorically assured me" he was trying to secure a deal with the EU after she "asked him outright" at a meeting last week.
Minutes earlier, another senior Conservative, George Young, resigned from the front bench in the House of Lords in protest at Johnson's suspension of Parliament.
In his resignation letter, seen by CNN, he said Johnson's decision risked "undermining" the role of Parliament at a "critical time" in the country's history. "I am very unhappy at the timing and length of the prorogation, and its motivation," Young added.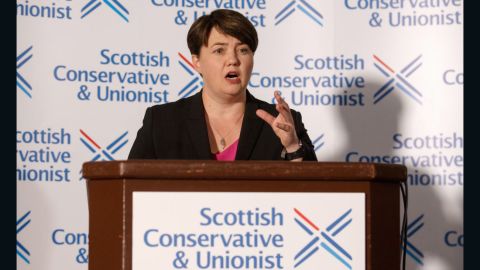 Challenges to Johnson's decision were also filed in separate courts by a cross-party group of 70 MPs and peers and the prominent anti-Brexit campaigner Gina Miller.
Miller, who orchestrated the successful campaign to ensure a parliamentary vote on any Brexit deal, told the BBC Johnson was "hijacking the Queen's prerogative power."
And a petition calling for Johnson to reverse the decision surpassed 1.4 million signatures just hours after it was launched.
While it is common for governments to suspend Parliament in the run-up to a Queen's Speech, critics have been irked by the timing of Johnson's move.
It leaves MPs just a handful of days' worth of debate before the October 31 Brexit deadline.
Johnson rebutted on Wednesday that lawmakers would have "ample time" to discuss Brexit before the deadline, which he has repeatedly pledged to stick to, "do or die."
Meanwhile, Dutch Foreign Minister Stephen Blok said on Thursday that "serious talks" on Brexit had taken place in Brussels this week, but warned the two sides "are not there yet" on a deal.