Boris Johnson's government will prorogue, or suspend, Parliament at the end of Monday's sitting, the Prime Minister's official spokesperson has told journalists.
The spokesman added that the suspension will happen after Johnson tries to convince lawmakers to grant him a snap general election for the second time.
Unfortunately for the Prime Minister, that motion looks set to fail again, after opposition parties showed a united front on Friday, saying they would not support it.
The prorogation until October 14 – a longer period than is usual – has drawn widespread condemnation from UK lawmakers.
Chief among the critics was John Bercow, the long-serving Speaker of House of Commons, who announced Monday that he would step down on October 31 – the day the UK is set to leave the European Union – unless an election is called before that date. If Johnson succeeds in securing an election, Bercow said he would stand down this week.
"Throughout my time as speaker I have sought to increase the relative authority of this legislature, for which I will make absolutely no apology to anyone, anywhere, at any time," Bercow told MPs Monday.
"To deploy a perhaps dangerous phrase, I have also sought to be the backbenchers' backstop," he added. "This has been … the greatest privilege and honor of my professional life for which I will be eternally grateful."
Bercow had previously called the suspension to Parliament an "offense against the democratic process," saying it was "blindly obvious" Johnson was attempting to limit debate over Brexit with the move.
The Queen granted Johnson's request for the five-week suspension late last month – ostensibly so that the government could reset the parliamentary timetable and launch a new legislative program.
But the plan to prorogue Parliament was widely seen as an attempt to limit the time for Johnson's opponents to prevent a no-deal.
In the weeks since, it has been criticized as "undemocratic" and slapped with several legal challenges, including one from a former UK Prime Minister.
News of the planned suspension, which will be the longest since World War II, jolted Britain's fractured opposition parties. Divided on Brexit, they united in their opposition to what they perceived as an all-out assault on British constitutional conventions.
Since the decision, a cross-party alliance of MPs has banded together to push through a bill stopping the UK from leaving the European Union without a deal on the October 31 deadline.
In response, Johnson fired 21 rebel MPs who voted with opposition lawmakers in favor of the bill. The list included eight former Cabinet ministers, two former finance secretaries, the longest-serving member of the House of Commons and the grandson of Winston Churchill.
The law, which received royal assent (the Queen's approval) on Monday, will force Johnson to ask Brussels for a Brexit extension until January 2020 if he cannot secure a new agreement at a summit scheduled for mid-October.
Last week the PM said he'd rather be "dead in a ditch" than ask the EU to delay Brexit, and his government seems to be probing ways to bypass to the bill.
"Of course this government will obey the law," Chancellor Sajid Javid told the BBC on Sunday. But he added seconds later that Britain "will leave on October 31," and that Johnson "absolutely will not" ask for an extension in October.
Former Supreme Court justice Jonathan Sumption told BBC Radio 4's Today program it would not be legal for Johnson to apply for a Brexit extension, while also trying to get the EU to reject it.
"The Bill, or Act, as it's about to become, says that he's got to apply for an extension. To send the letter [to the EU] and then try to neutralize it seems to me, plainly, a breach of the Act," Sumption said.
"What you've got to realize is the courts are not very fond of loopholes."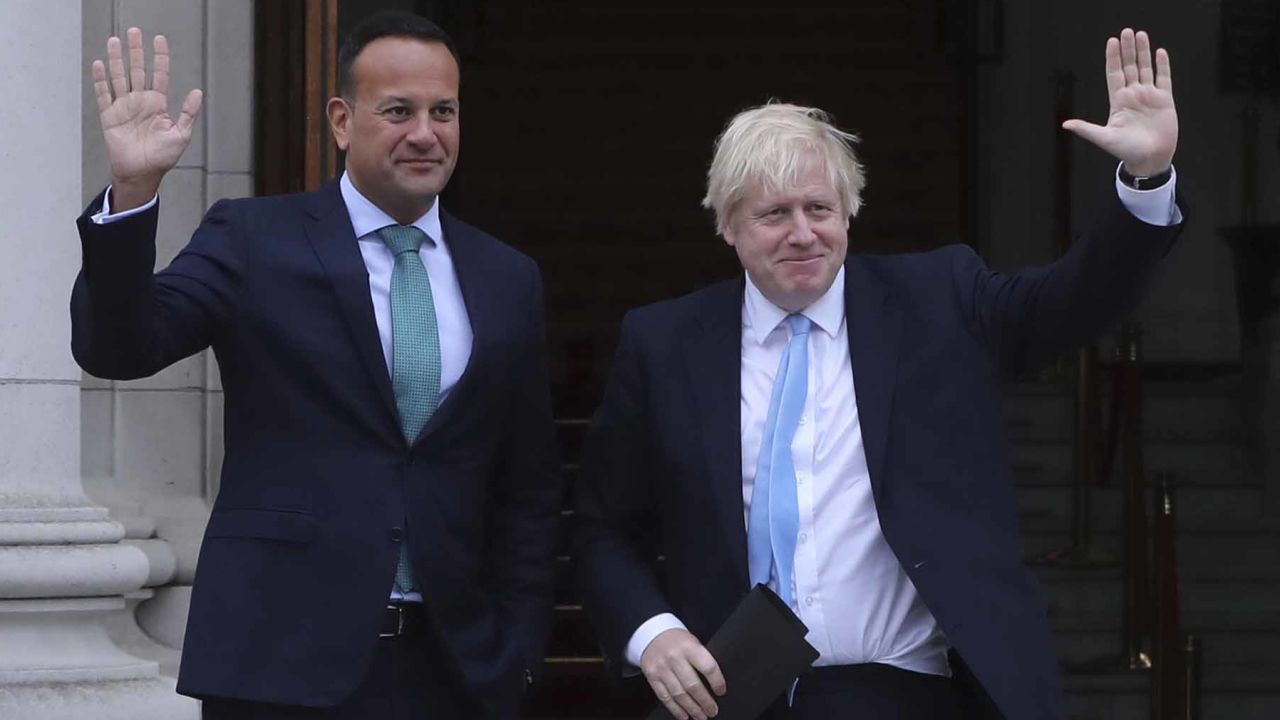 It's also unclear whether the EU would agree to another extension.
Meeting with Johnson in Dublin on Monday, Irish Prime Minister Leo Varadkar said the bloc would need a "good reason" to grant a third delay, adding that most EU countries would "prefer not to have an extension."
"We will just move on to a new phase if there is no deal – it will cause severe disruption for British and Irish people alike, not so much on the continent," Leo Varadkar said.
"Whatever happens, we will have to get back to the negotiating table quite quickly. And when we do, the first items on the agenda will be citizen's rights, financial settlements and the Irish border."
CNN's Bianca Britton contributed to this report.