Donald Trump's latest controversies make his presidency look more than ever like a vehicle for self-justification, self-preservation and self-enrichment.
In the last few days alone, Trump has brandished the power of the executive branch to cover up his own discredited claims that Hurricane Dorian would hit Alabama. There is increasing evidence that his government is steering official business to his own properties.
He is escalating his attacks on the Federal Reserve, demanding the independent central bank take steps that would bolster his best argument for reelection – a strong economy – but that could tie its hands in the event of a financial crisis.
He's boasting about taking billions of dollars from "all over" – i.e. government funding approved for other projects – to build a wall that Congress, exercising its constitutional prerogative, refused to fund and is central to his 2020 election strategy.
His presidency has often been an exercise in testing and even going beyond constitutional limits – conduct that House Judiciary Committee Democrats plan to highlight by voting this week on a resolution laying out procedures for an investigation now that they are actively considering impeachment.
It is not just at home that Trump often seems most concerned with serving his own ends.
The President also seems to be using foreign policy as a propaganda tool. His summits and pen pal relationship with Kim Jong Un did not end North Korea's nuclear or missile programs. They did provide photo-ops that show him bestriding the globe – and its last Cold War border – looking like a statesman.
Trump has canceled two foreign trips in recent weeks – one because he felt personally insulted by Denmark and the other to Poland in order to monitor Hurricane Dorian – and instead spent time tweeting misinformation and attacking media organizations that expose his false version of the world.
Trump revealed Saturday that he had been planning, then canceled, a meeting with the Taliban at Camp David. Perhaps this could have heralded a breakthrough in America's longest war. But his approach also fuels suspicions he's looking to get out of Afghanistan quickly and without much thought for what comes afterward in order to bolster his 2020 campaign.
"The whole thing doesn't quite make sense and it's just another example of the President treating foreign policy like its some kind of game show. This isn't a game show, these are terrorists," Democratic presidential candidate Amy Klobuchar said on CNN's "State of the Union."
Speculation is mounting Trump will try to stage another propaganda coup by meeting Iranian President Hassan Rouhani at the UN General Assembly later this month.
It's not surprising to see a President seeking to maximize personal political advantage. But no modern President has taken a course that appears to make a conventional reading of America's national interest so subordinate to his own goals or done so little to separate the role of head of state from his personal impulses.
Trump's frenetic activity violates long-accepted guardrails governing the commander in chief's role. It also poses a fundamental question. What, or who exactly, is the Trump presidency – and potentially four more years in office – actually for?
Can Trump's actions in recent weeks honestly be said to be the work of a President selflessly toiling for "the forgotten men and women of our country" he lauded in his inaugural address while warning "a nation exists to serve its citizens?"
Or are they offering Democrats a potentially powerful and so far untapped election argument that Trump is really only interested in himself, burnishing his ego and adding to his wealth while forgetting the plight and dreams of most Americans?
Trump's voters see success
For many Trump supporters, the President's constant trolling of the Washington establishment is fulfillment in itself of the promise of his shock election victory in 2016, highlighting a disconnect between the establishment media and his voters.
When Trump tarnishes the credibility of governance at home and America's reputation abroad, he horrifies the Washington elite. But in much of America, such transgressions appear remote and not immediately damaging. To his voters, it's more important that he's fulfilling his promises like building a wall and rebuking allies for not paying enough for their self-defense.
Trump's presidency has achievements that will be remembered by history. His massive tax cut and remaking of the American court system with conservative judges represent legitimate uses of the power conferred by voters. He argues his renegotiation of a US-Canada-Mexico trade deal will help American workers. Historically low unemployment helps everyone, though worrying warnings of an economic slowdown keep popping up.
Trump's China trade war might have won bipartisan support in Washington as an overdue recalibration of American foreign policy if carried out in a less knee-jerk way.
But the workers and farmers who he says will benefit most from the trade war are currently being disadvantaged by his tariffs. And the administration has shown little sign of long-term planning that might result in enduring prosperity for such communities past the next recession.
Instead, the impression in recent days has been of a President engineering the governing system to his own political and material benefit and manipulating his power to destroy shared truths and to delegitimize competing centers of power.
Such action has raised questions about the credibility of the President's words and the probity of the US government itself.
Asked on "Meet the Press" whether the credibility of the President's words had been eroded, Missouri Sen. Roy Blunt let a few awkward seconds pass, then replied, "No."
Former GOP Rep. Charlie Dent worries about the long-term impact of Trump calling the word of the government into disrepute.
"The sad part is it just seems that the President … he seems to be at war with the truth and fact. And the serious question is, you know, how do we recover from this someday?" Dent said on "CNN Tonight" on Friday.
Sharpie-gate reveals Trump's ego
Brian Stelter: Trump failed a basic geography test
Conjuring a political storm over a real storm – Dorian – the President spent a week attempting to prove that he wasn't wrong when he falsely said that the hurricane was heading for Alabama.
It was an inconsequential detail that could have simply been explained away as a misstep but that became a metaphor for Trump's volcanic ego and refusal to ever admit he's wrong.
Some critics argue that the media, by pointing out every twist of the controversy, played into Trump's narrative of distraction.
Yet this was a story of a President misrepresenting and refusing to correct information about a life-threatening storm. Then he appears to have browbeaten staff to cover up his embarrassment. Subsequently, the President enlisted the National Oceanic and Atmospheric Administration to reinforce his inaccurate version of events. His strategy did not just pollute the truth, but used an official agency to do so, threatening the governing credibility that is at the root of any successful democratic system.
The manipulated map that Trump showed with Dorian's false path drawn on with a Sharpie exemplified his attitude to fact – and using the machinery of government to dispute it.
Trump's White House press team for instance draws salaries from the taxpayer but hasn't held an official briefing since March and seems to exist mostly to amplify Trump's falsehoods.
Stepping back, Trump's behavior also highlights his self-indulgence while millions of Americans were in the path of a murderous hurricane. His self-obsession recalled his trip to meet medical staff responding to a mass shooting in Texas last month before he boasted about the size of his rally crowd sizes.
There's been a strong instinct for self-celebration and preservation in his presidency – right from the first moments when he forced his spokesman Sean Spicer to spread falsehoods about his inauguration crowd
Trump's need for self-preservation also saw him use the tools of his office to spend months discrediting special counsel Robert Mueller's probe that at one point seemed to threaten his presidency.
An Irish boondoggle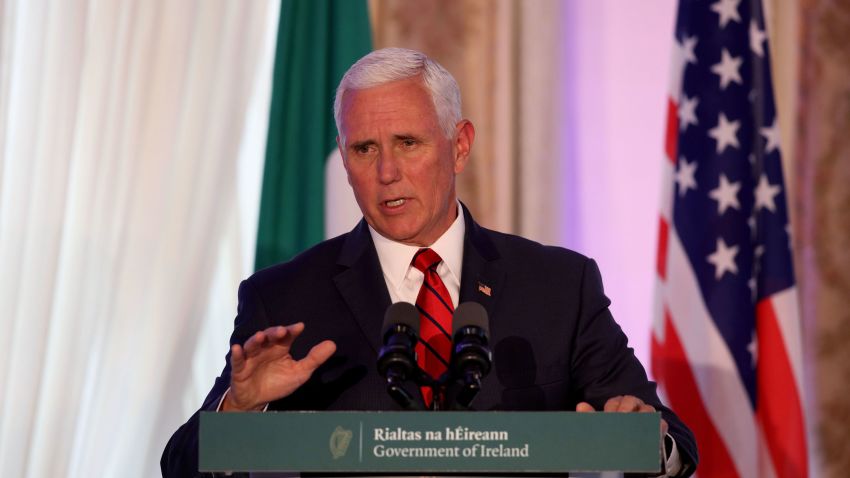 Watch Pence defend controversial stay at Trump's resort
Trump's refusal to fully divest from his businesses and relentless promotion of his properties as President underscores how he has used his political career to benefit his bottom line.
Last week, Vice President Mike Pence and his entourage stayed at the President's Doonbeg resort – on the opposite side of the island of Ireland from his official meetings in Dublin.
The stay triggered days of contradictory messaging over whether the President had told Pence to stay there, or if the resort was simply close to the vice president's ancestral roots.
But an administration keen to avoid any scent of corruption would never have put itself in this position in the first place and would surely have avoided the President's hotel.
Pence's trip was not an aberration. Trump has repeatedly suggested his Doral resort in Florida for next year's G7 summit – an event that would bring in millions of dollars.
Democrats are now investigating whether increased military spending at another Trump resort – Turnberry – on Scotland's West Coast represents a conflict of interest.
It is far from the first time that questions have been raised about how Trump is using his official position to benefit his business interests. Visits by foreign governments to the Trump hotel in Washington have long been controversial.