Taiwan has accused the Chinese government of trying to interfere in upcoming presidential and legislative elections on the island after Beijing lured another diplomatic ally away from Taipei.
The Solomon Islands government voted on Monday unanimously to establish diplomatic relations with Beijing over Taipei, whittling Taiwan's already shrinking number of allies down to 16.
Speaking on Monday, Chinese Foreign Ministry spokeswoman Hua Chunying said that Beijing "highly commends" the Solomon Island's decision, describing the growing flow of countries turning away from Taiwan as "an irresistible trend of the times."
In an editorial published by state-run tabloid Global Times Tuesday, the paper said that Taiwan would continue to lose diplomatic ties "until it reaches zero."
"The reason is simple: China is so strong already and has taken an important role in economic and political arenas. No single normal country will stand on the opposite side of Beijing," the article said.
The number of countries who have diplomatic relations with Taiwan – officially the Republic of China – rather than the mainland Chinese government has shrunk rapidly since 2016. Last year alone, El Salvador, Burkina Faso and the Dominican Republic all announced they would no longer recognize Taipei.
In a statement Monday, Taiwan's Mainland Affairs Council, the top body in charge of relations with Beijing, accused China of luring away diplomatic allies in the lead up to Taiwan's 2020 Presidential election in an attempt to affect the result.
"Beijing authorities have been attempting to influence elections in Taiwan. This has gradually undermined peace over the Taiwan Strait through infringing Taiwan's rights and interests," the statement said.
Taipei-Beijing tensions
China's Communist leadership refuses to maintain diplomatic ties with any country that recognizes the self-governed and democratic Taiwan, an island of 23 million people off China's southeastern coast that Beijing regards as part of its territory.
The two have been separately governed since the end of a bloody civil war on the Chinese mainland in 1949. Since then, Beijing and Taipei have competed to gain economic opportunities and diplomatic support from governments around the world – with the trend very much in China's favor.
Tensions between the two governments worsened in 2016 after the election of Taiwanese President Tsai Ing-wen. Her Democratic Progressive Party (DPP) has a history of supporting a declaration of official independence from China, even though Tsai herself has publicly opposed such a move.
After the Solomon Islands cut relations this week, Tsai denounced Beijing for using "financial and political pressure" to suppress Taiwan's international relations.
"We spare no effort and treat our allies with sincerity. However in the face of China's interference and suppression, we will not stand to be threatened, nor will we be subjected to ceaseless demands," Tsai said, according to Taiwanese news agency CNA.
She added that from Tuesday, Taiwan's embassy in the Solomon Islands would be shut down and all members of technical and medical missions to the islands recalled.
Among Taiwan's remaining diplomatic partners are small nations, mostly in the Pacific and Caribbean, including Haiti, Nauru and Belize.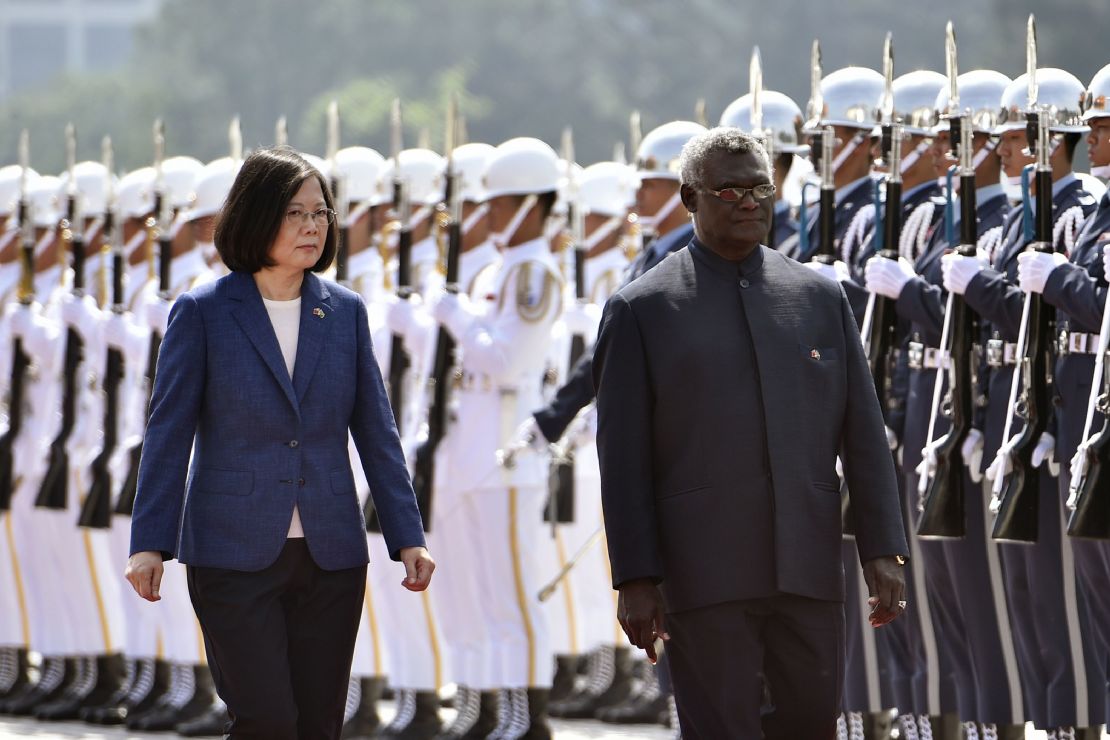 Political interference allegations
The diplomatic spat comes as Tsai is facing a tough reelection battle in January.
Her main rival is Kuomintang (KMT) candidate Han Kuo-yu, mayor of the southern city Kaohsiung and a supporter of stronger ties with Beijing. Protests against the previous KMT government's plans for closer economic ties with China are widely credited with helping bring Tsai to power.
January's election became more of a two-horse race this week, after billionaire Foxconn founder Terry Gou officially dropped out of the race. Gou – who said he was inspired to run by a goddess – had failed to win the KMT nomination but was still threatening to stage an independent bid for the presidency, potentially cutting into Han's base.
In its statement Monday, Taiwan's Mainland Affairs Council said attempts to sway the island through diplomatic pressure or threats of military action wouldn't work.
"(We) strongly condemn the Chinese Communist Party … (A) 'fight' based on violent intimidation is not able to solve problems, and Beijing's obsession with its wrong ideology and unpopular governance will deteriorate the situation across the Taiwan Strait," the statement said.
"The government does not fear challenges and will not yield. Its people will unite and reject the Chinese Communist Party's ideas and actions!"