The muddy waters of Brexit are becoming a little clearer.
Jeremy Corbyn, the leader of the official opposition Labour Party, has finally made public his position on the biggest issue facing his party and his country.
Having played a central role in the parliamentary attempts to block a no-deal Brexit, Corbyn faced the inevitable question about what he would do next.
In a newspaper article published on Wednesday, Corbyn attempted an answer of sorts. Once no deal is off the table, Labour would do everything in its power to force an early general election. The party would go to the country with a plan to hold a second referendum with a choice between a new Brexit deal, negotiated by Corbyn's government, and remaining in the EU.
And in that referendum, what would Corbyn's position be? In his Guardian article on Wednesday, Corbyn indicated that he would not actually take a position. Corbyn would remain neutral, above the fray, with lawmakers and party members free to campaign as they see fit.
"We will give the people the final say on Brexit, with the choice of a credible leave offer and remain," he wrote
This places Corbyn's Labour Party bang in the middle of the Brexit divide: The compromise position, if you will.
Ever since Johnson took over as PM, the governing Conservative party's Brexit policy has hardened: Brexit, do or die by October 31. Johnson has been pushed here because of the success of Nigel Farage's Brexit party, whose success in May's European elections left the governing party of the UK floundering in fifth place.
This weekend, the Liberal Democrat party announced that its position would go further than a second referendum. They would cancel Brexit altogether. Speaking at the party's annual conference, the Lib Dem leader, Jo Swinson, said that "a Liberal Democrat majority government will revoke Article 50 on day one. Because there is no Brexit that will be good for our country."
By placing himself in the Brexit middle, Corbyn is taking a huge risk, given how divided the nation is over Brexit. Under normal circumstances, a moderate position in the center of a political debate can win over voters. But Brexit is not normal politics.
"What's unique about Brexit is these very polarized views. You're likely hardcore leave or hardcore remain. There's very little electorate in the middle," explains Rob Ford, professor of politics at the University of Manchester and co-author of a new book, Brexitland. "The combination of those two things makes it very hard to hold a compromise position without annoying at least one of the sides, or catastrophically, both."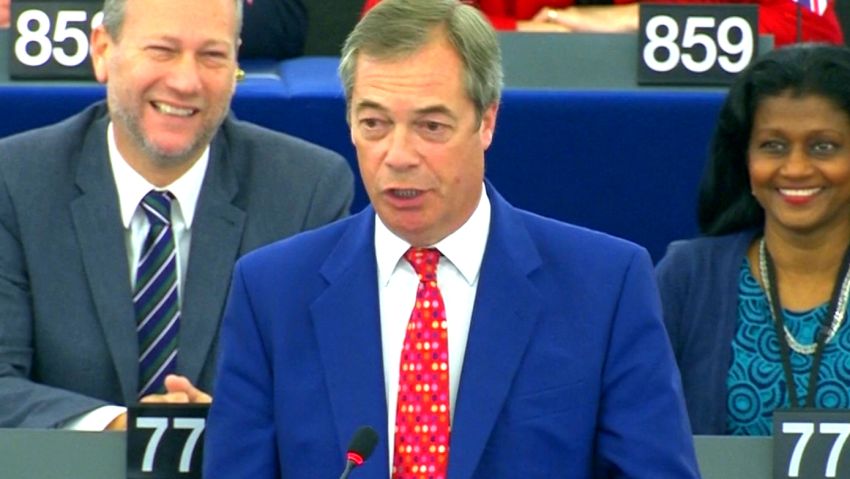 Nigel Farage slams 'pipsqueak' Luxembourg PM
Corbyn also has a problem within his own party. Labour has been engaged in a civil war since the Brexit vote. Most of the lawmakers representing Labour in Parliament backed remain in 2016. However, many of their traditional working-class strongholds, especially in the north of England, voted emphatically to leave. It's this dissonance that led to Labour having a very confusing Brexit policy during the 2017 election.
This Schroedinger's Brexit strategy worked in 2017, with Labour picking up far more seats than predicted ahead of the election. The problem the party faces this time around is that the public has seen this trick before, and that Corbyn's plan means that members of his party will ultimately have to campaign against one another.
Some think the plan won't hold for long. "Corbyn has mistakenly found himself in the center ground. The general consensus is that it will have fallen apart in a few weeks, as party conference and shadow cabinet colleagues inevitably force his hand," a senior Labour adviser told CNN.
All of this ultimately helps Boris Johnson. Right now, he can credibly claim to be the only party leader actually trying to get Brexit done ASAP. Also helping Johnson is the ongoing case in the Supreme Court over whether his decision to suspend Parliament was legal or not. The public probably won't care much about the legal technicalities of prorogation, but what they will see is people whom Johnson can paint as remain campaigners dragging Brexit into the courts and trying to take it away from the people.
All Brexit positions are a bit of a gamble at the moment. All recent public polling sends mixed messages and each parties' internal politics are a bit of a mess.
Here's how Brexit affects Scotland's talks of independence
Corbyn's gamble might be that people will see Labour as the least risky second option, rather than a preferred outcome. Remainers have the chance for a referendum do-over, which is what they've claimed to want all along. And the north of England, where many Labour districts voted leave, the Conservative brand is still toxic. Johnson might give you Brexit, but is it worth it if he wrecks your community with other policies you hate? And as Rob Ford points out, "there's not a position Labour could take that is less risky, to be honest."
So, what do we know for certain? First, where each party stands on Brexit. Second, that an early general election is pretty much inevitable. The only remaining question is when that election takes place.
We will learn more about dates on October 21, unless Parliament is recalled early by order of the Supreme Court.
It's the first Monday after the EU summit in Brussels and by that point, we will know for certain whether or not Brexit has been delayed further – or indeed if Johnson has a new Brexit deal.
At that point, everyone will want an election and everyone's position will be clear. And if it happens that the UK has fallen out of the EU before an election, the remain campaign could neatly switch to becoming the rejoin campaign, hoping that the EU will offer some sort of easy path back into the bloc.
Until we have that election, no one really knows what the British public thinks about Brexit, let alone what there is a majority for. As Rob Ford explains, all positions are "worse than a gamble because at least with a gamble we know the odds. The politicians are running on instincts here and we don't know the political cost of any position."
And if we know one thing about both Johnson and Corbyn, it's this: both men believe that their political instincts are more in tune with the public than the other's.