Editor's Note: CNN's series often carry sponsorship originating from the countries and regions we profile. However, CNN retains full editorial control over all of its reports. Our sponsorship policy.
Major Hazzaa AlMansoori made history Wednesday by becoming the first Emirati in space and the first Arab astronaut to travel to the International Space Station.
After months of grueling training, AlMansoori – a 35-year-old former military pilot – blasted off from the Baikonur Cosmodrome in Kazakhstan in a Russian Soyuz-MS 15 spacecraft.
He will spend eight days on board the ISS carrying out scientific experiments alongside other international astronauts.
The launch marks an important milestone in Dubai's burgeoning space industry, led by the Mohammed Bin Rashid Space Centre (MBRSC).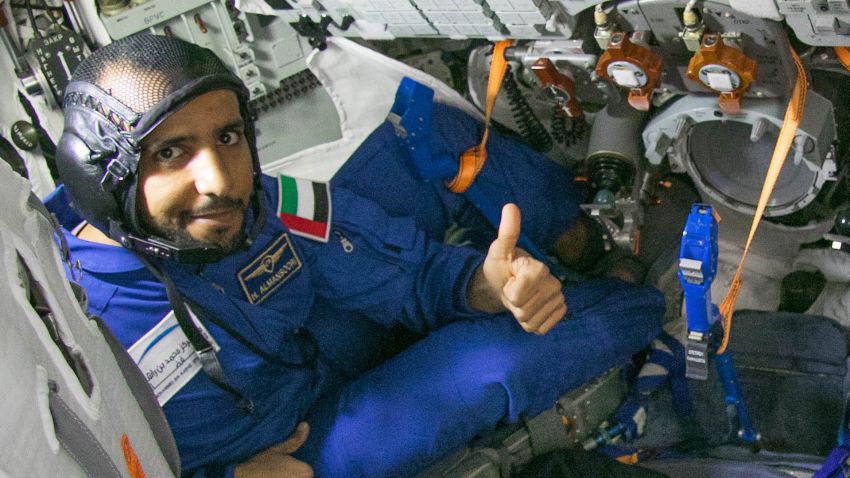 The first Emirati in space
Fellow Emirati, Sultan AlNeyadi, a 38-year-old doctor of information technology and former engineer for the UAE armed forces, is the back-up astronaut for the mission.
In April 2017, Sheikh Mohammed bin Rashid Al Maktoum, ruler of Dubai, announced that the MBRSC was to prepare an Emirati astronaut corps for scientific space exploration missions.
As soon as applications were open, the MBRSC was inundated with more than 4,000 Emiratis wanting to take part in the first space mission.
That number was whittled down over several stages until AlMansoori and AlNeyadi, were handpicked from that group.
For AlMansoori, his dream of one day rocketing to space started when he was a child.
"I used to stand out in the dunes at night and look up at the stars and wondered how to get there," he told a NASA press conference in July.
"I remember in grade four I saw a book about an Arab astronaut, Prince Sultan bin Salman Al Saud, and I thought that's it – it's possible for me.
"That's why I applied to join the air force – it felt a little bit closer to the stars," he said.
Grueling training
AlMansoori and AlNeyadi have spent the better part of a year undergoing intense training to get themselves ready for this launch.
Both had to prepare for the space flight even though only one would be going to space. The other still had to be mission-ready just in case his compatriot was unable to make the journey.
As this was a joint mission between the UAE and Russia, the men did most of their training at the Yuri Gagarin Cosmonaut Training Center in Moscow. Which meant that they had to learn how to speak Russian.
This was essential to operate the controls, communicate with ground control and fellow crew members.
"Because the Soyuz, all the checklists, all the procedures, normal procedures, even the emergency procedures are in Russian. If you hit the wrong button, you will be screwed up," AlMansoori, told CNN's Becky Anderson back in February.
"'Klyuchit' (Ключить)" and Vyklyuchit (выключить). That means switch on and off. So if you misunderstand what the commander is saying, you'll be in trouble," added AlNeyadi.
Eight days on the ISS
AlMansoori is set to participate in the Station's ongoing scientific missions. He'll observe the effect of microgravity and conduct 15 experiments designed by UAE school students, selected from the MBRSC's "Science in Space" competition.
Back on Earth, those students will also conduct those same experiments to compare the results with those done in space.
And AlMansoori has plenty of material that he'll be taking with him.
As this is such a landmark event, the MBRSC is providing him with 10kg of cargo including items that are important to the UAE's heritage, culture and history. That includes several UAE flags and coats of arms, which will be later placed in museums once AlMansoori returns home.
He'll also have 30 seeds from an Al Ghaf tree, UAE's national tree, which will be planted when he returns to Earth.
AlMansoori will also be taking with him flavors of home. He'll take Emirati food that the rest of the astronauts at the ISS will be able to share with him. Three traditional halal dishes have been developed for the space journey: balaleet (a breakfast dish of egg and vermicelli), salona (a stew made up of spicy vegetables with meat or fish) and madrouba (a chicken and rice dish).
Finally, he'll have poetry, stories and paintings that are all winning entries of MBRSC's "Send to Space" competition.
Ambitious Mars mission
Wednesday's launch is a major step in an ambitious space program for the MBRSC.
The UAE is also preparing its first unmanned mission to Mars, due to launch in 2020.
Read more: UAE looks to Mars for STEM inspiration
That mission will put the UAE among a select few parties – including the US, Russia, India and the European Space Agency – to have sent a probe into orbit around the Red Planet.
Much longer term, the UAE has also said it wants to create a colony on Mars by 2117. In September 2017, it unveiled renderings for its Mars Science City project, a $136 million simulation center designed to replicate a Martian base in the desert outside Dubai.