Port-au-Prince, Haiti
CNN
—
Haitians are calling for a massive protest Friday after weeks of anti-government gatherings have brought thousands to the streets of the capital to demand President Jovenel Moise step down.
Photos of the protests, which have been happening intermittently since February, have shown people burning car tires and clashing with police in Port-au-Prince. Last Monday, a Haitian senator appeared to open fire amid chaotic scenes outside the Parliament building, where a journalist was injured with an apparent gunshot wound.
The United Nations reported Wednesday its humanitarian efforts have been impacted by the protests, affecting access to medical care and causing fuel shortages and lack of safe water.
"Many schools have been closed for the past two weeks, leaving an estimated 2 million children and young people without any access to education," said Stephane Dujarric, a spokesman for the secretary-general.
Haitians have been calling for Moise to resign for several months over a long list of complaints, including soaring inflation and alleged corruption.
The President remained defiant, refusing in a video statement last week to resign. He has made few appearances during the unrest. According to reports, his administration distributed food and school supplies at an event Thursday.
Despite reports there have been casualties in clashes over the past few weeks, Haitian officials have yet to comment. The United Nations, saying "several have died" in recent clashes, asked all parties to refrain from violence.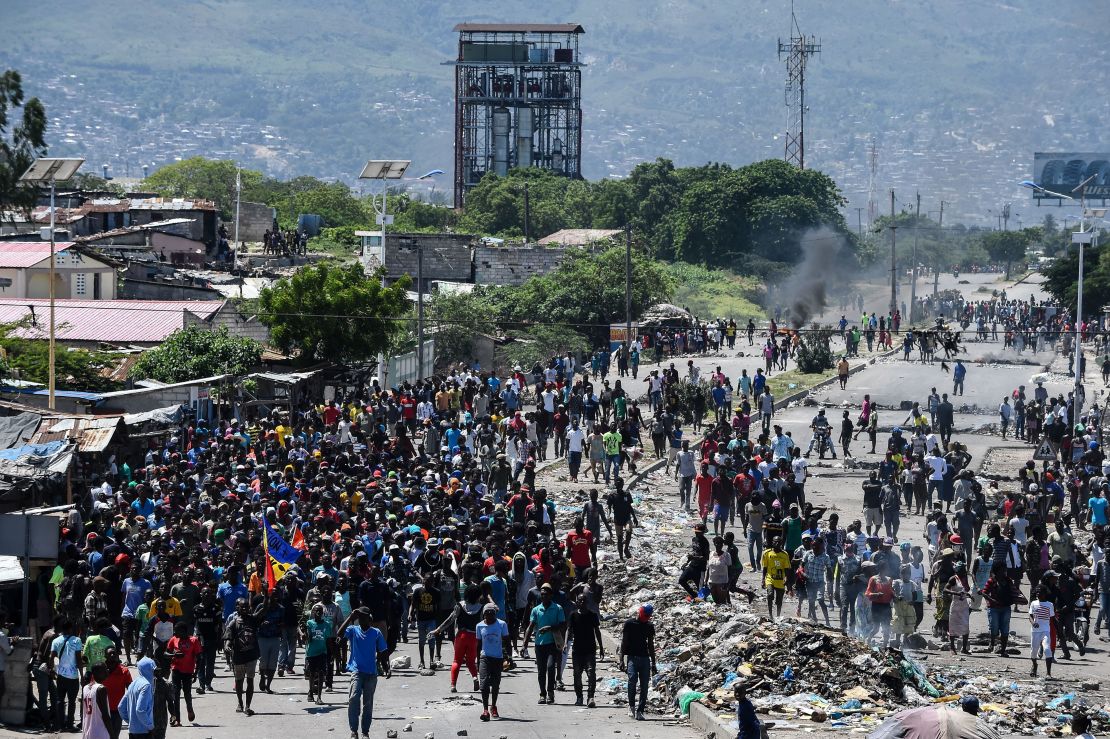 The latest round of nationwide protests, dubbed "operation lockdown" by organizers, is expected to take place Friday. The news has aggravated food shortages in grocery stores and more ATM machines have gone out of service as Haitians try to stock up on supplies before potential chaos ensues.
In the meantime, the opposition has formed a committee to "set up a transitional government," said Youri Latortue, an opposition senator, at a news conference earlier this week.
As protests have continued, a water crisis is rapidly getting worse, according to the director of Haiti's National Directorate of Potable Water and Sanitation in an interview with Radio Caraibes, a local radio station.
"There's a real water problem because we don't have fuel and our workers can't get to work. Workers drive cars with a state logo which can be dangerous to drive during a protest," said Guito Edouard.
Edouard added, "If nothing changes, we will have a chaotic situation and people will continue to die."
The government has not confirmed any deaths as a result of the water shortage.
Hospitals are also feeling the impact of the country's debilitating dilemmas.
"During the crisis, it's difficult for people to come to the clinic," said Dr. Stephane Michel, who owns a private clinic. The worst thing, he said, is finding a hospital available when a patient needs one. Michel said he has resorted to using WhatsApp, a messaging app, to communicate with his patients.
The "mega protest" Haitians have titled "Mobilizasyon san Limit," or "Unlimited Mobilization," is expected to begin around 10 a.m. ET.
Journalist Etant Dupain reported from Port-au-Prince and CNN's Jackie Castillo, Taylor Barnes and Chandler Thornton reported and wrote in Atlanta.