The death toll from Typhoon Hagibis has risen to 74 in Japan, as thousands of residents remain without power or water and evening temperatures hover around 15 degrees Celsius (59 Fahrenheit), according to public broadcaster NHK.
The storm – one of the strongest to hit the country in years – made landfall on Saturday evening local time on the Izu Peninsula, southwest of Tokyo, leaving a trail of destruction in its wake.
On Tuesday, the arduous search for survivors continued in flood-hit areas. A total of 110,000 personnel have been deployed from the fire department, self-defense force and police, as well as 110 helicopters, to aid in search and rescue efforts, according to Cabinet Secretary Yoshihide Suga.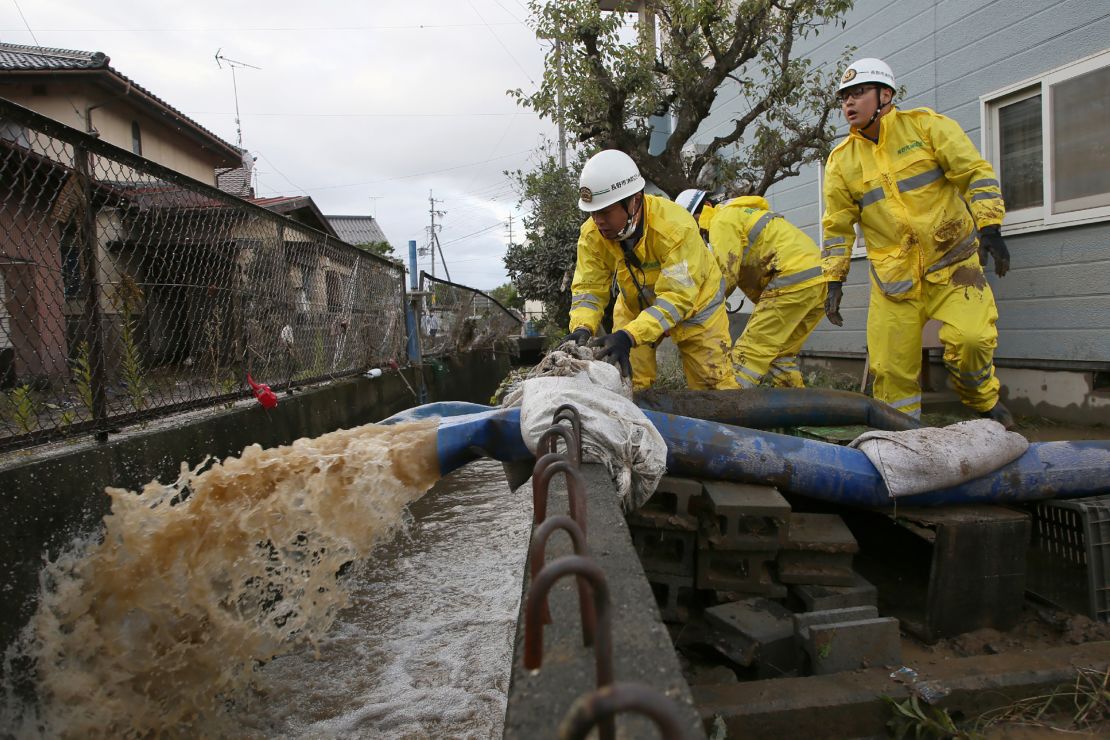 In one tragic incident, a family of four perished as they were swept down a raging river in their car. A video released by TV Asahi on Tuesday shows rescuers trying to retrieve the crushed vehicle from the still turbulent waters in Sagamihara City, a suburb of greater Tokyo.
It fell from a bridge on Saturday evening due to the strong rain and the swelling of the river, Takayuki Magara, a spokesman for the local fire department, told CNN. The bodies of the 49-year-old father, 39-year-old mother and 11-year-old daughter were all found scattered near to the car he added. The body of the 8-year-old son was uncovered on Tuesday morning 1.7 kilometers (1.1 miles) down the river.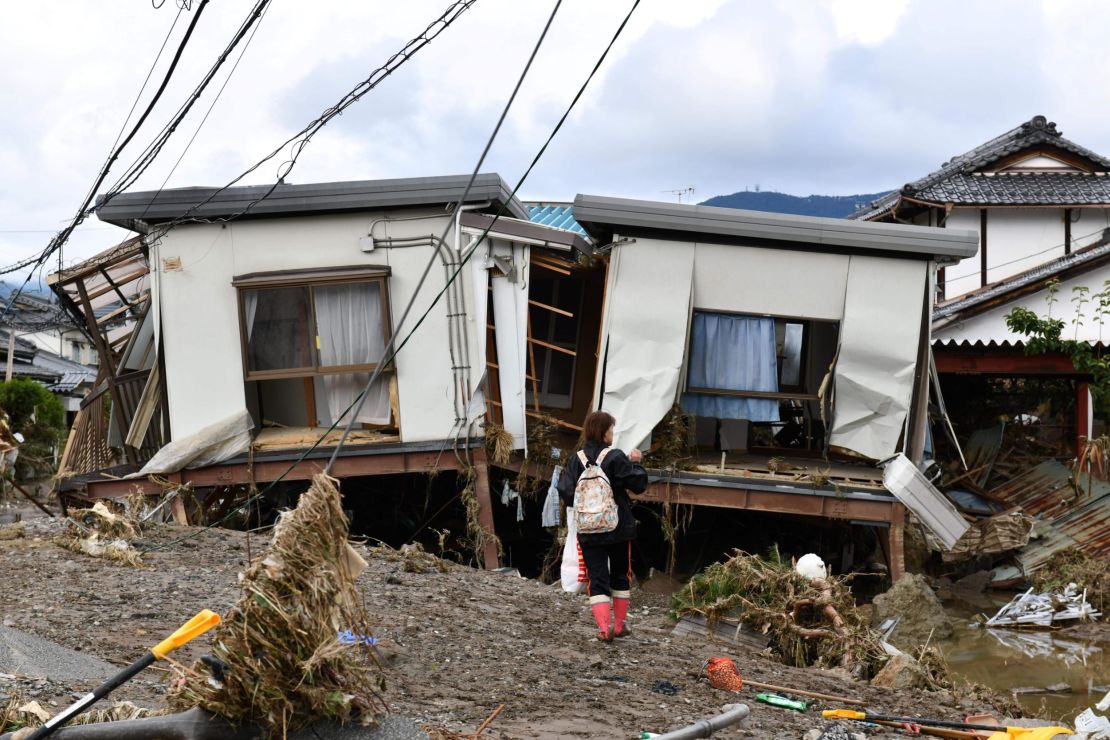 Although typhoons are not uncommon in Japan, Hagibis – which means "speed" in the Philippine language Tagalog – was particularly brutal, leading to the high death toll. It is one of the deadliest typhoons to have hit Japan in the past decade, surpassed only by Typhoon Talas in 2011, which caused 82 deaths.
Ongoing impact
For many, the impact of the storm will be felt for many weeks ahead. An estimated 5,500 people remain housed in shelters, according to Japan's Cabinet Office. More than 230,000 people had been evacuated ahead of the storm. The Fire and Disaster Management Agency said in a release that 9,962 houses had been flooded across the country.
The number of households without power stood at 34,000 as of Tuesday morning, down from a peak of 520,000, according to Industry Minister Isshu Sugawara. He has indicated that areas severely flooded could remain without electricity for more than a week. More than 133,000 households were also without water, according to the Cabinet Office.
Fukushima Prefecture in the northeast of the country suffered the highest number of casualties, with at least 25 deaths, according to NHK. Among the deceased was a young boy and his mother found 4 kilometers (1.5 miles) apart, with another son still missing, it added.
According to Prime Minister Shinzo Abe's office, the typhoon brought "record-setting heavy rains and windstorms." Hakone, southwest of Tokyo, received almost 1 meter (3.3 feet) of rain within 24 hours. Many areas received up to 40% of their annual rainfall over two days.
The heavy rain also caused 146 landslides across the country, according to the Ministry of Land, Infrastructure, Transport and Tourism. In Gunma Prefecture, four people were killed when their homes washed away, according to the local crisis management office.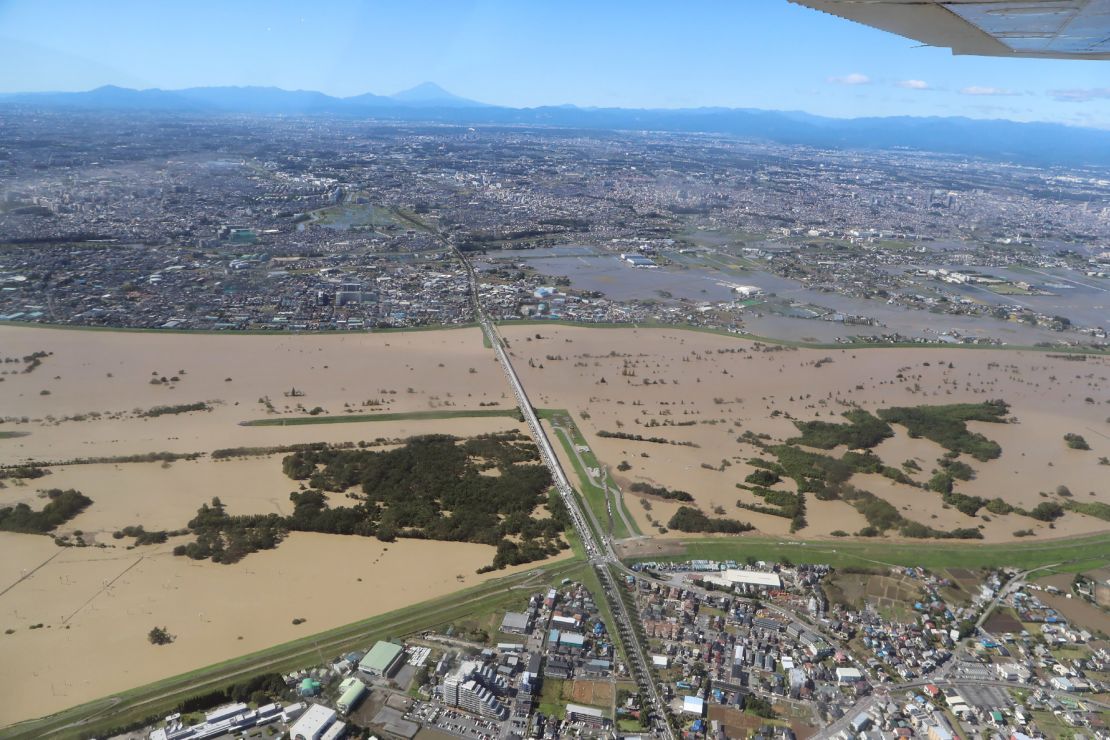 Because of the rain, 47 rivers burst their banks, Masahiro Nishio, a spokesman for the Ministry of Land, Infrastructure, Transport and Tourism told CNN. Satellite imagery and video released by authorities and shared online showed houses surrounded by murky brown water as well as overflowing river beds that engulfed surrounding farmland.
On Saturday, 10 bags of soil from the 2011 Fukushima nuclear disaster were found drifting in a river amid storm debris in Tamura city, about 25 kilometers (15.5 miles) away from the Fukushima Daiichi nuclear plant.
Economic cost
Typhoon Hagibis is on course to be one of the costliest natural disasters to have hit Japan, with insured losses of more than $9 billion, according to analysts from investment firm Keefe, Bruyette & Woods quoted by industry publication Reinsurance News.
On Tuesday, Abe said at a session of the Upper House Budget Committee that his government was planning to designate Hagibis a "severe natural disaster," in order to make municipalities in affected regions eligible for increased state subsidies for reconstruction work.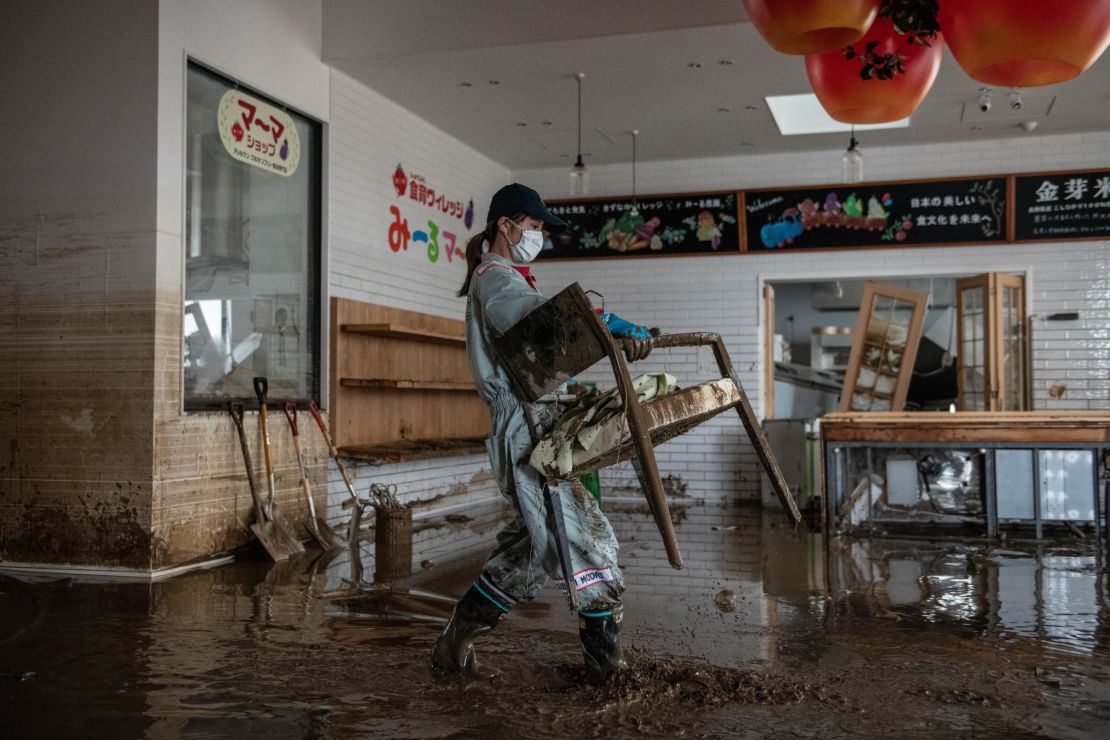 Some industries have been hit particularly hard, including apple farming in Nagano, according to NHK. The typhoon also led to widespread transport disruptions over the weekend, with flights, bullet trains and other transport canceled across Honshu, Japan's main island. About a third of bullet trains in Nagano were submerged.
As Tokyo ground to a standstill over the weekend, with most businesses closed, three Rugby World Cup matches were canceled.
The fresh damage comes with the country still recovering from several natural disasters over the past two years.
Typhoon Faxai, which hit Japan in September this year, will generate insurance and reinsurance payouts of $5 billion to $9 billion, according to an estimate by risk modeling agency Risk Management Solutions. In 2018, Japan suffered $34 billion in losses from natural disasters, of which $16 billion was insured, after being hit by two major typhoons, two earthquakes and deadly floods, according to reinsurer Munich Re.