European soccer's governing body has charged the Bulgarian national federation over the racist chanting directed at England players at a European championship qualifier match on Monday.
UEFA said the disciplinary proceedings would cover the chants and Nazi salutes seen from the stands when England played Bulgaria in Sofia. It also charged England with failing to send enough traveling stewards.
The world governing body, FIFA, said it could extend any sanctions leveled at Bulgaria to a global level. That could put Bulgaria's World Cup qualifying chances in jeopardy.
Monday night's game was twice temporarily halted in the first half after England debutant Tyrone Mings alerted officials to the abuse directed at him and others from various parts of the Levski Stadium in Sofia. As well as the monkey chanting, some Bulgarian fans made Nazi salutes.
On Tuesday, after pressure from the country's Prime Minister, the president of Bulgaria's football association Borislav Mihaylov tendered his resignation. "His decision is a consequence of the tensions caused in recent days; an environment, which is damaging to Bulgarian football and to the Bulgarian football association," read a statement on Bulgarian Football Union's website.
Prime Minsiter Boyko Borissov described fans who made Nazi salute as "retards," but also said England had "overdramatized" the incident.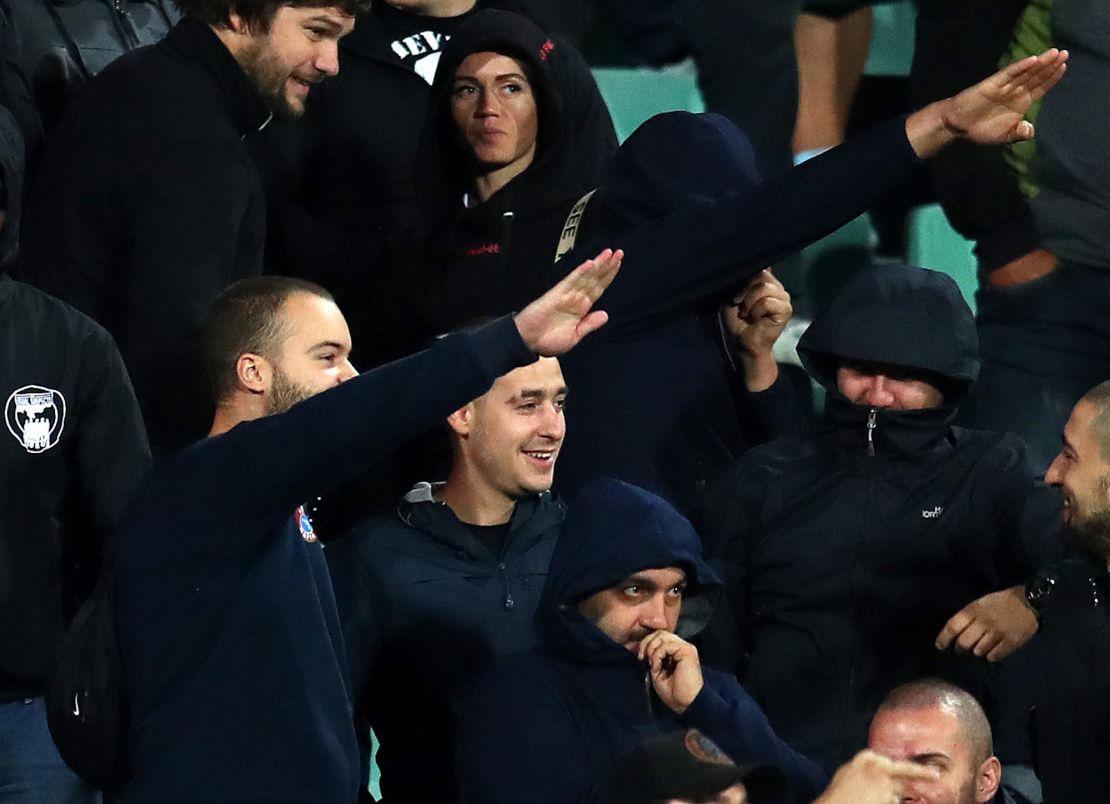 UEFA President Aleksander Čeferin blamed the "rise of nationalism" across the continent for the "unacceptable behavior" of some soccer fans who continue to racially abuse players.
"Believe me, UEFA is committed to doing everything it can to eliminate this disease from football. We cannot afford to be content with this; we must always strive to strengthen our resolve," he said.
"More broadly, the football family – everyone from administrators to players, coaches and fans – needs to work with governments and NGOs to wage war on the racists and to marginalise their abhorrent views to the fringes of society."
"Football associations themselves cannot solve this problem. Governments too need to do more in this area. Only by working together in the name of decency and honour will we make progress."
FIFA president Gianni Infantino urged national soccer bodies to impose tougher penalties for racism, such as life bans for racist fans, which could then be extended worldwide. "So many times we say there is no place for racism in football, but nonetheless we still face challenges to tackle this problem in our sport, as we do in society," he said. "We will need the support of public authorities to help us identify and punish the culprits but we probably also need to think more broadly on what we can do to fix this."
After the match, which England won 6-0, players expressed their dismay at the scenes. "Feeling sorry for Bulgaria to be represented by such idiots in their stadium. Anyway. 6-0 and we go back home, at least we did our job. Safe travel to our fans, u guys did well," Raheem Sterling wrote on Twitter.