As part of a bigger effort to reduce its carbon footprint, Volvo unveiled its first fully electric vehicle at an event in Los Angeles Wednesday.
The XC40 Recharge is the new battery-powered version of Volvo's XC40 small SUV, the Sweden-based automaker said. It will be able to drive up to 400 kilometers, or about 249 miles, on a charge, based on European driving range tests. It will be powered by two electric motors, one driving the front wheels and the other the back, with a total output of up to 408 horsepower.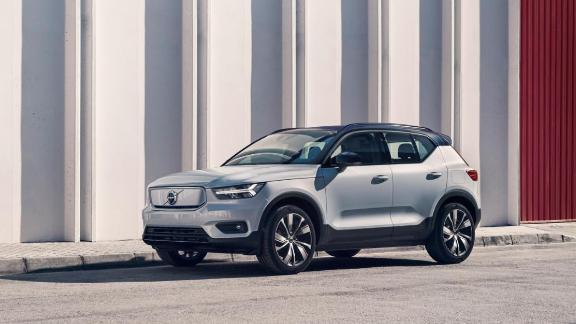 Volvo
The XC40 Recharge is based on the same fundamental engineering as the gasoline powered XC40. That underlying architecture was designed from the beginning to support electric as well as gasoline-powered models. But in this version, the electric SUV's battery packs are under the floor, while the space under the hood – where the engine is mounted in gasoline-powered versions – can be used as storage.
"The fully electric XC40 will be one of the safest cars we have ever built," Malin Ekholm, head of safety at Volvo Cars, said in a statement.
The SUV's body has been specially reinforced in the front, the rear and around the battery pack to create crush space that will help protect occupants as well as the battery. The XC40 also has a suite of driver assistance technologies that rely on cameras, radar and sonar sensors to help prevent crashes. Volvo has previously pledged that, after 2020, no one would be seriously injured or killed in a new Volvo vehicle.
Inside, the XC40 Recharge has a new touchscreen control system for entertainment and other features that were developed with Google. The system, which Volvo said has been in development for about five years, will be able to receive updates over the air, in the same way that Tesla cars can. Owners won't have to take their vehicle to a dealership for software updates. Instead, they will happen overnight when the car is parked.
The XC40 Recharge will be available in the United States later this year. Prices will start at less than $48,000 after federal tax incentives, a Volvo spokesman said.
Carbon neutral by 2040
Vo