The Mars Reconnaissance Orbiter has been keeping an eye on its namesake planet since 2006. It's searched for evidence of water, identified intriguing objects on the surface and acted as a communication link for surface missions.
It also has been using its fantastic camera, called HiRISE, to capture stunning views of the Red Planet. Some of those images just came into view this week, released by NASA after a lengthy period of processing.
HiRISE in recent months photographed the Curiosity rover and the InSight lander, two surface vehicles it keeps tabs on from the Martian sky.
As the Curiosity rover was exploring Gale Crater, the stationary InSight probe was parked in Elysium Planitia, a bright, warm spot along the Martian equator where the lander's solar array can be powered year-round. It's on a two-year mission to explore a part of Mars that we know the least about: its deep interior.
In HiRISE's new image of InSight – the best view yet of the lander from space – both solar panels can be seen unfurled in circles on either side, creating a 20-foot span. Dark streaks near the lander came from dust devils that moved over it in February. And the dark ring around the lander is left from the thrusters when the mission touched down in November 2018.
The bright spot in between the solar panels is the protective dome that sits atop the lander's seismometer. HiRISE images of the lander from November were dusty, but the air is clearer now.
Meantime, about 373 miles away, Curiosity was continuing to rove the Martian surface.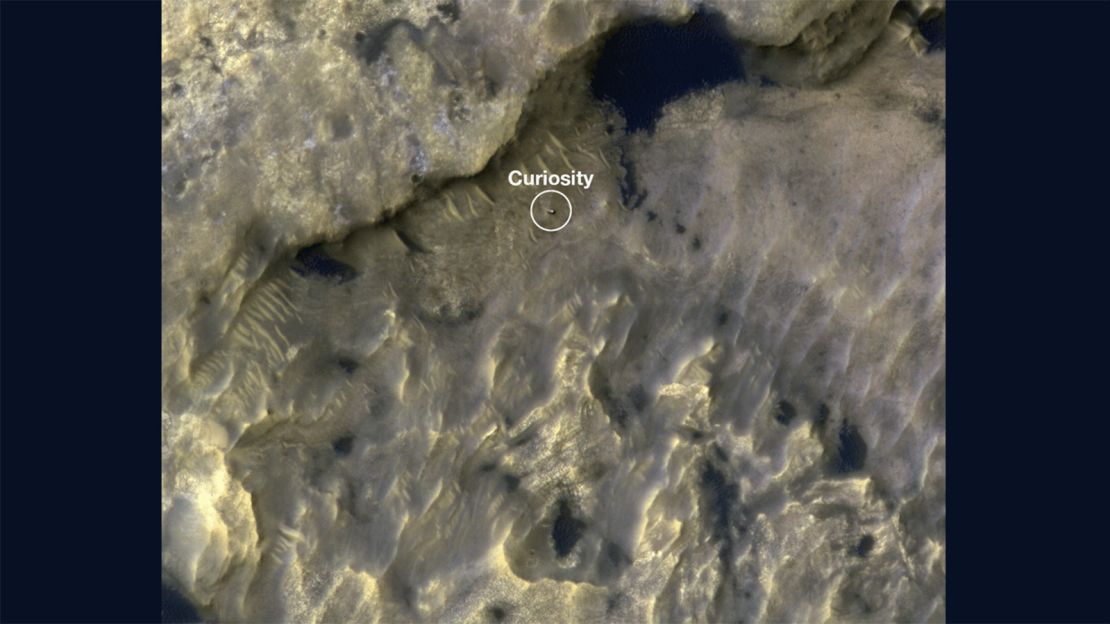 HiRISE captured Curiosity in action from May to July as it moved 1,106 feet from Woodland Bay to Sandside Harbor. Its tracks are visible in an image that show its patterned trails on the Martian surface.