Santa Rosa California
CNN
—
California's largest utility is working to restore power to tens of thousands of customers after another round of intentional power cuts in Northern California.
Some areas without power are in California's wine country from Geyserville to Sonoma. There are also affected areas along the Sierra Nevada foothills including Paradise, the town that was decimated by the Camp Fire last year.
About 179,000 customers will lose electricity, the power company, which is in bankruptcy procedures, said earlier.
The number of actual people affected will be higher, since customers include houses and businesses. It'll be the second time this month that PG&E shuts off power to hundreds of thousands of Californians.
In Glenn County, PG&E said it appears its vehicle was targeted when the front passenger window was hit by a projectile from a pellet gun. An employee was not injured.
The company believes that the front passenger window of a PG&E vehicle in Glenn County was hit by a projectile from a pellet gun.
The employee was not injured.
"I understand these shutoffs can make people upset and even angry but be upset at PG&E, don't take it out on the people who are trying to help you," CEO Bill Johnson told reporters.
Who will be affected?
Residents can see if their home or business will lose power by entering their address on a PG&E website.
The company began notifying affected customers by texts, emails and automated phone calls.
"It's important to remember that customers not impacted by the PSPS (Public Safety Power Shutoff) may experience power outages due to PG&E equipment damaged during this wind event; those customers will not be notified in advance," the company said Wednesday.
How are people preparing?
Betty's Fish N' Chips in Santa Rosa is popular for its traditional made-from-scratch English-style fish and chips, the kind anglophiles dream of. But the small, family-run business could lose a hard-to-take $4,000 a day if the power is cut.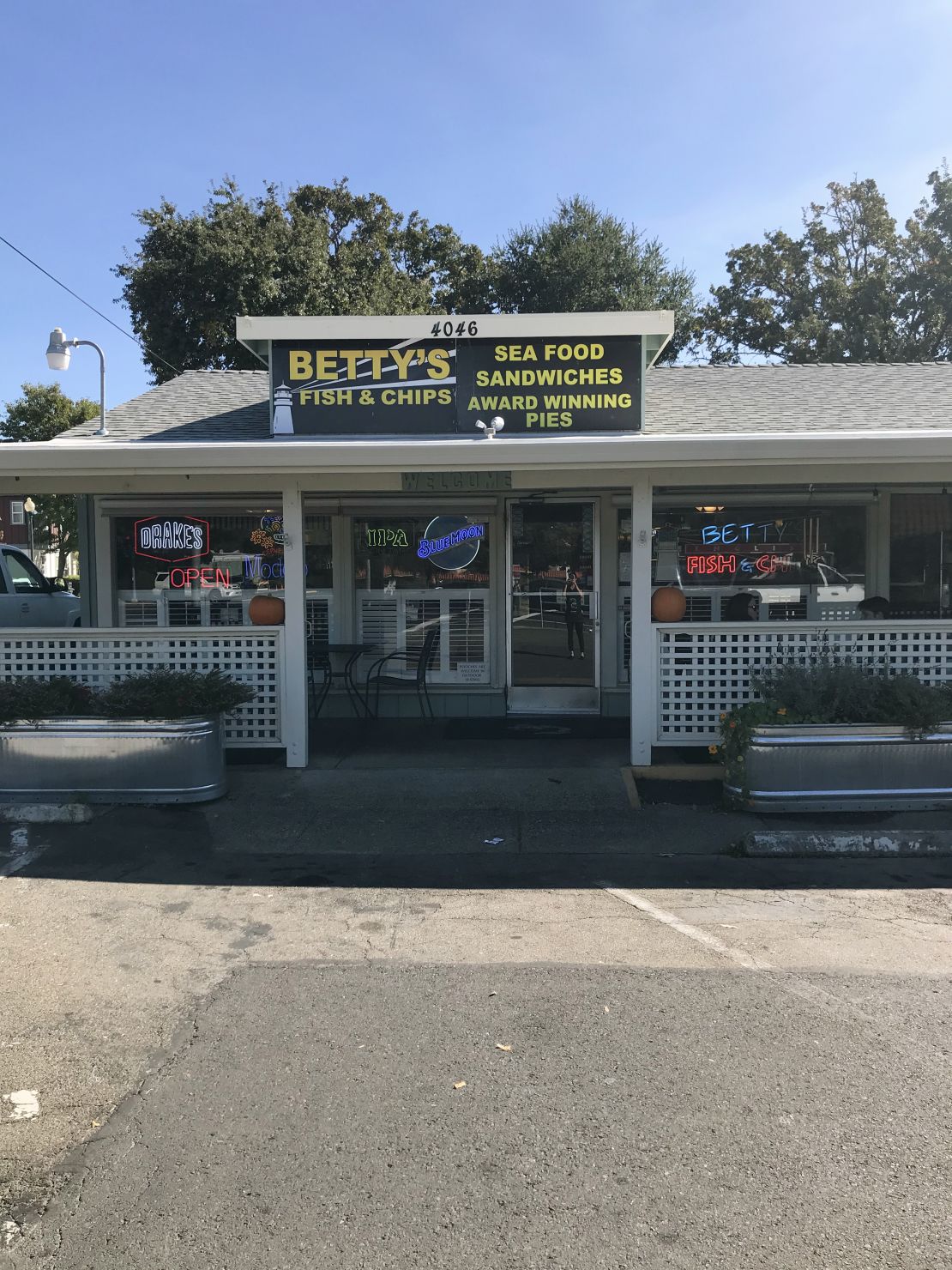 While running a restaurant is anything but easy on a good day, owners Brian and Lori Hall are facing new and extraordinary challenges in this era of public safety power shutoffs, which may force them to relocate out of state.
They endured California's first widespread public safety power shutoff earlier this month, an event they say cost them between $10,000 and $12,000.
"Without having operating income, it makes it hard to even operate" Brian Hall said. One of his 12 employees looked for another place to work during this week's estimated shutoff period, but a potential landing spot would also be without power.
Brian Hall looked into getting a generator, but he said that would cost $80,000 to $100,000, a price too hefty for someone who owns just one restaurant.
Insurance didn't cover the last shutoff, he said, because the provider said it wasn't a natural disaster.
The Halls have taken the extraordinary step of considering moving Betty's out of state. Brian Hall on Wednesday morning even went so far as to call the mayor's office in Eagle, Idaho – a town he hears is booming – to see "what they would need for California businesses to come their way."
Hall told CNN that the power went off Wednesday about 20 minutes before PG&E said it would.
Other Californians were relying on smaller generators to potentially keep their food cool.
Sally George, who owns the Aberglen Pet Resort in Sonoma, told CNN affiliate KGO she bought one to keep her freezer running. She's also been filling up 5-gallon jugs with water so the dogs in her kennel will have something to drink.
She's worried these planned shutoffs will keep happening.
"If you have a business where you cannot provide safely to your customers, then it's incumbent on you to invest in your business. If I have a problem with dogs where the dogs are getting hurt or sick, I'm gonna be out of business. It's my responsibility to step up my game so I can provide a safe service to my customers, and that should be (PG&E's), too. There shouldn't be profits going to them," George told KGO.
The strong winds will taper off
Strong winds are expected to peak overnight and begin to taper off by Thursday, PG&E meteorologist Scott Strenfel said.
Once the high winds end, the company will inspect the lines to ensure there's no damage before restoring power. It said it plans to restore the vast majority of power within 48 hours after the weather has passed.
The company said it hopes to restore the vast majority of customers' power within "48 hours after the weather has passed."
"We understand the hardship created by these cutoffs, and there are safety risks on both sides," Johnson said.
"But again, we've seen the impact of wildfires, both over the years and recently in Southern California, and we're determined not to let that happen."
How hot is it?
Strong Santa Ana winds could mix with scorching temperatures, single-digit humidity and dry vegetation to spark extreme fires.
Parts of California already set records Tuesday, the National Weather Service said.
"Sandberg reached their record high of 84 (degrees Fahrenheit) set in 2003 and Camarillo reached their record of 99 set in 1965," the National Weather Service said.
"Anaheim was the hottest place in America for the second day in a row with a high of 103."
Will these outages be as widespread as last time?
Probably not. Based on the forecast and wind speeds, PG&E officials said they expect this wind event to be weaker than the mass shutoff earlier this month.
About 800,000 customers lost power this month when the utility company turned off electricity to try to prevent wildfires.
PG&E's announcement comes as firefighters grapple with a busy wildfire season.
More high winds expected days later
The next shutoff may be just days away as another potential period of offshore wind pattern aims for Northern California on Saturday night.
It could be the strongest wind event of the season, potentially stronger than the one earlier this month, Strenfel said.
"Things could still evolve," he cautioned. Complicating things, the vegetation that fuels fires will be as dry as it has been at any time this year. "It could have the potential to be a very significant event."
That wind event could last until Monday afternoon, he said.
CNN's Augie Martin reported from Santa Rosa and CNN's Holly Yan, Faith Karimi and Steve Almasy wrote from Atlanta. CNN's Sarah Moon, Stella Chan and Joe Sutton contributed to this report.