Protesters across Lebanon joined hands on Sunday to form a human chain that connected the country's north and south, a symbolic display of national unity during a period of political turmoil.
Nearly 170,000 people joined the chain, which ran from Akkar to Sidon, said Dr. Sally Hammoud, an event organizer.
"It was a symbol to show the world that we all are united and nothing can break us, and most importantly, we are peaceful," she told CNN.
The chain spanned 105 miles (170 km), cutting through Beirut, Tripoli, Dbayeh and other cities along the Lebanese coast. Many participants draped themselves in the Lebanese flag and sang the national anthem.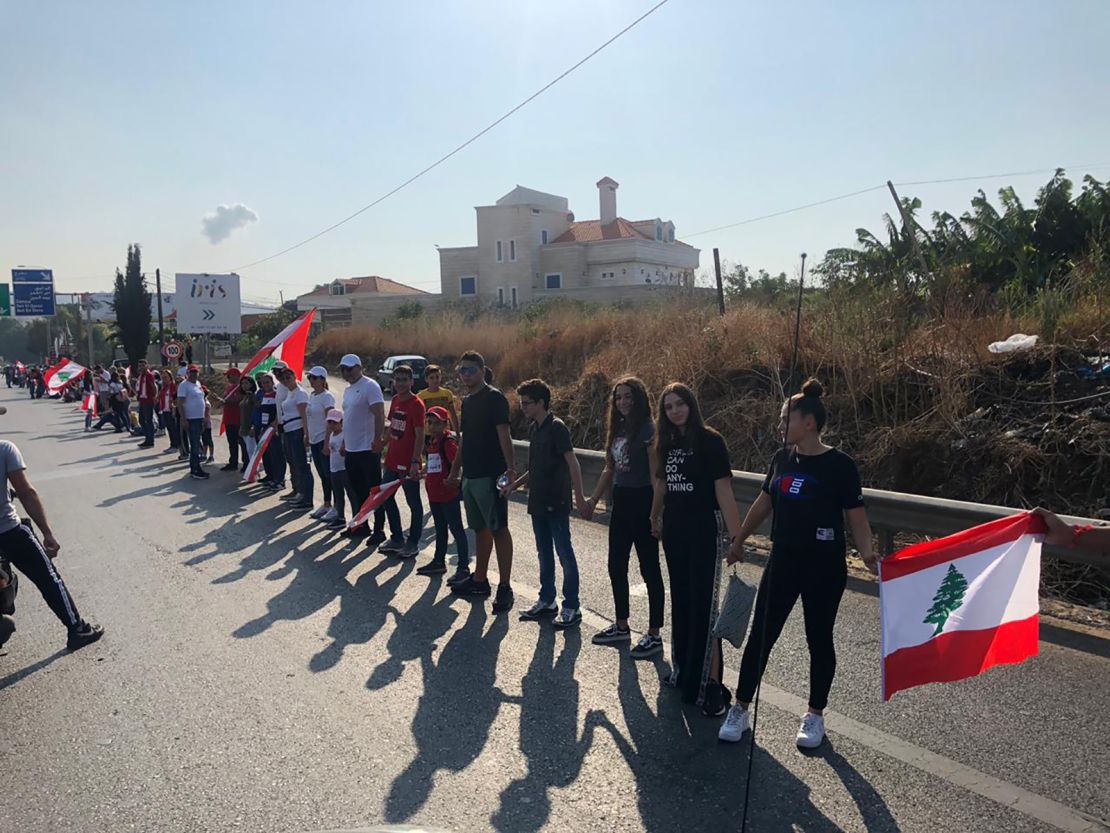 For more than a week, hundreds of thousands of Lebanese, from all walks of life, have taken to city streets in what has been dubbed the "October Revolution."
Frustrated by decades of corruption, mismanagement and sectarianism, citizens are calling for the government to resign. The sudden mass movement has brought the country to a standstill and caught the political elite by surprise.
The human chain formed on Sunday was inspired by similar chains Lebanese women have formed throughout the revolution to prevent clashes between protesters and armed forces.
Yara Khawam, an actress and organizer, described the human chain as an act of love.
"Our message was to portray the love we're made of, us Lebanese people," Khawam told CNN.
"I think the second we realized that our government kept us caged in their little sects and forced us to hate one another, we saw how much we'd like to all hold hands and be together."
Participants began joining hands and linking arms early afternoon. By 4 p.m. local time, the chain was complete.
The massive protest action did not cut through roads. Rather, it was formed along the country's main coastal highway.
"We wanted to show the world that our intention is not to disrupt the country nor provoke any other parties that might be against our protest," Hammoud said. "To say that we could express ourselves yet not affect the freedom of movement for anyone."
Hammoud said the line formed "naturally," with people driving themselves and other protestors – and some even taking buses – to other cities to fill the gaps in the chain.
The initiative only took two days to organize. According to Hammoud, the only resources the organizers had to make the human chain happen were their phones: "no modes of transportation, megaphones, or walkie talkies."
Despite the event's success, there were some obstacles.
Hammoud said organizers and participants were threatened by the opposition.
Keeping the chain unified for hours also proved difficult. But its success was an "energy booster for other initiatives towards positive change," Hammoud said.
"For the first time ever, I sat on the streets, and I felt more at home than in my actual house," Khawam said. "This human chain was a proof of all of that. Today was officially the best day of my life."