One of Hong Kong's most prominent pro-democracy activists has been barred from running in upcoming district council elections, as anti-government protests continue to rock the semi-autonomous Chinese city.
Joshua Wong, who helped lead massive pro-democracy protests in Hong Kong in 2014, became the only candidate banned from running in the November poll. Previously candidates have been barred from elections to the city's parliament, but not district councils, which handle local affairs.
In a letter, the returning officer supervising Wong's election said he had not abandoned the belief that independence could be an option for Hong Kong's future. This would be in violation Hong Kong's de facto constitution, which states that the city is an inalienable part of China.
Speaking at a press conference Tuesday, Wong said the decision "is clearly politically driven."
"I do not propose separatism as an option in the self-determination," Wong said. "The returning officer has falsely interpreted my political stance."
He said the decision was due to his prominence as an activist, saying it was an "order from Beijing, a political mission from Beijing."
Wong said he is "actively considering" appealing the ruling, and urged supporters to vote for pro-democracy candidates in the election.
The district council election, set to be held on November 24, will be the first test of public opinion amid the city's biggest political storm since its handover to China in 1997. Protesters have been demanding an independent investigation into allegations of police brutality and greater democratic freedoms. More than 2,000 people have been arrested, with some protesters lighting fires and throwing petrol bombs in clashes with police.
District councils are consultative bodies on local affairs in Hong Kong, and the election will return 452 councillors for a four-year term.
Wong initially submitted his nomination on October 4, and has since received three letters from election officials asking him to clarify his political beliefs.
The returning officer, Laura Liang Aron, explained in her letter that Wong has not distanced himself from Demosisto, a political party he founded in 2016, which she said has a "consistent" belief that Hong Kong independence should be an option in any future exercises of "democratic self-determination."
She also said that while Wong had categorically stated he did not support Hong Kong independence, he only did so because Chinese President Xi Jinping had earlier warned that any attempt to split China would "end in crushed bodies and shattered bones."
"Both Demosisto and he were pressed to saying that they have given up the notion as a compromise, instead of a genuine intention," Aron said.
The Hong Kong government said in a statement it "agreed to and supported the decision by the Returning Officer," adding that "there is no question of any political censorship, restriction of the freedom of speech or deprivation of the right to stand for elections."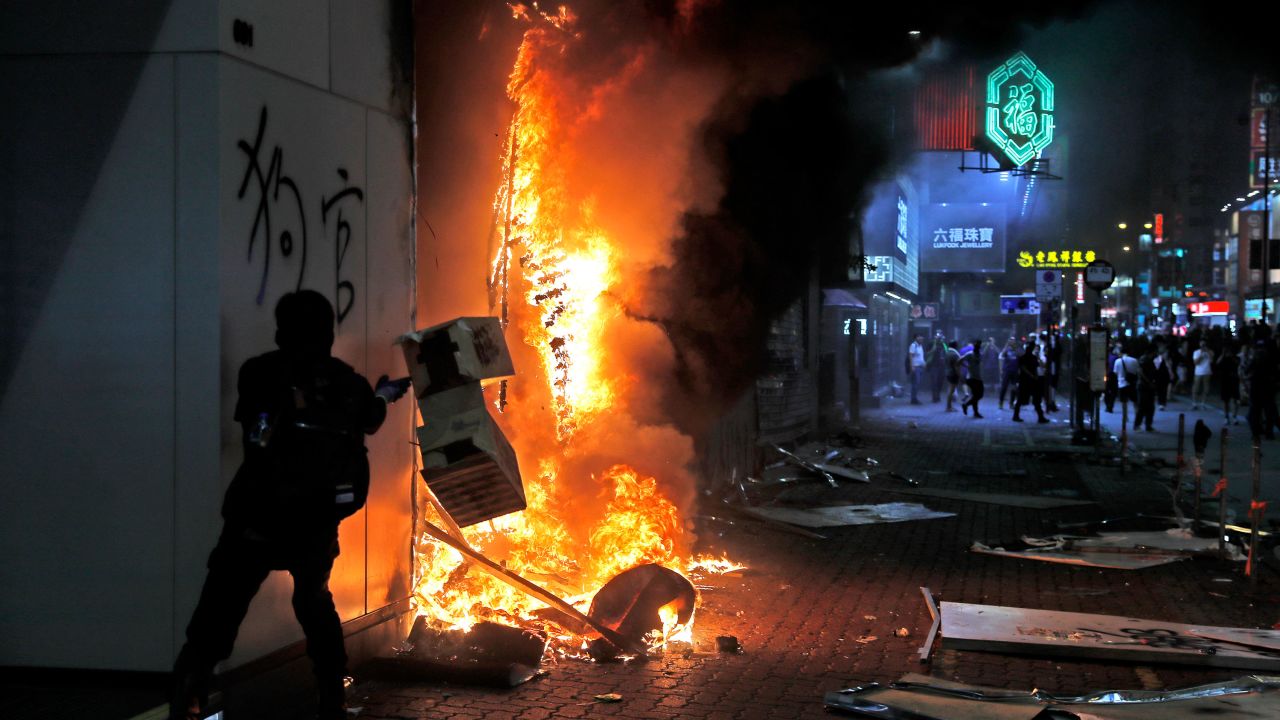 Wong was the last candidate to receive an answer regarding his nomination.
Josh Hawley, a Republican US senator from Missouri, urged the Hong Kong government to confirm Wong's candidacy in a tweet last Friday.
"Here's a test of Beijing's intentions toward Hong Kong: will they allow pro-democracy champion Joshua Wong to run … or will they intervene & disbar him? The world is watching," he posted.
Speaking at a press conference Tuesday, Hong Kong leader Carrie Lam reiterated calls for protesters to stop "extreme violence" before starting a political dialogue to resolve grievances.
"I feel that many Hong Kong people may have some unhappiness and grievances about the government policies," Lam said when responding to a question from CNN's Kristie Lu Stout. "(But) the situation we are now facing is anti-government violence, so the most effective solution is to tackle the violence head on."
In August, Wong and other high-profile democracy activists were arrested for charges relating to the ongoing Hong Kong protests, including "inciting others to participate in unlawful assembly" and "organizing unauthorized assembly", which could carry sentences of up to five years in prison if convicted. He has previously served time in jail over the mass protests in 2014.