These 10 people are making the world a better place and now, they have been named the Top 10 CNN Heroes of 2021.
Most of their efforts began small – a few started by collecting donations in their basements. Others have a personal connection to the people they help.
They were all nominated by you – our audience – and selected by CNN to each receive a $10,000 prize. And now you can vote on who you think should be named CNN Hero of the Year and receive an additional $100,000 for their cause.
To find out who is named Hero of the Year, you'll have to watch "The 15th Annual CNN Heroes All-Star Tribute," hosted by Anderson Cooper and Kelly Ripa on Sunday, December 12, starting at 8 p.m. ET.
CNN Heroes has been spotlighting the impactful work of people across the world since 2007. Here's a look at this year's Top 10 CNN Heroes:
Jenifer Colpas: Bringing clean water and power to rural villages in her country
What inspired her: Growing up in Barranquilla, Colombia, Colpas was mostly shielded from the poverty outside her door. After college, she moved to India for a job in information technology. There, she became aware of vast social inequalities.
What inspired her: Alonso was serving on the board of a women's shelter in 2004 when she discovered that women fleeing domestic abuse often had nowhere to go because shelters wouldn't accept their pets. "My two dogs … were my rock and my reinforcement," Alonso said. "I couldn't imagine being in that type of situation, finding the courage to leave and having to leave them behind." Alonso was also shocked to learn that in many cases, women would go back to their abusive situation to remain with their beloved pet.
Read more about Jenifer Colpas and her work
Lynda Doughty: The seal rescuer
Her cause: Najah Bazzy founded Zaman International, a nonprofit that has provided basic necessities, education and job training to more than 250,000 women and children of all backgrounds in the Detroit area. The group's 40,000-square-foot warehouse in the Detroit suburb of Inkster offers aisles of food, rows of clothes and vast arrays of furniture free to those in need. The group's case managers help clients access housing and other services.
What inspired her: Growing up in coastal Maine, Doughty developed a passion for the marine wildlife living along the coast and knew from an early age that she wanted to dedicate her life to protecting them.
"There, at the house, I got my first glimpse of poverty. … They absolutely had nothing," she said. "I was so devastated by that. … I decided that this wasn't going to happen on my watch."
That day, Bazzy and her family gathered all the furniture and household items that they could – including a crib – and delivered everything to the family. She hasn't stopped since.
Read more about Lynda Doughty and her work
David Flink: Creating a new way to learn
His cause: David Flink's Eye to Eye program pairs middle school children who have a learning difference with a college or high school mentor who also has a learning difference. Eye to Eye's 18-week program centers on a specific social-emotional learning objective. Each lesson builds on the previous, moving students from self-doubt to empowerment.

What inspired him: Growing up, Flink had a hard time focusing in school, and he didn't understand why he couldn't learn the way other students did.
Read more about David Flink and his work
Dr. Patricia Gordon: Saving women from a preventable disease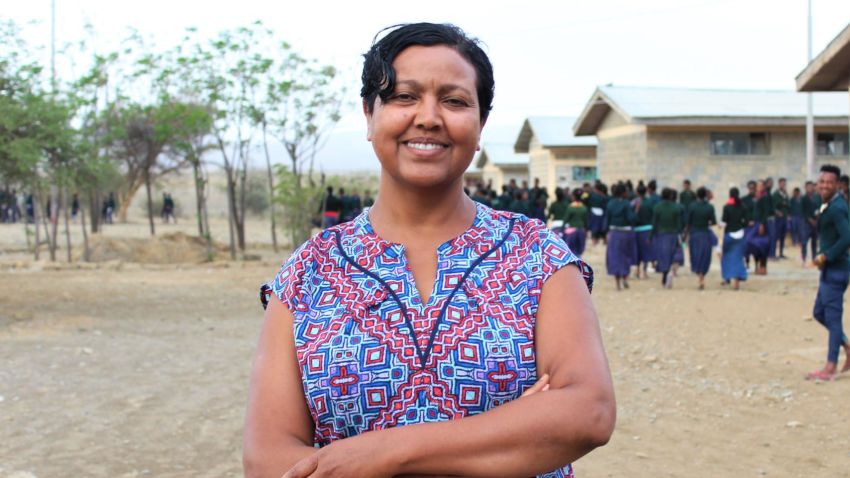 CNN Hero Freweini Mebrahtu
Her cause: Dr. Patricia Gordon operates CureCervicalCancer, which delivers screening, training and supplies to clinics around the world. The organization has since worked in 10 countries, including China, Haiti, Guatemala, Kenya, Nigeria, Tanzania and Vietnam.
What inspired her: Gordon, a radiation oncologist, traveled with a group of doctors in 2012 to bring a new radiation device to a hospital in Dakar, Senegal. While there, she saw how many women were needlessly being killed by a preventable, treatable disease: cervical cancer.
Like most girls in northern Ethiopia, she suffered in silence, never mentioning it to her mother or sisters. With no access to sanitary products, she coped by using rags. "One time I had an accident in class and I was so scared and ashamed," she said. "Even today I remember how I felt."
Mebrahtu went on to study in the United States, and remembers her first trip to an American drugstore.
"I saw overwhelming choices of sanitary pads," she said. "I started thinking … 'What about the girls that I left behind?'"
Read more about Dr. Patricia Gordon and her work
Hector Guadalupe: Giving former prisoners a second chance
His cause: Hector Guadalupe's non-profit, A Second U Foundation, helps formerly incarcerated men and women get certified as personal trainers and build careers in the fitness industry so they can support their families. Guadalupe and his team of volunteers offer a free eight-week program for 10-15 students every quarter to prepare for the national certification exam.
What inspired him: By the time he was a teenager, Guadalupe had lost both parents and ended up spending 10 years in prison for drug trafficking. There he became obsessed with fitness and got certified as a personal trainer. When he came home, he was determined to work at one of Manhattan's elite gyms.
"We fell in love with her," Meyers said. "She opened our eyes to the donkey problem. We started noticing donkeys in need everywhere." By 2005, Meyers and his wife had 250 donkeys on their land.
"We decided that either we have a problem or we're going to have to find a way to find homes for these donkeys," he said. So they gave up their careers and moved to a ranch outside San Angelo, Texas, where they started the nonprofit.
Read more about Hector Guadalupe and his work
Michele Neff Hernandez: Finding a way through grief together
Her cause: Michele Neff Hernandez created Soaring Spirits in 2008, three years after her husband's death. Her nonprofit connects widows and widowers, allowing them to heal in a community that understands the pain of losing a partner. It has grown to include 70 regional chapters all over the US, as well as pen pals and programs specifically for the LGBTQ community.
The Miles of Freedom Lawn Care Service provides temporary employment for men and women in the program. Miles also offers a shuttle service that takes family members to see their loved ones who are incarcerated.
What inspired her: Hernandez and her husband, Phillip, were enjoying the active life they built as a couple. But everything changed in August 2005 when Phillip went for a bike ride and was hit by a car and killed.
Wrongfully convicted for a crime he did not commit, Miles spent 15 years in a Texas prison. He was 34 when he was released in 2009.
"I was overwhelmed. I was 34 years old in age, but I was 19 from society standpoints. I had not dealt with the world, and I was literally scared," he said. "I didn't know about taxes and employment. The world was totally different."
For two years, Miles struggled to get back on his feet. Ultimately, he found a job, a home, and today is married with a child. His own struggles and seeing other formerly incarcerated individuals in the same situation were the impetus to help other former prisoners transition and stay out of prison.
Read more about Michelle Neff Hernandez and her work
Zannah Mustapha: Building a strong and peaceful future generation
His cause: For more than a decade, Zannah Mustapha has devoted his life to providing hope and peace for children in northern Nigeria caught in the epicenter of the Boko Haram insurgency. He and his staff educate more than 2,000 students from both sides of the conflict at the Future Prowess Islamic Foundation School.
What inspired him:
"My soul was really aching with such loss and grief," said Montoya, 58. "It seemed inevitable that I would be on that same track."
Immersing himself in painting, a lifelong passion, helped restore his health. Afterwards, Montoya was inspired to bring the healing power of the arts to local children. Seeing young people grow, as artists and as people, gives Montoya great satisfaction.
"You can feel when they have that sense of pride and confidence," he said. "It's a little fire in there and we just feed it every day a little more."
Read more about Zannah Mustapha and his work
Shirley Raines: Beauty 2 the Streetz
Her cause: For the past six years, Raines and her organization, Beauty 2 the Streetz, have been a mainstay on Los Angeles' Skid Row, providing food, clothing, hair and makeup services – and most recently health and hygiene items – to thousands of people.
Through games or arts and crafts activities, children and teens are encouraged to open up and share with the volunteer facilitators. A realistic hospital room gives children whose parents suffered long-term illnesses a unique way to work through their feelings, while others let off some steam in the "Volcano Room" with its padded walls, pillows for punching and books for ripping.
What inspired her: Raines' 2-year-old son Demetrius was staying with her grandmother when he accidentally ingested medication and was hospitalized.
"It looked like bad behavior … But it was a textbook example of a grieving child," Robinson said. "I wasn't a bad kid. I was a sad kid."
Robinson struggled until she got help in her late 20s. Eventually, she began volunteering at a children's grief support group and nearly two decades ago, she quit her job to devote herself to the work full-time.
"I really do this work to make sure other kids don't lose years of their life to unresolved grief," she said. "The death of a parent is really a trauma for a child. But it doesn't have to leave a child traumatized if they get support."
Read more about Shirley Raines and her work
Dr. Ala Stanford: Bringing Covid-19 testing and vaccines to Philly's minority neighborhoods
Her cause: Since April 2020, Dr. Ala Stanford has been working to change Covid-19 vaccine hesitancy among people of color. Her group, the Black Doctors Covid-19 Consortium, has brought testing and vaccines to more than 75,000 residents of Philadelphia's minority neighborhoods.
His cause: Afroz Shah started a volunteer movement that has cleared more than 60 million pounds of garbage – mostly plastic waste – from Mumbai's beaches and waterways. Shah, a Mumbai lawyer, launched the Afroz Shah Foundation to help spread his mission to save the world's oceans from plastic pollution. More than 8 million tons of plastic ends up in the oceans each year – the equivalent of a garbage truck dumped every minute. It's predicted that by 2050, there will be more plastic in the ocean than fish.
What inspired her: Born to teen parents in north Philadelphia, Stanford's family often struggled to make ends meet. But that didn't keep her from dreaming big.
At first, it was just him and a neighbor, and then he began recruiting others to join in. Word spread and with help from social media, more volunteers got involved.
Shah hasn't stopped since. He's now spent more than 200 weekends dedicated to the mission, inspiring more than 200,000 volunteers to join him in what's been called the world's biggest beach cleanup. By October 2018, Versova Beach was finally clean and Shah's cleanups expanded to another beach as well as a stretch of the Mithi River and other regions of India.
Read more about Dr. Ala Stanford and her work
Made Janur Yasa: A plastic clean-up program that's feeding families
His cause: Made Janur Yasa's non-profit, Plastic Exchange, allows local villagers in Bali, Indonesia, to exchange plastic trash for rice, a main food staple. This barter system benefits the environment and empowers the local people.
What inspired him: Yasa owns a vegan restaurant on Indonesia's island of Bali, where tourism is the driving economic force. When the Covid-19 pandemic hit, many residents lost their jobs.
The cancellation sparked an idea: Wigal wanted to show authorities that gamers weren't all bad or lazy kids – and they could do something good with their gaming skills.
In 2008, Wigal and his friends held an event called Gamers for Giving and raised money for the Autism Society of America. The event continued year after year, and as it grew in popularity, Wigal's team branched out and started working with local hospitals.
"We noticed that a lot of the video games (at the hospitals) were getting stuck in playrooms," said Wigal. "And because of that, there was a whole segment of the hospital population that was, sort of, limited to whatever it was they had access to their bedside environment."