Earlier this year, Lev Parnas, the indicted associate of Rudy Giuliani, received a sudden windfall of money from a prominent Ukrainian oligarch who is fighting extradition to the United States and is suspected of having ties to the Russian mob, according to four sources who spoke with Parnas.
This summer, Parnas told potential business associates that his company began receiving payments from the oligarch, Dmytro Firtash, who is living in Austria while fighting bribery charges in the US, the sources told CNN.
Parnas also told these people he met with Firtash several times over the summer while in Vienna. In June, according to one of these sources, Parnas vouched to Firtash for two well-known Washington lawyers who later brought up Firtash's plight in a face-to-face meeting with Attorney General William Barr.
These new details appear to reveal a much more substantial relationship than previously known between Parnas and Firtash, and how Firtash's years-long extradition battle suddenly collided with Giuliani's push to dig up dirt on President Donald Trump's political opponents.
They could also raise the stakes for Giuliani, whose financial ties are being examined by federal investigators. A company owned by Parnas paid Giuliani $500,000 for consulting in the fall of 2018. Giuliani maintains that the money did not originate overseas.
CNN previously reported that a counterintelligence probe of Giuliani is also underway. Giuliani has maintained he's acted appropriately in the interests of his client, President Donald Trump.
Bodyguards and private jets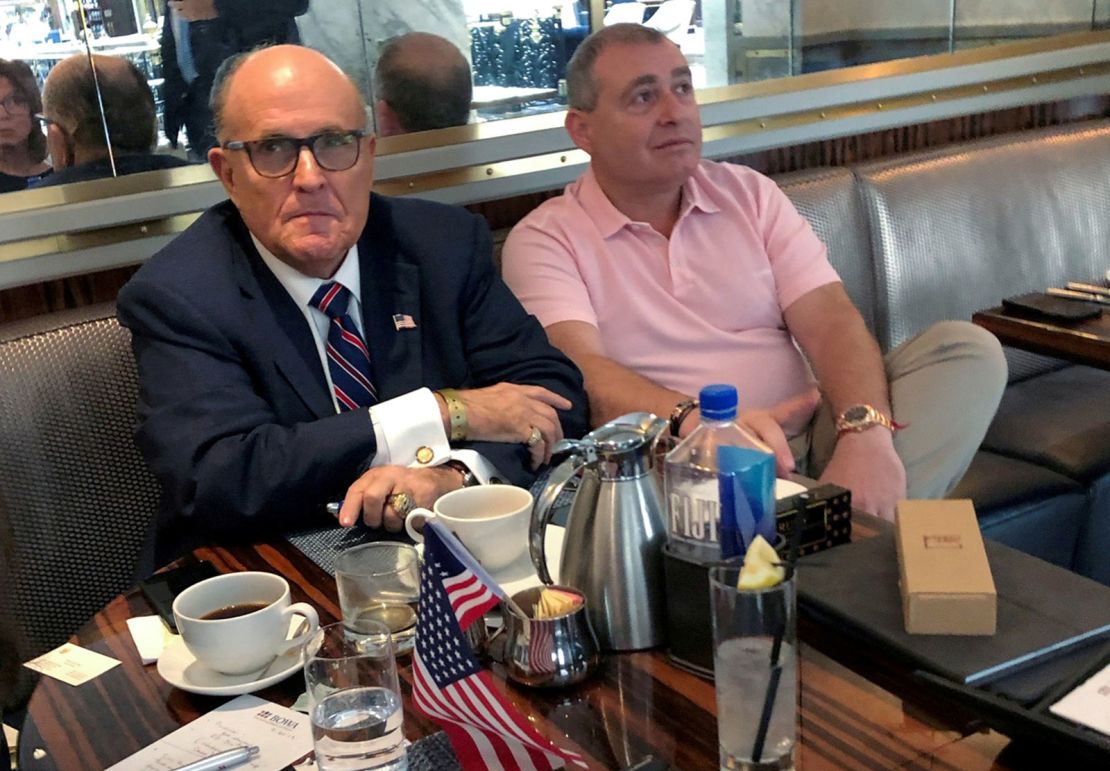 Parnas has emerged as a pivotal figure in the Trump-Ukraine scandal, which triggered impeachment proceedings against the President by House Democrats.
Giuliani, with help from Parnas and his business partner Igor Fruman, led a shadow foreign policy campaign with the goal of securing Ukrainian investigations into former Vice President Joe Biden and his son Hunter Biden, who served on the board of a Ukrainian natural gas company.
Giuliani also advocated for the removal of the former US ambassador to Ukraine, Marie Yovanovitch, who was recalled from her post in May.
In private conversations with would-be business associates before his arrest this month, Parnas boasted that his newfound luxurious lifestyle was bankrolled by Firtash, two sources told CNN. Beginning in mid-August, this included around-the-clock bodyguards, two luxury SUVs for his entourage, and at least six private charter flights in the past several months, according to the sources as well as documents exclusively obtained by CNN.
Giuliani was on at least one of those flights, according to the documents.
Parnas now has private security guards outside of his home in Florida, according to a source familiar with the matter.
Firtash's lawyers have downplayed the relationship between their client and Parnas. In statements, they describe Parnas as merely an interpreter hired to communicate with Firtash, who does not speak English.
"Mr. Firtash met Mr. Parnas for the first time in June 2019. Mr. Firtash had no business relationship with Mr. Parnas or Mr. Fruman," according to a statement from the law firm of diGenova & Toensing, which represents Firtash. "Mr. Parnas was retained as a translator by the law firm of diGenova & Toensing. No money has been paid to Mr. Parnas by Mr. Firtash beyond his work as a translator for the law firm."
But two sources who spoke with Parnas tell CNN that he talked about how he was cultivating Firtash for his own business interests. "I'm the best-paid interpreter in the world," Parnas joked to the sources who spoke to CNN on the condition of anonymity.
Firtash's legal team is still fighting his 2013 indictment on bribery and racketeering charges in Chicago. A spokesperson for Firtash's company, Group DF, declined to comment when reached by CNN.
Firtash made his fortune selling Russian gas to the Ukrainian government, and the Justice Department previously described him as an "upper-echelon" associate linked to Russian organized crime.
Firtash denies any ties to organized crime and maintains his innocence.
Parnas and Fruman, along with two of their business associates, are accused of violating campaign finance laws by funneling money from foreign donors into US political campaigns, including Trump's flagship super PAC. All four men pleaded not guilty. Lawyers for Parnas and Fruman declined to comment.
Landing in Firtash's orbit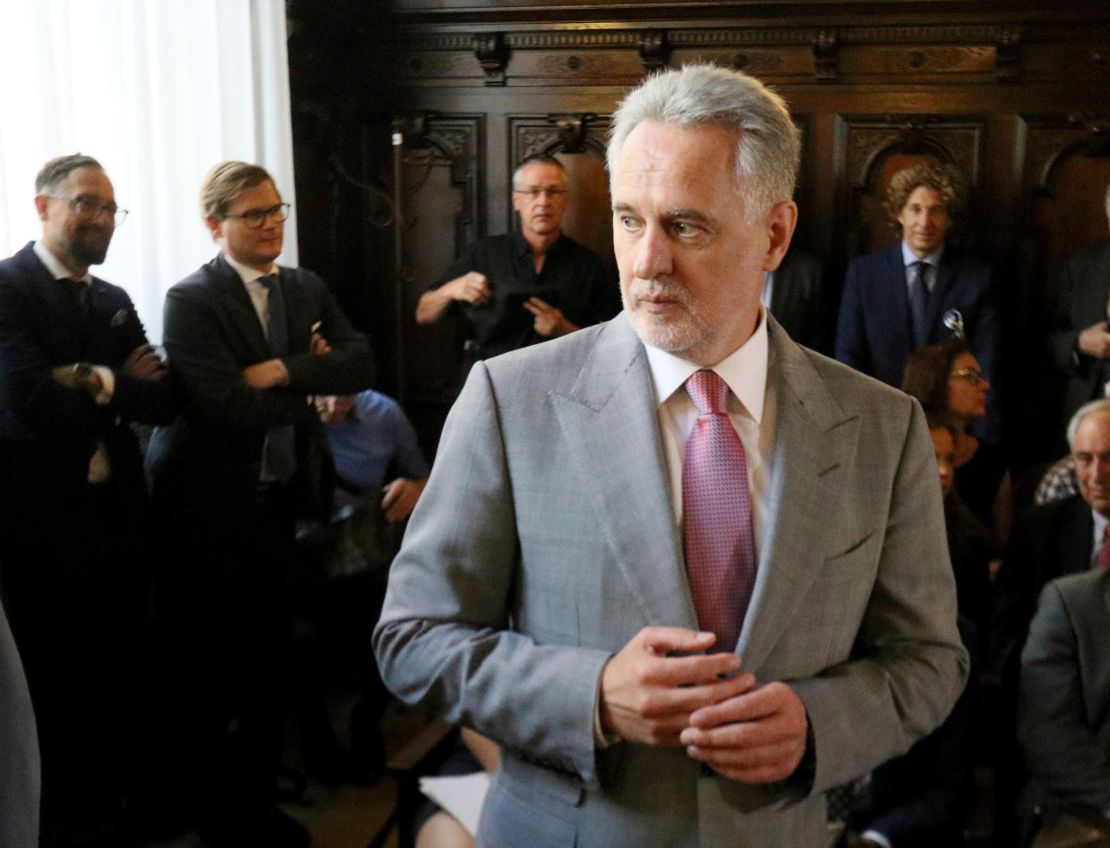 This summer Firtash shook up his legal team, which had been led by Lanny Davis, the well-known Washington lawyer who was special counsel for President Bill Clinton, and represented Trump's former personal attorney Michael Cohen.
Parnas played a pivotal role in Firtash's decision to replace Davis with Joseph diGenova and Victoria Toensing, according to a source with direct knowledge of the situation.
Parnas vouched for them directly to Firtash at a meeting in Vienna in June, specifically touting their personal ties to Giuliani, a source close to the lawyers told CNN.
The husband and wife legal duo are well-known Republicans, frequent defenders of Trump on cable news and nearly joined Trump's legal team last year. diGenova says he's known Barr for 30 years— connections that could prove valuable in Firtash's ongoing extradition fight.
Firtash was arrested in 2014 and the Austrian Supreme Court finally approved his extradition in June, though some legal obstacles still remain while he seeks to overturn the ruling.
A source with knowledge of the meeting told CNN that Parnas was the middleman who, a month after the Vienna meeting, formally met with Firtash's legal team as well as diGenova and Toensing back in the US.
The July meeting took place at the Trump International Hotel in Washington. Present were Parnas, Fruman, diGenova, Toensing and two other Firtash representatives, a source with knowledge told CNN. Also in attendance, the source said, was David Correia, one of Parnas' business partners who was also indicted in the campaign finance conspiracy.
At some point shortly before that meeting, the deal was sealed. Toensing and diGenova joined Firtash's legal team and, they later met personally with Barr and other Justice Department officials, where they asked for the criminal case against Firtash to be dropped. The Washington Post was first to report the meeting, and that Barr declined to get involved.
A Justice Department official confirmed to CNN that the meeting occurred, and that diGenova and Toensing's request was rejected. A spokesman for diGenova and Toensing declined to comment.
Meanwhile, Parnas was reaping the benefits of his new connection to Firtash.
Flights up and down the East Coast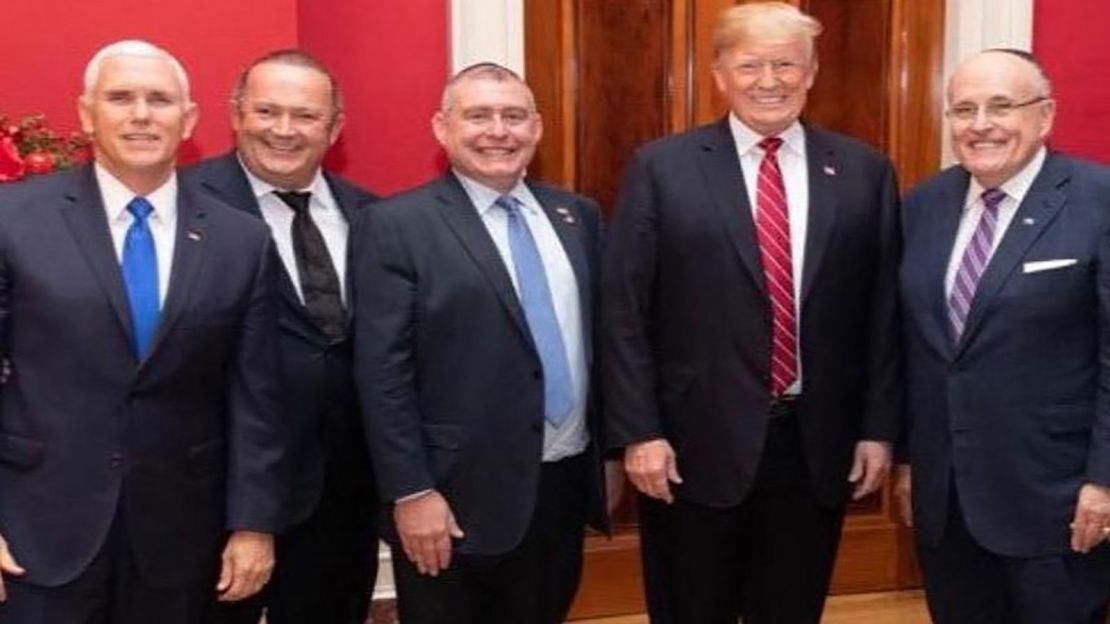 Associates noticed a change after Parnas returned to Boca Raton from his summer meetings with Firtash, sources close to the situation told CNN.
Whereas one year earlier, Parnas was telling his wealthy contacts that he was short on cash and needed loans, he was now living the high life — surrounded by bodyguards, traveling in luxury SUVs and jetting up and down the East Coast on private chartered planes.
Quite suddenly, Parnas was able to settle an old debt with local businessman Felix Vulis, whose lawyer previously told CNN that he lent $100,000 to Parnas in October 2018, partly because Parnas claimed to be so poor he could not afford to pay for his own son's bris.
Three sources told CNN that a January invoice for about $30,000 from a charter jet company in Florida was left unpaid for months. But in August, after the Vienna trips, Parnas started using the company again and agreed to a payment plan, the sources said.
They also started to ramp up their own spending. Between August 23 and October 6, Parnas and Fruman used their company, Global Energy Producers, to pay for six private flights up and down the East Coast, according to documents obtained by CNN.
Parnas told some associates that Firtash was funding the flights, those three sources told CNN. He also told some of them that Firtash was now paying all the expenses for Global Energy Producers.
According to flight manifests obtained by CNN, Giuliani and his friends and family joined Parnas and Fruman on a flight from Florida to New Hampshire in late January.
Proposed Qatar gas deal
By September, Parnas wanted to find a way to be paid more legitimately by Firtash, he told three people. On August 19, Parnas and Correia appeared on a sunny afternoon at a cigar bar, Club Monte Cristo, in Boca Raton, according to two people with knowledge of the meeting. Fruman was supposed to attend but was stuck in traffic.
At that meeting, Parnas and Correia tried to sell an American energy magnate, whom Parnas cultivated through Giuliani, on a deal involving their new patron. Correia asked if the businessman would open a letter of credit to buy gas from Qatar, where they claimed to have a contact. Firtash, Correia explained, would in turn sign a letter of credit to him and buy the gas at a mark-up.
Correia, Parnas and Fruman would take a share of the profits. Firtash, they claimed, would be a natural partner for the project given his history selling Russian gas into Ukraine. While Parnas gave the impression the Qatar deal was Firtash's idea and had his blessing, according to two sources who spoke to CNN, it's unclear what if anything Firtash actually knew of the proposal. His lawyers have stated that he had no business relationship with Correia, Parnas or Fruman.
In the end, the American businessman balked over concerns about working with an indicted oligarch, and ultimately declined the offer.
Correia's lawyer did not respond to requests for comment.
Bringing it back to Biden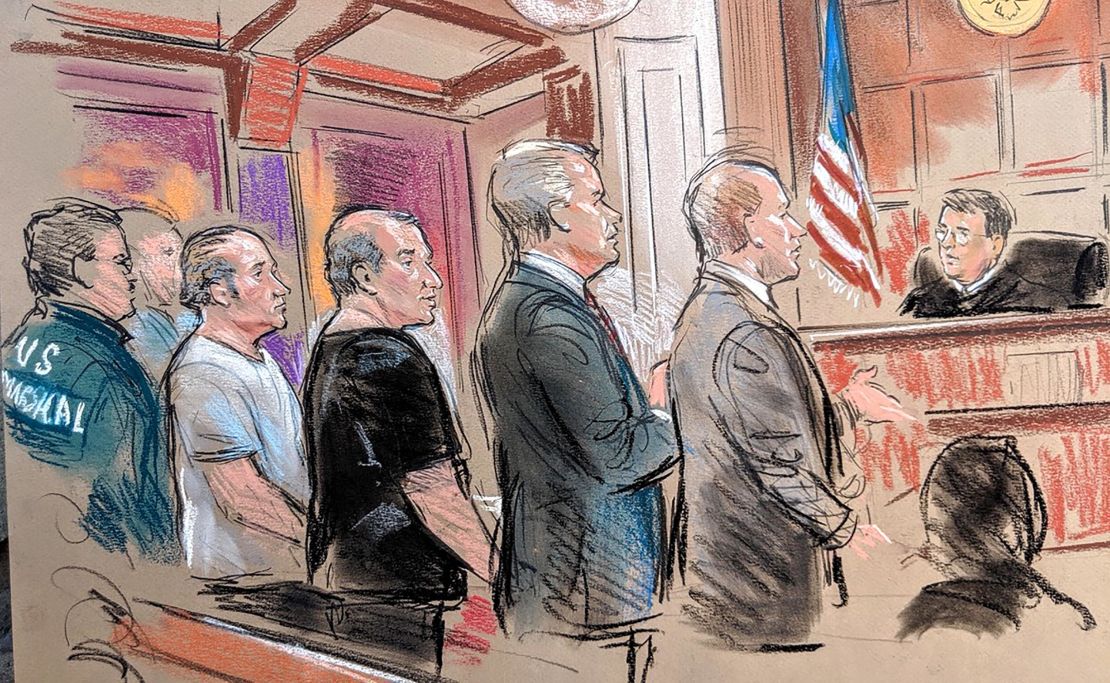 The next month, on October 4, shortly after House Democrats requested documents from Parnas and Fruman, flight records show that Parnas chartered a jet to Cape Cod. Parnas told two sources that he was there to meet his lawyer John Dowd, who previously represented Trump during the Mueller investigation.
Democrats have since subpoenaed Parnas and Fruman for documents, though Dowd has pushed back. Dowd directly tied Parnas and Fruman to the President when he told lawmakers that some requested materials could fall under attorney-client privilege because his clients "assisted Mr. Giuliani in connection with his representation of President Trump."
The flight records indicate that Parnas and Fruman chartered a private jet from Fort Lauderdale, Florida, to Washington on October 8, the day before they were arrested at Dulles while boarding a plane to Vienna. Giuliani lunched with Parnas and Fruman at the Trump International Hotel in Washington just hours before they were arrested, according to the Wall Street Journal.
The purpose of their trip to Vienna, as CNN previously reported, was to meet up with Giuliani and former Ukrainian prosecutor general Victor Shokin, a major player in the widening Ukraine scandal because of his discredited claims against the Bidens.
As vice president, Biden led a push by the Obama administration that was joined by the International Monetary Fund and other European nations to have Shokin removed because he was not prosecuting corruption cases.
By the time of Parnas' attempted trip to Vienna this month, Shokin was already involved in Firtash's case. Shokin had submitted an affidavit to an Austrian court supporting Firtash's arguments against extradition, claiming there was political interference by the US.
It was in that affidavit that Shokin first made the unfounded claims about Biden, which Giuliani promoted for months after speaking with Shokin earlier this year. That conversation happened over Skype after Giuliani unsuccessfully lobbied the State Department and White House to grant Shokin a visa so they could to meet face-to-face.
There is no evidence of wrongdoing by the Bidens.
Parnas and Giuliani hoped to book Shokin for a Fox News interview in Vienna, where he could levy his allegations against Biden for the first time on American television, according to four sources. It never happened.
CNN's Evan Perez and Katelyn Polantz contributed to this story.