India's top court has criticized authorities for not doing enough to curb New Delhi's dangerous levels of air pollution, calling it a "blatant and grave violation of right to life."
Thick smog has blanketed the country's capital in recent days, forcing flights to be canceled and schools to be shut. New Delhi, which is home to more than 18 million people, has declared it a public health emergency, with authorities halting work at construction sites and instituting new traffic controls limiting the number of cars on the road.
Delhi entered its 10th consecutive day of hazardous air pollution on Tuesday, according to air quality analysts IQAir AirVisual, making it the longest string of severely polluted days for the city since records began in 2016.
The capital, which regularly tops lists of the world's most polluted cities, typically experiences heavy smog during the winter months, as farmers in surrounding states burn stubble to prepare their land for the next crop. The period from mid-October to mid-November also coincides with Diwali, the Hindu festival of lights, when residents set-off firecrackers as part of the celebrations.
Following a hearing Monday, the Supreme Court of India released an order which found that the state government, the government of Delhi and civic bodies had "miserably failed" to perform their duty to the public.
"This is a shocking state of affairs in which we are put, as on today," the court said. "This is a blatant and grave violation of right to life of the sizeable population by all these actions and the scientific data which has been pointed out indicates that life span of the people is being reduced by this kind of pollution which is being created."
The court said it was at a "loss to understand" why authorities were not able to create a situation in which this kind of annual event did not take place. "People cannot be left to die or to suffer various ailments," said the court.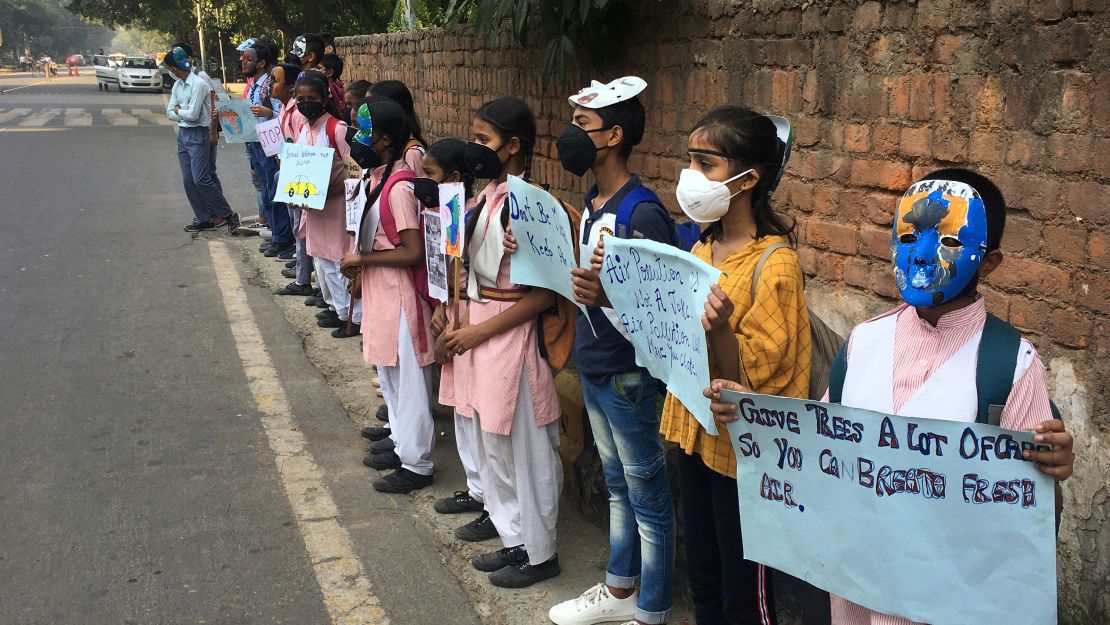 The court ordered Delhi's pollution board to immediately halt "polluting industries" in the city and for the state government to submit "a road map for preventing this kind of situation in future" within three weeks.
Under Indian law, the governments are compelled to respond to the Supreme Court's request for reports. Over the years, the Supreme Court has repeatedly asked various state agencies to take action to curb pollution. Last year, the court banned traditional firecrackers in a bid to crack down on smog, resulting in a drop in the sale of fireworks across Delhi.
The court order came as the central government made a similar request. On Monday, the principal secretary to the prime minister, Pramod Kumar Misra, reviewed the measures that Delhi and the nearby states of Punjab and Haryana are taking to tackle pollution, and asked to know details of additional measures that had been taken to curb so-called stubble burning.
Delhi's government has take some steps to curb the pollution, including instituting the odd-even car rule this month for the first time since 2016. The rule means that more than 4 million cars are banned from the roads each day – and anyone who breaks it faces a fine of 4,000 rupees ($56).
New Delhi has been ranked the most polluted city in the world in the past, a label that has frustrated local officials, who see their efforts to tackle pollution undone by neighboring states.
Last week, Delhi Chief Minister Arvind Kejriwal said the city had been "turned into a gas chamber due to smoke from crop burning." Kejriwal singled out the governments of Punjab and Haryana states, which he said contributed to Delhi's pollution as farmers in those areas ignored bans on burning leftover crops in their fields.