Former Bolivian President Evo Morales has warned government officials not to "stain themselves with the blood of the people," after his supporters took to the streets in support of the embattled former leader.
Protests in the country's main city La Paz broke out Wednesday amid calls from Morales and his backers to reject newly declared interim president Jeanine Anez.
Protesters carrying the indigenous flag were met by riot police, and the two sides engaged in brief confrontations. Some were seen throwing rocks at authorities, while police used tear gas to disperse those who had gathered.
Speaking at a news conference thousands of miles away in Mexico City, where he was granted political asylum, Morales claimed the current unrest was part of an anti-colonial and anti-imperialist struggle that indigenous Bolivians have been fighting for years.
Morales expressed his will to return to Bolivia if the "people ask for it" and cautioned those currently in charge in his home country not to stain themselves "with the blood of the people."
Bolivia has been rocked by political unrest and mass protests since reports of electoral irregularities during general elections on October 20. Morales and his political party were accused of rigging the vote, a charge the longtime leftist Bolivian leader denies.
Morales, who resigned Sunday from his post after nearly 14 years in power, claims he is the victim of a coup orchestrated by right-wing politicians and the country's armed forces. The opposition in Bolivia maintain the country is engaged in a fight for "democracy and peace."
Morales had long enjoyed support among many for his leftist policies to reduce poverty and support indigenous Bolivians. Indigenous people make up some 20% of Bolivia's population, while 68% of the country has some Amerindian ancestry, according to the CIA World Factbook.
Rigoberta Menchu, one of Latin America's most prominent indigenous rights activists, came out in support of Morales on Twitter Wednesday.
"We energetically condemn the coup d'etat in Bolivia, perpetrated by the army and oligarchs opposed to the government of our brother President Evo Morales," said Menchu, who won the Nobel Peace Prize for her work in her home country of Guatemala.
In the Morales stronghold of El Alto, not far from La Paz, things were much calmer. While many people there said they believed Morales' ouster was in fact a coup, some thought it was time to hold new elections – but this time with new candidates, and preferably younger ones.
Anez, 52, appointed herself interim president on Tuesday. She said that she was next in the line of succession after the three people ahead of her quit amid the political unrest, but Morales' allies left the legislative chamber during the vote – leaving her short of the legal minimum number of lawmakers required to appoint her.
Anez has since named members of her cabinet and appointed new people to lead the armed forces.
In her first address to the nation as interim President on Wednesday, she stressed that her position is "strictly provisional" and she plans to "call for new general elections in the earliest possible time."
"This is a transitional government," Anez said in an interview with CNN. "Obviously, as soon as we can, we will call general elections so the Bolivian people can have a president elected by us in a democratic manner."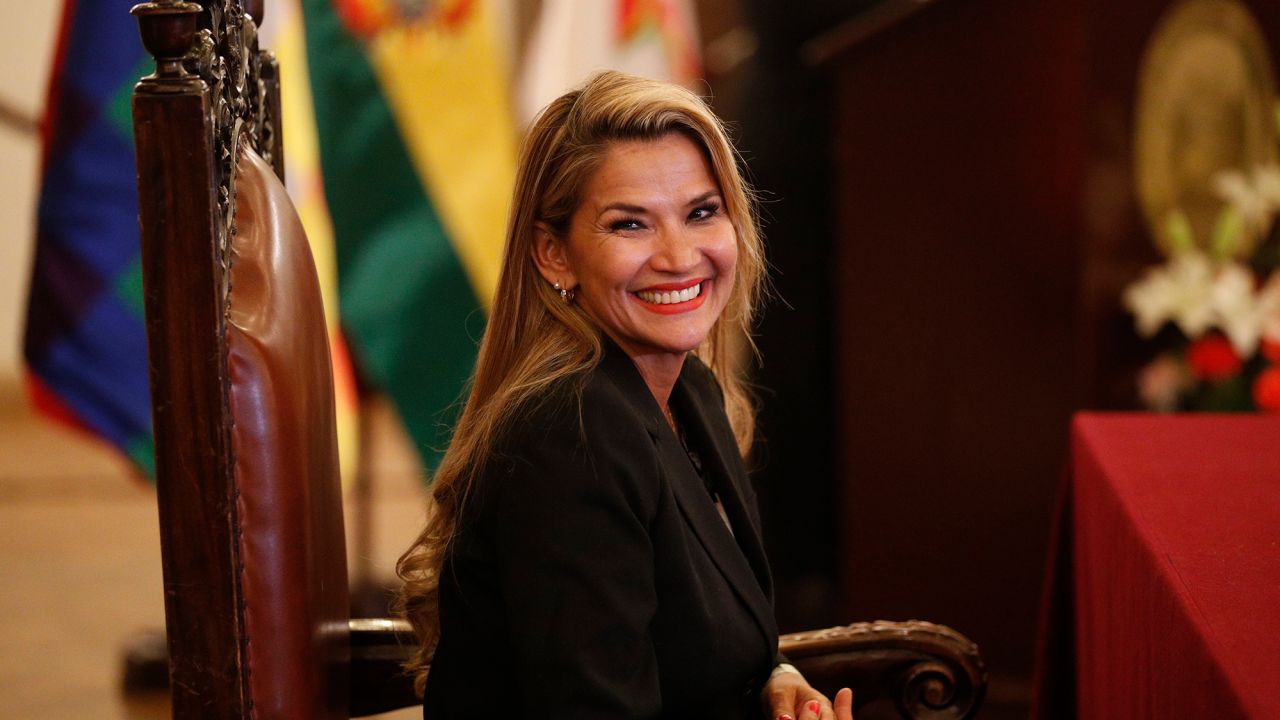 The United States threw its support behind Anez Wednesday, officially recognizing her government.
Washington's top diplomat, Secretary of State Mike Pompeo, congratulated the interim Bolivian President in a statement Wednesday and called "on all parties to protect democracy during the coming weeks and to refrain from violent acts against fellow citizens and their property."
Morales was quick to denounce the decision by the Trump administration to recognize the Anez government.
"This coup d'etat that has triggered the death of my Bolivian brothers is a political and economic plot that came from the US," Morales said Wednesday.
CNN's Tatiana Arias and Gustavo Valdes contributed to this report