For the second straight year, Roger Federer was undone by a 21-year-old in the semifinals at the ATP Finals, much to the disappointment of the overwhelming majority of the 18,000 fans inside London's O2 Arena.
Alexander Zverev knocked out the legendary Swiss 12 months ago en route to the crown, and on Saturday it was the turn of Stefanos Tsitsipas. He became the youngest finalist on his ATP Finals debut since Hall of Famer Jim Courier in 1991.
The Greek talent won a gargantuan ninth game of the opening set as part of a 6-3 6-4 victory over tennis' best supported player, a day after Tsitsipas fell in an extended thriller against another of the game's behemoths, Rafael Nadal.
Awaiting him on Sunday is Dominic Thiem, who ended Zverev's repeat bid with a 7-5 6-3 win in the night session.
"It's a great moment not just for me, for my country, my team," Tsitsipas, the lone top-10 player in Greek history, told reporters. "I'm proud of myself, how hard I fought today, how concentrated I stayed in the break points.
"Didn't crack under pressure. I was very composed and very mature in my decisions."
"I threw it away again"
Following Friday's near three-hour duel in the round robin, world No. 6 Tsitsipas said he still had enough left in the tank to face 20-time grand slam winner Federer.
He wasn't bluffing as it turned out, although how things might have been different had the 38-year-old Federer broken in the first game when given the opportunity.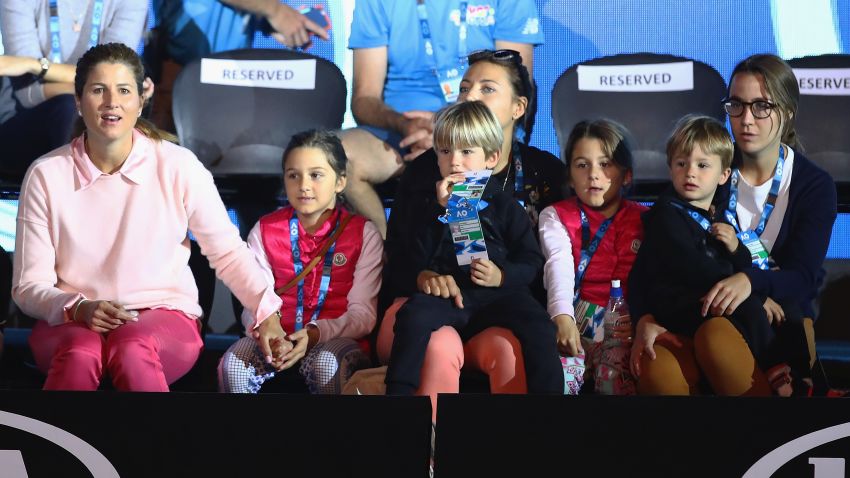 Roger Federer remembers this 'extraordinary' kiss
The O2 is a concert and entertainment venue and Tsitsipas, whose mom was a tennis player, could very well be a headline act as a magician. Such has been his penchant for escaping from tight situations.
Overall he saved 11 of 12 break chances – after saving all 12 when he stunned Federer in the fourth round at January's Australian Open. If that wasn't enough, he fended off seven of nine versus Nadal.
"He didn't double fault, he didn't do anything silly, and he's tough as nails," Federer said. "I'm frustrated I couldn't play better, and when I did and fought my way back, I threw it away again."
Meanwhile Tsitsipas went a tidy three of four on break points himself after not breaking Federer in their past two tussles in Dubai and Basel.
It certainly felt like Federer was well on his way to a record-extending seventh title at the ATP Finals when he eased past Novak Djokovic on Thursday in their highly anticipated Wimbledon final rematch but it wasn't to be.
Not as easy as before
The 17-year age gap between Federer and Tsitsipas was the biggest in the tournament's history – and perhaps it told on court.
"When the matches come, it's maybe not as easy as it was 10, 15 years ago where you're able to play very good day in, day out," said Federer. "Maybe you need to do extra effort sometimes for that to happen.
"Things were complicated today. I've got to do an even better job at figuring these moments out, because the opportunities were there today.
"They were there in other moments as well this season, at Indian Wells or Wimbledon."
If it's any consolation to him, Tsitsipas figures to be a grand slam winner in the future. And maybe soon. He has beaten the "Big Three" of Federer, Nadal and Djokovic this season.
Alexander Zverev: 'Amazing' to win ATP Finals
Usually a lightning quick starter, Federer was instead rusty on Saturday. Tsitsipas saved a break chance in the first game courtesy of a return error and immediately broke in a game where Federer – incredibly for him – missed a pair of overheads. This after putting in a serving masterclass against Djokovic, the game's top returner.
"Getting broken by missing two smashes in one game, that hasn't (happened) in a long, long time or ever," said Federer. "So that was tough."
He also found it difficult on his forehand and never quite got the consistency on that side, hitting 17 unforced errors and only seven winners.
More break points passed Federer by in the seventh game of the opening set, before the hugely important ninth game.
Lucky number seven for Tsitsipas
Tsitsipas may have held seven set points but it was Federer who manufactured a break point before all that.
A pair of stunning Federer returns on set point extended the game but then he erred on a return to Tsitsipas' relief.
Tsitsipas won the set by three games but only tallied three more points overall, an indication of just how much pressure he was under on serve – and how Federer cruised on serve barring one game.
Federer committed 12 unforced errors in the first after hitting five all match against Djokovic.
The crowd willed Federer on yet, seemingly reeling, he was broken to love to trail 2-1 in the second.
This time his response was immediate, though not straightforward. Tsitsipas got out of a 0-40 hole, earned a game point, but was then broken on a forehand error for 2-2.
What happened next? Tsitsipas broke straight back.
It seemed only fitting that Tsitsipas saved two more break points in the final game.
Rafael Nadal reflects on US Open win
Federer departed as the crowd favorite, unsurprisingly, and those fans will be delighted to hear he is "extremely excited for next season." No, retirement isn't on the way.
Tsitsipas' season isn't quite over, returning Sunday to battle another one-handed backhand artist in Thiem.
Thiem saved break points, too
The Austrian shotmaker – who overcame both Federer and Djokovic in the group stage – saved all four break points he faced against Zverev.
Zverev faltered at 5-6 in the first, double faulting tamely into the net to end the set. Like his pal Federer, he missed two smashes in a game on the way to being broken, at 2-3 in the second, chipping in, too, another double fault. Thiem saved two of his break points in the ensuing game to stop a Zverev comeback.
Dominic Thiem: Austria's rising star
The 26-year-old made a second French Open final in June and is playing the best hard-court tennis of his career under the guidance of former Olympic gold medalist Nicolas Massu.
Visit our tennis page for more news and videos
He beat Tsitsipas in a tight three-set final in Beijing just last month.
"Seems like Dominic is in his absolute prime now," was how Federer put it.