A Nigerian entrepreneur has taken home the top prize at the Jack Ma Foundation's first annual prize for African businesses.
Temie Giwa-Tubosun walked away with the top $250,000 cash prize from the $1 million available from the Africa Netpreneur Prize Initiative (ANPI), started by Chinese investor Jack Ma.
The organization says it will award a $1m grant to 10 African entrepreneurs every year for the next 10 years.
Giwa-Tubosun is the founder and CEO of LifeBank, a Lagos-based blood and oxygen delivery company that connects registered blood banks to hospitals and patients in need of urgent blood supplies.
She said: "The Africa Netpreneur Prize will give me the resources to grow LifeBank and expand our presence in Nigeria and throughout the rest of Africa. I look forward to continuing my journey to solve problems and make a significant impact on the future of Africa."
Drone delivery of blood
Giwa-Tubosun also announced at the 'African Business Heroes' event held in Accra,Ghana on Saturday that LifeBank will start delivering blood through Unmanned Aerial Vehicles (UAVs), known as drones.
She said the decision to add drones to their mobility fleet was to get blood to patients in places that are hard to reach.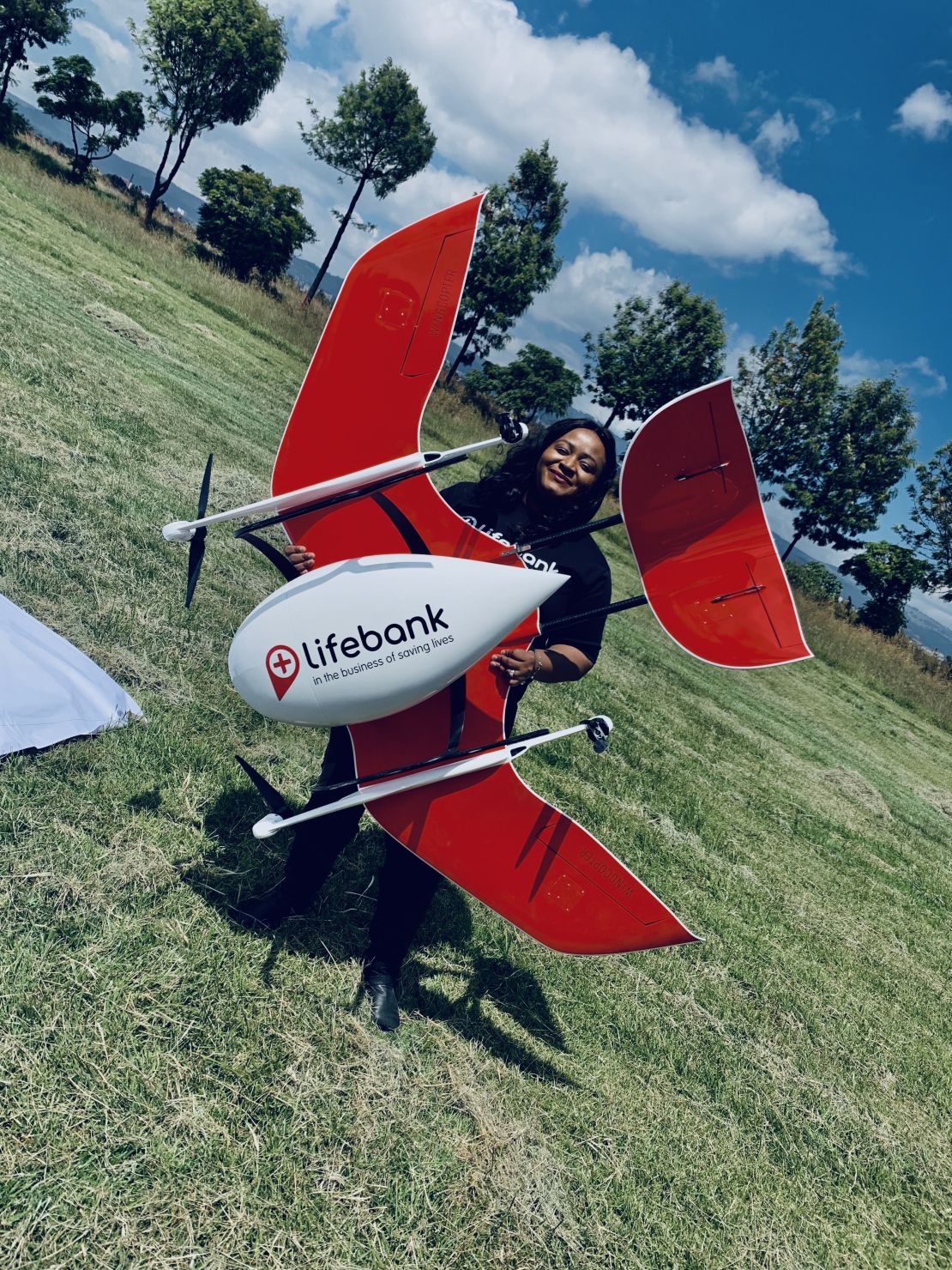 At the event, Giwa-Tubosun spoke about LifeBank's findings while researching the best situations to use drones for blood delivery.
"After running our operations for three years we knew that there were some patients we could not reach on time. Like areas where there are bandits on the road so we need to fly," she told CNN.
According to her, the drones will only supply blood in emergency situations where patients are hard to reach.
An Ethiopian partnership
In October, in partnership with the Information Network Security Agency (INSA), the Ethiopian government agency tasked with exploring technology, the LifeBank team successfully did a test run of drone delivery in Ethiopia.
"What we did in Ethiopia… was like a research project to show that we can deliver these critical supplies [blood]. We did that for a couple of weeks and it was successful," Giwa-Tubosun said.
The drones are programmed to automatically pick up samples from blood banks and deliver to laboratories or hospitals without any form of human control.
Giwa-Tubosun says beyond Ethiopia, LifeBank's drone delivery services will be tested and launched in other regions including Nigeria.
"We have the results of the success, and we're going to do the same in another country, perhaps Nigeria," she said.
Nigeria's blood deficit
Nigeria, Africa's most populous nation, needs up to 1.8 million units of blood every year, but the National Blood Transfusion Service (NBTS) collects only about 66,000 units per year, leaving a deficit of more than 1.7million pints of blood, according to the country's health ministry.
Mobilizing blood donations in Nigeria
Through their real-time delivery of blood using motorcycles and boats, LifeBank is trying to improve the numbers in the West African country.
Their dispatch riders pick up specified units of blood from blood banks, storing it in their motorbike's cold chain transport box and delivering to the required hospitals quickly, a challenge in gridlocked Lagos.
A recent partnership with Google enabled the company to incorporate Google maps into its mobile application, mapping out locations connecting doctors, blood banks, hospitals, and dispatch riders.
10,000 applications
Around 10,000 applicants from 50 African countries were whittled down to just 10 for the "Africa's Business Heroes," finale event, held Saturday in Accra, Ghana.
The final 10 pitched their businesses to four judges, including Ma, Zimbabwean businessman Strive Masiyiwa, Joe Tsai, Vice Chairman Alibaba Group and banking boss Ibukun Awosika.
In second and third place were Egyptian Omar Sakr, founder and CEO, Nawah-Scientific and Christelle Kwizera, founder, Water Access Rwanda who were awarded $150,000 and $100,000 each.
The remaining finalists each walked away with $65,000 for their businesses.