In October 2018, Michael Kovrig, a former Canadian diplomat, warned that US-China ties "have deteriorated to their worst point" since the 1989 Tiananmen Square massacre.
Two months later, Kovrig was detained in Beijing, an apparent victim of that worsening relationship and the entrance of his own government into it.
Today, he is still in prison, along with another Canadian, Michael Spavor, detained soon after him. They look no closer to being released.
Kovrig and Spavor were detained in the weeks after the arrest in Vancouver of Meng Wanzhou, chief financial officer of the Chinese technology company Huawei.
Meng is accused of violating US sanctions against Iran. China's detention of the two Canadians, who have been accused of sharing "state secrets and intelligence" with "foreign entities," has been viewed by many as retaliation.
Meng's detention – which came amid an escalating trade war between Beijing and Washington – sent Chinese-Canadian relations plummeting to a point they have struggled to recover from. With the Huawei CFO looking no closer to release, many now fear Kovrig and Spavor will remain in detention indefinitely, trapped in a fight between two foreign countries.
China's Ministry of Foreign Affairs did not respond to a faxed request for comment, but in a statement published Tuesday, China's embassy in Canada said that the country's judicial department "handles cases strictly in accordance with the law" and would "protect the legitimate rights of the Canadian citizens."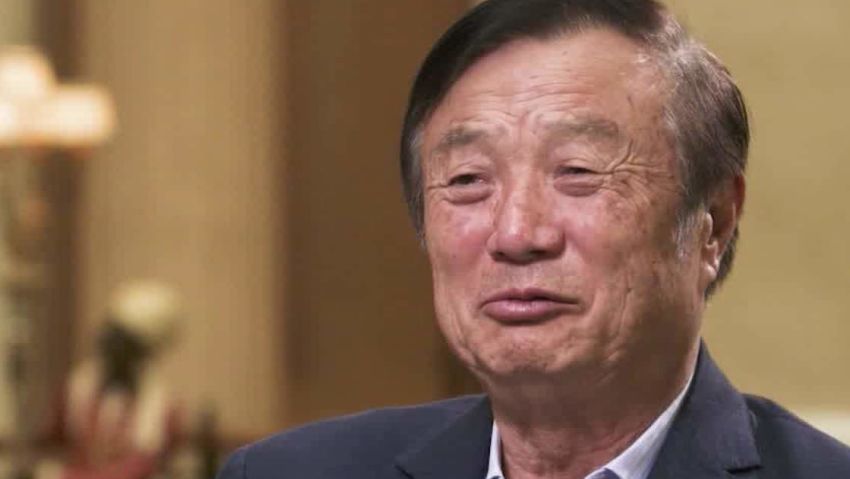 Huawei CEO praises daughter's year of 'suffering'
No access to lawyers
Speaking around the anniversary of Meng's detention this month, her father, Huawei founder Ren Zhengfei, claimed she was "suffering" and had become a "bargaining chip" in the US-China trade war.
"For the past year, time has slipped slowly through my fingers," Meng herself wrote in a blog post on Huawei's website. "Right now, time seems to pass slowly. It is so slow that I have enough time to read a book from cover to cover. I can take the time to discuss minutiae with my colleagues or to carefully complete an oil painting."
Meng's detention in her Vancouver mansion is a world away, however, from the conditions Kovrig and Spavor have been held in.
Guy Saint-Jacques, who served as Canada's ambassador to China from 2012 to 2016, said that Spavor is being held in a detention facility in the northeastern province of Dandong, sharing a cell with up to 18 other prisoners, with lights kept on 24 hours a day and only 15 minutes of outside time. Kovrig is being held in Beijing, Saint-Jacques said, and neither man has had access to a lawyer or member of their family since they were first detained.
"In both cases they receive consular visits once every month, exactly 30 minutes, with someone there watching all the discussion," he said. "These mainly serve to give them news of their family, and give them books and other reading material. It's very difficult for them, they are waiting and they have no idea when and how they might be released."
But while China has accused the two men of spying, the Canadian government has repeatedly described their detentions as "arbitrary."
In its statement Tuesday, the Chinese embassy said Kovrig and Spavor "were arrested according to law by Chinese authorities for crimes against China's national security, and there was no such thing as 'arbitrary' detention."
"It needs to be pointed out that what Canada and the United States did in the Meng Wanzhou incident was an actual example of arbitrary detention of Chinese citizens, and a serious violation of the legitimate rights and interests of Chinese citizens," the statement added. "China once again urges Canada to correct its mistakes and immediately release Ms. Meng Wanzhou so that she can return to China safely."
Robert Malley, president of the International Crisis Group (ICG), where Kovrig worked as a China specialist, said his organization has been "coordinating very closely with the Canadian government" to lobby for Kovrig's release.
"We are learning what we can about what's going on between China, Canada and the US, and trying to make sure that Michael is part of any deal that might emerge, and that's he's not forgotten," he said.
"We raise his case with every government that we speak to, every government official … who will have interactions with their Chinese counterparts. We also raise it whenever possible with Chinese officials."
A person familiar with the situation told CNN that Canadian diplomatic efforts have so far been focused on attempting to solve what remains a complex political entanglement.
There's a larger geopolitical game that's happening between China and the US, in which Canada is somewhat caught in the middle, the person added, and it is the two Canadians who are paying the price.
Saint-Jacques agreed, saying China's problem is with the US, "but of course they don't dare arrest any former (American) diplomats or diplomats on leave."
He said that China has been surprised by the widespread international condemnation of its arrest of the two Canadians, but beyond rallying support from allies, there is little that Ottawa can do. "It's pretty difficult to find something because we don't have much the Chinese really want," he said.
In a statement, Spavor's family said he had been "caught up as an unwitting and unwilling human pawn in a confrontation between two superpowers and swept along by geopolitical currents and forces beyond his control."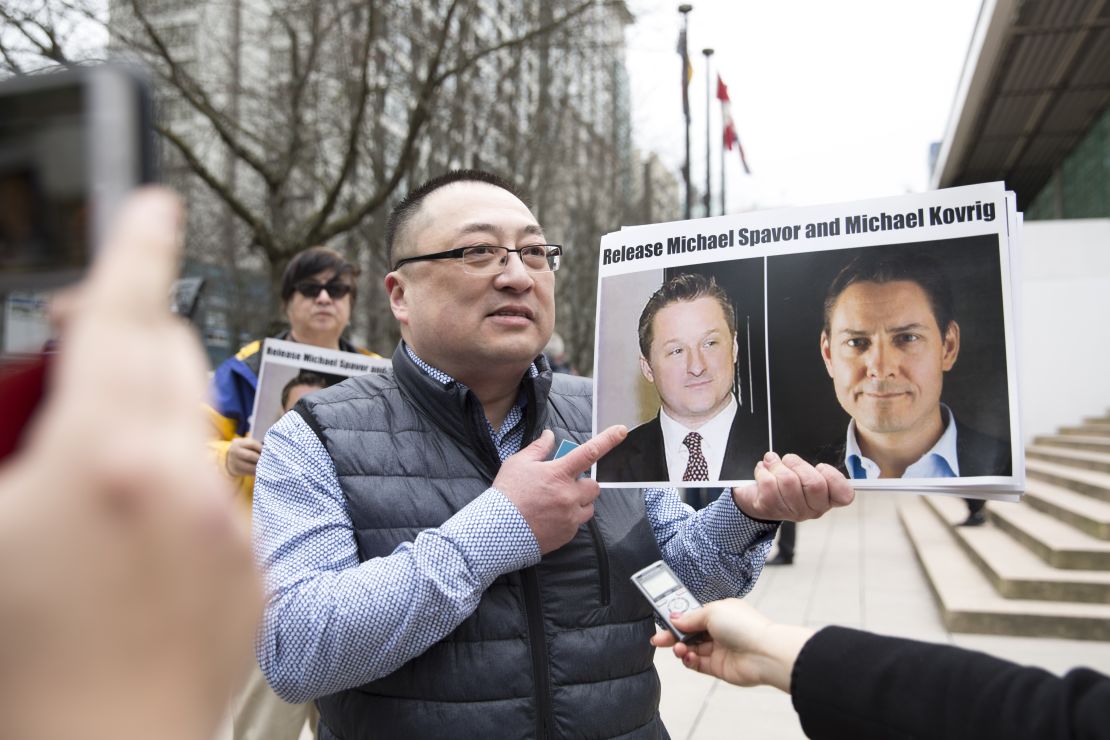 Diplomatic difficulties
Meng, the Huawei CFO, is out on bail with restrictions, awaiting trial. She will officially challenge her extradition to the United States in January.
It's unclear whether there is any chance of the two Canadians being released while Meng remains in detention either in Canada or the US.
US prosecutors have argued Meng's case is a criminal case, solely related to alleged sanctions violations, but this was complicated by US President Donald Trump in December last year, when he said he would "certainly intervene" if he felt doing so would be beneficial to a future US-China trade deal.
"Our extradition partners should not seek to politicize the extradition process or use it for ends other than the pursuit of justice," Canadian Foreign Minister Chrystia Freeland said following Trump's comments.
Speaking in Toronto earlier this year, China's then ambassador to Canada, Lu Shaye, said that when it came to relations between Beijing and Ottawa, "the knots shall be untied by those who got them tied."
"It saddens us that the current China-Canada relations are 'at a freezing point' and face huge difficulties," he added. "We strongly call upon the Canadian side to view China's development in a fair and objective manner, respect China's major concerns and stop the moves that undermine the interests of China."
Canada's former deputy prime minister last week criticized Meng's arrest, saying it was a "mistake."
John Manley, who served under Liberal Premier Jean Chrétien in the early 2000s, said he would recommend a "prisoner exchange, as crass as that may seem."
"Those young men are in prison in very difficult conditions for one and only reason: the actions of the Canadian government, and the Canadian government should do anything to get them released," he added. "What I fear most is … the United States enters into a trade agreement with China. And withdraws the extradition request. And Madame Meng is released immediately. We then have no leverage and they will make us wait, and we may wait years to see those two young men come home."
What happens next?
As Kovrig and Spavor enter their second year of detention, few experts were optimistic that they could be released anytime soon.
"China's laws allow them to keep people in detention for a long time," said Dan Harris, a founder of Harris Bricken, an international law firm that specializes in China. "The charges are purposefully vague as a message from China … we can convict them on whatever it makes sense for us to convict them on so as to best influence what happens to Meng Wanzhou and to best send a message to Canada and to the rest of the world that China will act in China's own interests by crushing you, international law be damned."
Meng's extradition case is likely to drag on throughout next year and may go into 2021 if her high-powered legal team succeeds in delaying proceedings – without progress on that side, it is unlikely that the two Canadians will see any change in their situation, said Saint-Jacques.
"It may even get worse because the Canadian government has to make a decision on Huawei's involvement in 5G in Canada," he said, adding that unless there is a "miracle" from Washington in the form of a trade deal with China that includes something related to Huawei, such as a fine in return for dropping extradition charges against Meng, then this could likely "drag on for years."
"I wouldn't be surprised if in two years we'll be on the eve of the Winter Olympics in Beijing, Meng will still be in Vancouver, our two guys will still be in jail – what do we do? Do we send a Canadian team to the Olympics?"
CNN's Michelle Lim and Ben Westcott contributed reporting.