There is a high chance New Zealand's White Island volcano could erupt again within the next 24 hours, volcanologists have warned, further disrupting efforts to recover the bodies of eight missing people who are believed to have died in an eruption earlier this week.
Recovery efforts have been hampered since the eruption on Monday afternoon, with police describing the island as too dangerous. On Wednesday, geological hazard monitoring group GeoNet said volcanic tremors had "significantly increased" on White Island, which is also known as Whakaari.
On Wednesday morning local time, GeoNet volcanologist Brad Scott told CNN that they had a "high expectation" that there would be another eruption in the next 24 hours – and it was likely to be either similar sized or smaller than Monday's eruption.
"This morning, we were hopeful we could recover bodies. However this has not been possible due to conditions on the island," Civil Defence Emergency Management Director Sarah Stuart-Black said at a press conference Wednesday. "Right now, the science tells us (the risk) is just too high."
Forty-seven people were on White Island – an active volcano around 48 kilometers (30 miles) off the east coast of the country's North Island – when it erupted on Monday. Of those rescued, six people have since been confirmed dead, while 25 are in hospital in a critical condition. Many survivors suffered extensive burns to their bodies and lungs. Every burns unit in the country is at full capacity.
The people on the island were from a number of different countries, including Australia, the United States and Germany.
Monday's eruption coated the island in a thick layer of ash and scattered rocks. If White Island erupted again, it could deposit a fresh layer of ash and ballistic rocks, Scott said.
The island's alert level is at three out of five, meaning that a minor local eruption is occurring. When the island erupted on Monday, it was under a level 2 alert.
There has also been "vigorous steaming" and mud jetting out from several craters created by the eruption, GeoNet duty volcanologist Craig Miller said. Two large plumes were spotted above the island, which is New Zealand's most active volcano.
What another eruption could mean
In the short term, the threat of another eruption could hamper authorities' ability to go to the island. But it could also make it harder for them to find and repatriate the bodies of those who are presumed dead.
If it rains, a fresh layer of ash across the island would solidify and become the island's new ground surface, Scott said.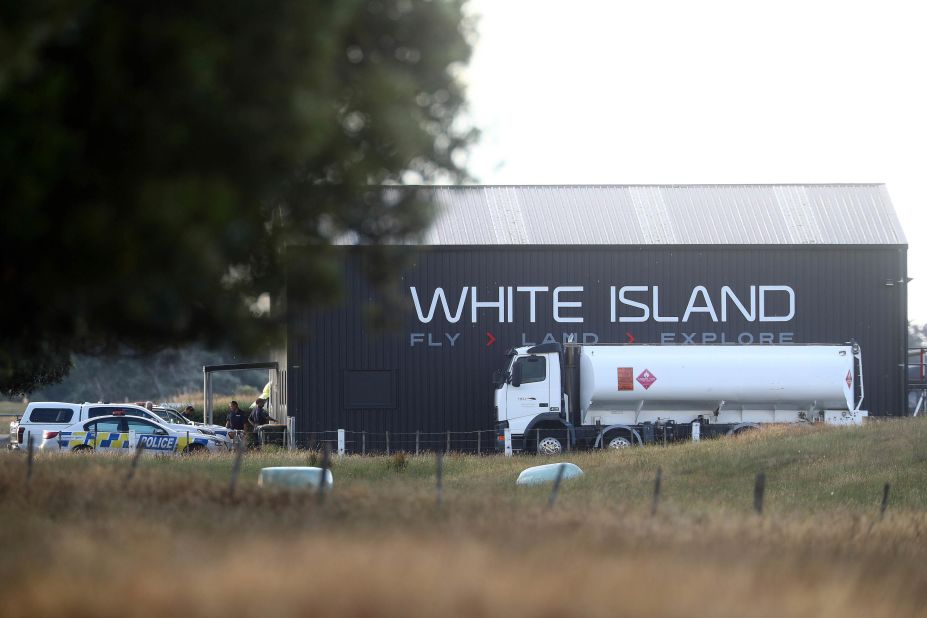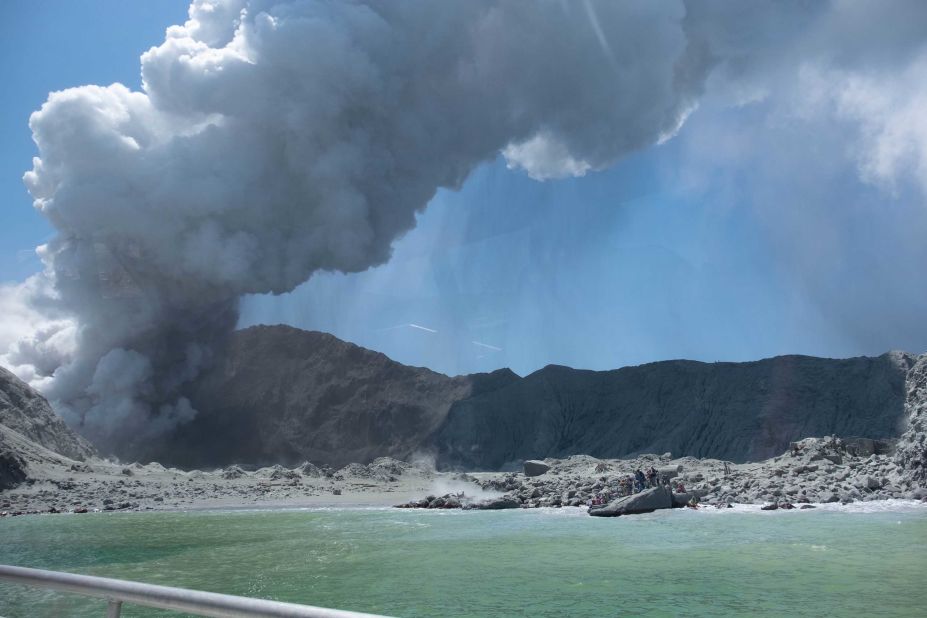 In photos: Volcano erupts on New Zealand's White Island
In a statement Wednesday, police said that recovering the bodies from White Island was an "absolute priority."
"We understand and appreciate the desire of families and the public for the bodies to be retrieved as soon as possible," police said in a statement.
Police said they were meeting with scientists to discuss when they could safely go to the island, but noted that anyone who went there "will likely encounter serious physical and chemical hazards, for which we must be prepared."
The country's Prime Minister Jacinda Ardern said Wednesday that the recovery was "paramount" for police. "Having spoken to many of those involved in that operation, they are very, very eager to get back," she said. "They want to bring back people's loved ones home."
Since the volcano erupted on Monday, authorities have said it is too dangerous to return to the island. On Wednesday, local authorities closed public access to a wooden wharf that was used by tour groups.
Who was on the island?
In recent years, tourism to White Island has been on the rise – over 10,000 people visit the volcano annually – and it's become a significant part of the local economy.
When the volcano erupted on Monday, there were 38 tourists from around the world on the island as part of a tour run by White Island Tours. At least 30 are believed to have been passengers from the Royal Caribbean cruise liner Ovation of the Seas.
Fatal volcanic eruption in New Zealand caught on camera
There were 24 Australians and nine people from the United States on the island when it erupted, including a couple on their honeymoon and at least two families.
Julie Richards, 47, from Brisbane, Australia and her daughter Jessica, 20 were among those who died after the eruption, a family spokesperson said on Wednesday.
Those tourists were accompanied by local tour guides. One of those – Jack Milbank – was celebrating his 19th birthday on Monday. He is now in the intensive care unit at an Auckland hospital, according to hospital staff. According to a fundraising page set up for him, he suffered burns to 80% of his body.
He's been described as a "passionate energetic young man, who has a love for anything ocean, [who] was in his element when this tragedy occurred."
Another White Island Tours guide, Hayden Marshall-Inman, was killed in the eruption, according to Radio New Zealand.
CNN's Angus Watson contributed reporting from Hong Kong. Journalist Matthew Mckew contributed reporting from Whakatane.