Boris Johnson's journey from political novelty act to most powerful British Conservative since Margaret Thatcher is nothing short of astonishing.
As news broke that he'd secured the parliamentary majority needed to pass his Brexit deal, Johnson's transition from controversial Euroskeptic media personality to serious statesman was complete.
He rose to prominence as a Brussels correspondent for the Telegraph newspaper, where he made waves by reporting stories of an EU super state that wanted to regulate the shape of bananas and the size of condoms. Many of these stories were later debunked, but it didn't stop the Johnson juggernaut becoming a household name.
His celebrity was the reason that few believed he would end up in Downing Street. Many thought he cared more about seeking attention than holding high office.
That attention wasn't always positive. When working as editor of the Spectator magazine, Johnson wrote a column mocking the accent of a Chinese flight attendant, phonetically quoting her as saying "Velly solly."
He made regular TV appearances in which he played the part of an affable, buffoonish caricature of himself.
In 2017, he told a fringe meeting of Conservative's that a city in war-torn Libya had the potential to be "the next Dubai," all it needed to do was "clear the dead bodies away". He was serving as Foreign Secretary at the time.
These comments, among many others, were widely viewed as racist and offensive. And consensus among his critics had been that Johnson, despite his ambitions, would never take politics seriously enough to become prime minister.
Their view was solidified in 2016, when he controversially broke ranks from the Conservative government in which he served to lead the campaign to leave the European Union. At the time, Brexit was considered by most to be a fringe political view.
His decision was widely thought to be a stunt that would give Johnson a better chance of taking over as leader from David Cameron, once the Europe question was settled – most likely by the UK voting to remain in the EU. A former Downing Street advisor told CNN that while Cameron's team "knew that Johnson was a formidable campaigner," they thought his "general incompetence" would hinder the Vote Leave campaign.
Boris Johnson after election win: Brexit debate is over
But Johnson was surrounded by a loyal and dedicated team who believed both in the cause and in Johnson himself. Most notably the man who now serves as his chief advisor, the controversial Dominic Cummings, ran Vote Leave's successful campaign strategy.
When Cameron stood down as prime minister after losing the Brexit vote, politics had been turned on its head and Johnson was the obvious frontrunner to replace him. However, his campaign fell apart before it got off the ground.
With the nation in a state of flux, Johnson's allies worried he wasn't taking it seriously. He infamously disappeared from public view the weekend after the 2016 referendum.
Eventually, his Vote Leave friend Michael Gove decided that enough was enough and launched a rival leadership campaign. Numerous Johnson backers jumped ship almost immediately and it collapsed his campaign. This paved the way for Theresa May to become prime minister, uncontested.
Guto Harri, Johnson's former director of communications, believes that this was a key moment in the transformation that led to Johnson becoming the Prime Minister: "I think dropping out after getting shafted by Gove was one of his greatest regrets. It made him realize that you can't just have two or three people you trust around you and wing it."
Although Johnson had served for eight years as Mayor of London and as shadow and cabinet ministers, winging it was exactly the thing many believed Johnson had been doing for years.
Fairly or unfairly, the perception in Westminster was that Johnson was not on top of detail and instead thought he could blag his way through life.
"We saw this when he was mayor and he needed numerous deputies because either he was too lazy, not capable, or couldn't be bothered with the detail of what was required to do the job properly," says Simon Heffer, under whom Johnson worked at the Daily Telegraph newspaper.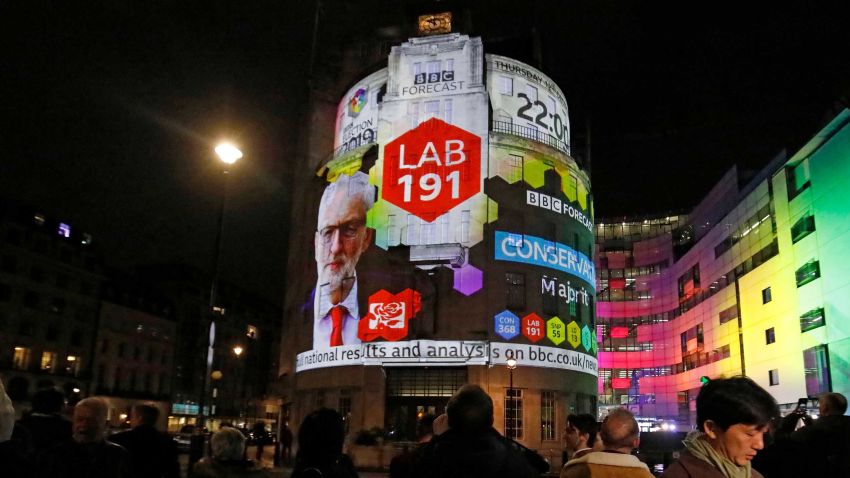 British pound hits highest level since May 2018
This reputation followed him when he was appointed Foreign Secretary by May. Johnson, of course, didn't help himself by making a series of diplomatic errors, most notably making a careless comment that ultimately led to a British woman being held in an Iranian prison having her sentence increased.
He also did himself no favors when he resigned from May's cabinet over her handling of Brexit. Johnson frequently criticized the former prime minister for being too soft with Brussels in his Telegraph column, where he was able to make weekly eruptions and steer the Conservative conversation in Westminster. His disloyalty alarmed May's team, but they didn't seriously believe that he would launch a credible leadership campaign.
However, when the chance to lead came back to Johnson in 2019, everything was very different. Johnson asked many of the same people who had helped him with the Brexit referendum to run his leadership campaign. They ran a disciplined campaign, keeping Johnson on script and playing to his audience – painting himself as the guardian of Brexit.
His campaign team was heavily criticized for hiding Johnson from media scrutiny. He refused to be interviewed by the BBC's top political interviewer, Andrew Neil, despite the fact every other leader had gone through this grueling exercise. He even hid in a fridge to avoid answering questions from a journalist in the last days of the contest.
He'd won over his party. Next, the Europeans. After years of lashing out at Brussels, Johnson made huge efforts to smooth over tensions with European leaders. Perhaps the most notable moment in his charm offensive was during a speech to his party faithful when he said he "loved" Europe.
After weeks of exhaustive talks with Europe's leading lights, Johnson finally secured changes to the Brexit deal agreed with Theresa May that had been defeated in Parliament three times. One by one, his Euroskeptic backbenchers fell in line and backed it.
Johnson suddenly looked like a man who knew what he was doing. He had a party behind him, a plan to deliver Brexit, and could credibly claim that his relationship with European leaders was on a stable footing. Johnson's obvious shift to friendliness with Europe was even parodied on Saturday Night Live recently.
None of this is to say that it's going to be easy. While he will be relieved to have gone from being a minority leader, who kept losing votes in parliament to a man with a comfortable majority, the task ahead is still eye watering. Negotiating a Brexit deal took the UK as a nation the best part of three years. And while Johnson claims he got a new deal in three months, the truth is much of the work had been done for him.
If he wants to strike a free-trade deal with Europe, he will be the junior partner in negotiations and will have to move towards the EU, rather than the other way round. The EU is very good at protecting its interests and just because they respect Johnson, it doesn't mean they will give him an easy ride.
Movement toward Brussels probably means rubbing out even more of the UK's negotiating red lines. Johnson will be very aware that he leads a party of people willing to hurl grenades at its leader when they are unhappy. He knows, because he used to excel in that role himself.
That said, for now, after three years of Brexit bedlam, the UK can finally has some answers to questions that had paralyzed the nation. It's just bizarre that the person who ultimately delivered them is a man who made his name rattling virtually every cage he saw.