This isn't a list of the best fine dining of the year.
The year 2019 was, in a way, defined by food making the headlines. Fast food restaurants started hopping on the Beyond Meat and Impossible Burger bandwagon, while others proclaimed they had the best chicken sandwich. There was even news about growing meat in space.
Here are five food stories that made us talk in 2019:
The President served fast food at the White House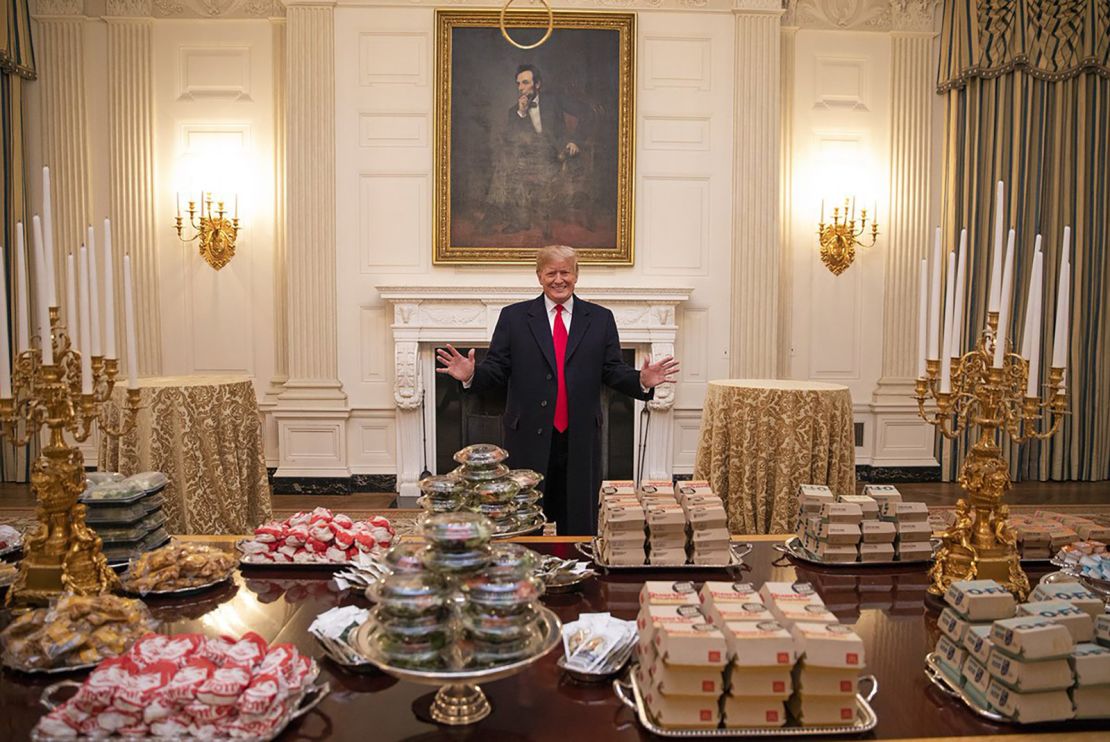 As is tradition at the White House, President Donald Trump hosted the winners of the College Football Playoff National Championship in January, the Clemson Tigers.
Because of the government shutdown at the time, Trump decided to pay out of pocket for "great American food" that the President said included pizza, "300 hamburgers, many, many french fries – all of our favorite foods."
"We have some very large people that like eating. So I think we're going to have a little fun," Trump said.
He served fast food again in March when he hosted the champion North Dakota State Bison football team.
Tyson and KFC experiment with Beyond Meat
Beyond Meat CEO: We're an 'innovation engine'
01:25
- Source: CNN Business
The plant-based protein craze was huge in 2019. So huge that Tyson Foods, one of the world's largest producers of poultry, beef and pork, started selling a meat substitute in the summer.
The company launched a line of chicken-free chicken nugget alternatives as well as burger patties made with a combination of beef and plants under the new brand "Raised & Rooted."
KFC, formerly known as Kentucky Fried Chicken, also joined the craze. The restaurant offered "Beyond Fried Chicken" in Georgia this year.
Beyond Meat is responsible for the sudden surge in protein alternatives. Its stock skyrocketed in May during its initial public offering.
Impossible burger got so hot, there was a shortage
Can the new Impossible Burger lure meat lovers?
Impossible Foods, founded in 2011, struggled to keep up with the demand for its plant-based proteins that can be fashioned into burgers.
Interest in Impossible Burgers spiked among customers looking to eat healthier and reduce their impact on the environment.
Restaurants including Burger King and even grocery stores began selling Impossible Burgers this year.
"It's driven new guests into the restaurant," said Chris Finazzo, Burger King's president for the Americas. He also noted that most of those customers either haven't been to a Burger King in a long time or haven't visited one at all. "We're really excited to be able to attract that customer."
Popeyes sandwich took over the summer and fall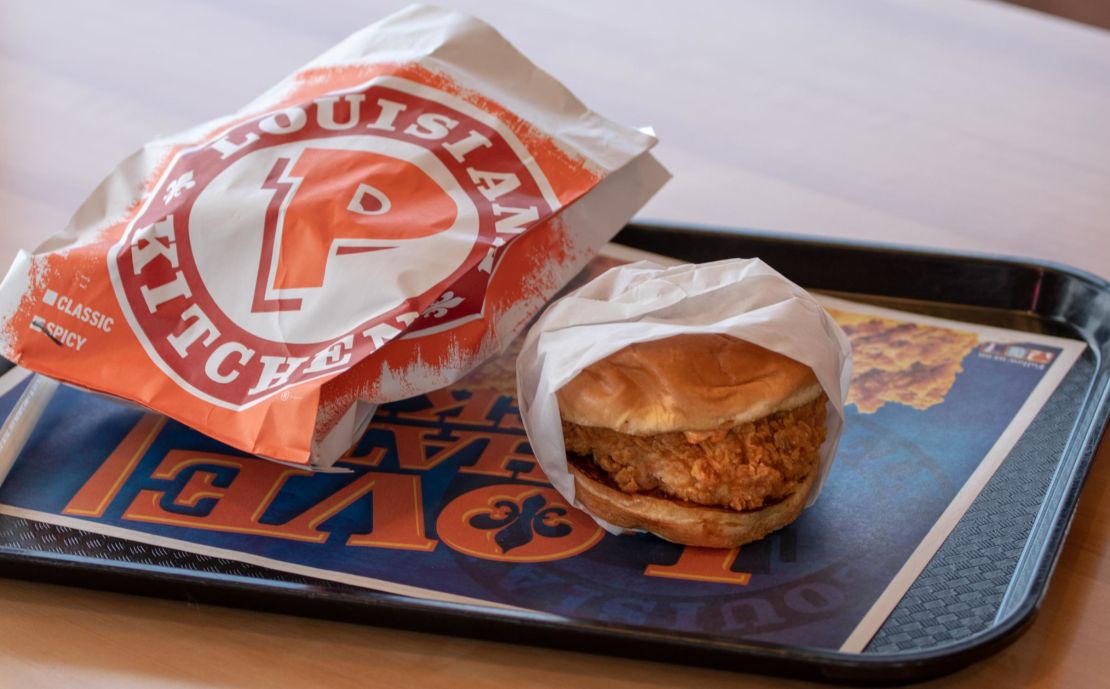 The Popeyes chicken sandwich debuted over the summer and quickly became a necessity for fast food lovers.
Lines stretched outside restaurants all over the country. The release of the new menu item even led to a Twitter beef among restaurants claiming to have the best chicken sandwich.
Then, less than a month after its debut, Popeyes ran out of sandwiches, but the company said customers could bring in their own buns and make their own with chicken tenders if they wanted.
The famous sandwich returned in November and people lost their minds. Hour-long lines were again stretched out at restaurants all over the country and videos of customers or employees fighting in restaurants were posted to social media.
Taco Bell even tried to join the phenomenon with its own soft-taco version of a chicken sandwich.
Meat was grown in space
Company is growing steak without the cow
Israeli food company Aleph Farms announced in October it had successfully grown meat on the International Space Station.
The initiative is part of the company's goal to create slaughter-free eco-friendly meat.
Researchers take cells from a cow, give them nutrients and put them in an environment mimicking the inside of a cow's body. The cells then multiply and grow connective muscle tissue until it becomes a steak.
"In space, we don't have 10,000 or 15,000 liters (3962.58 gallons) of water available to produce one kilogram (2.205 pounds) of beef," said Didier Toubia, CEO of Aleph Farms. "This joint experiment marks a significant first step toward achieving our vision to ensure food security for generations to come, while preserving our natural resources."