The stark reality of climate change is that even the cities that seem best defended against rising sea levels face the potential of catastrophic flooding.
Take London, capital of the UK.
It's in a strong position: Wealthy, with a government that recognizes the danger of climate change, and a river that can – for now – be shut off from dangerous tidal and storm surges.
And yet, no city or person is immune from climate change.
At least 1 million Londoners live in the estuary's natural floodplain and 16% of the city's properties – 84,000 – are considered to be at "significant or moderate risk."
Humans have already put so much greenhouse gas into the earth's atmosphere that some amount of sea level rise is inevitable.
"Even if we reduce our emissions to negative now, we will see at least a meter of sea level rise," the oceanographer Ivan Haigh told CNN.
Clearly, quitting all emissions immediately is off the table.
So how soon will we have a meter of sea level rise? And how much higher will it go?
'The highest I've seen'
That's a question that Haigh, associate professor at the UK's University of Southampton, has devoted much of his career to studying.
CNN caught up with him in November on a rainy day along the Thames, a short walk from the Houses of Parliament. High tide was approaching.
"I have to admit, I come up to London quite a lot, and this is one of the highest I've seen it (the river)," Haigh said.
It's easy to go through your day in this city and not notice the river. But it just took crossing a short sea wall that runs along the promenade for the water to rush over our feet.
Londoners have long been aware of the threat from the water that brought them so much wealth as the city grew around the Thames.
After years of deliberation, a giant flood defense system was built across the river, completed in 1982.
Spanning 520 meters (1,706ft) across the Thames, the barrier uses 10 enormous steel gates to shut the city off from tidal surge. Each gate, which rotates into position, stands more than five stories high.
Rising sea levels put London at risk of flooding
It can be used to protect against both tidal flooding and that from raining, "fluvial," which bloats the river.
The UK Environment Agency, which operates the barrier, says that as climate change necessitates more closures, its use "will need to be conserved for tidal flood risk management – the purpose for which it was designed."
With only 30 years of barrier usage, anomalous years drown out clear trends. In 2013-14, it was closed 50 times, mostly for river flooding – far more than any other year before or since.
"Sea level rise is a relatively slow process," Haigh said. "But it's starting to accelerate. So although we don't see a trend now, with sea levels accelerating after 2050, or even before, that trend should become apparent."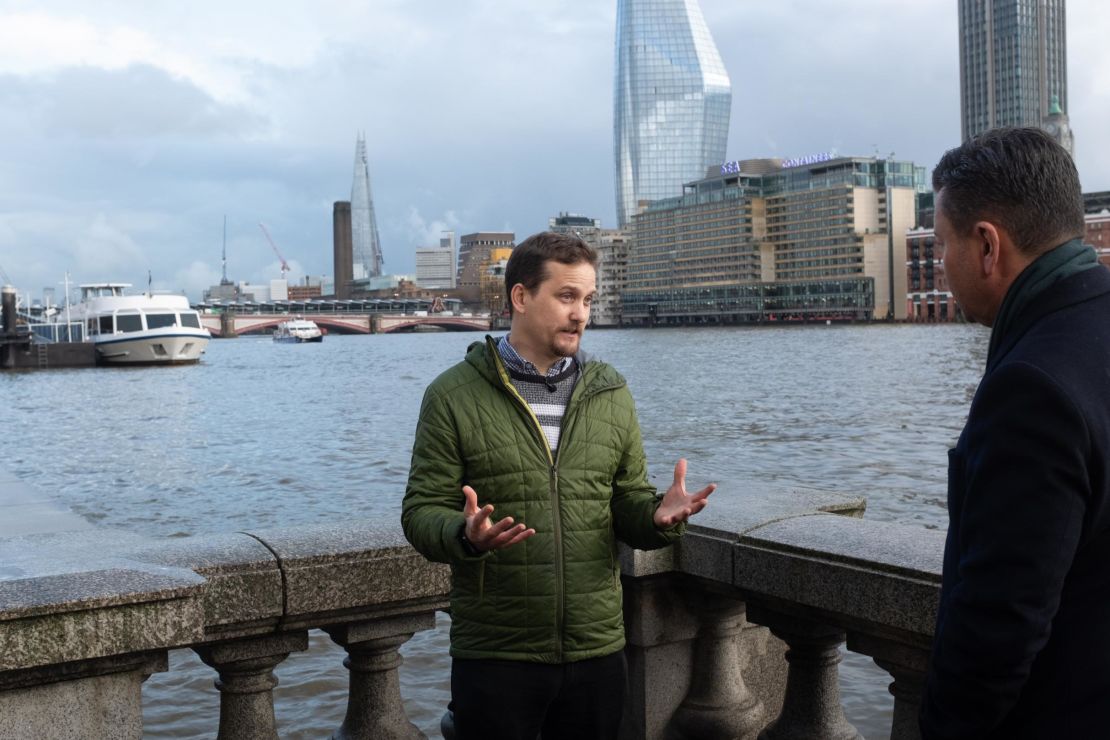 The last week of November in which we met Haigh saw an unusually high tide.
Those who run the barrier said it was a close call whether to close it that day. The tide got to about 40 centimeters (16 inches) away from the trigger point – a complex calculation depending on the type and location of high water.
The barrier, Haigh said, gives an "artificial" sense of protection.
"A lot of people living in the flood plains don't realize they're living in the flood plains."
Crunching the numbers
Jonathan Bamber, professor of physical geography at the University of Bristol, crunched the numbers.
Using his own research, Bamber provided CNN with projections for sea level rise in the Thames Estuary every decade until 2300.
If we keep increasing emissions into the future – the "business as usual" scenario – temperatures are almost certain to rise more than two degrees over pre-industrial level.
That is the maximum target set out by the Paris Climate Accords, to avoid the most catastrophic impacts of climate change.
That means we will likely see a meter of sea level rise by 2100, from a combination of warmer water, which expands, and melting ice sheets in Greenland and Antarctica.
Related: COP25 was meant to tackle the climate crisis. It fell short
The Thames Barrier is only expected to last until 2070.
"The crunch point actually is not so much the height of sea level rise, it's how many times you have to close the barrier," Haigh said. "If we get to a point where we're closing too much, then the costs don't stack up and we will need a new system."
The math is simple: The more the Thames Barrier is used, the faster it will age, and the greater the need for a replacement.
The UK Environment Agency has developed a detailed plan to deal with the reality that London's collective flood defenses "will require replacement or major repair at a cost of several billion pounds."
Already, the agency anticipates spending £300 million ($395 million) between 2010 and 2034 on protecting London's floodplain.
Among the front-runners for the long term, when the Thames Barrier is no longer usable, is the construction of an entirely new barrier, much further downstream towards the sea, near the town of Dartford in Kent.
But that one meter of sea rise is a best-case scenario.
Bamber's numbers predict that by 2300, the sea level in the Thames Estuary is likely to reach more than three meters – and could go even higher, if emissions and temperatures continue to rise unabated.
"We have several billion pounds of coastal defense infrastructure," Haigh said. "Other places in the world are not going to be as prepared."
Just how bad will it be?
"That's very much dependent on whether we follow the Paris Agreement or not," he added.