A child has died after a boat carrying migrants capsized off the Greek island of Lesbos, in what is believed to be the first reported death since Turkey announced it was opening its borders with Europe last week.
The makeshift boat was carrying 48 people, accompanied by the Turkish coastguard, when it entered Greek waters early Monday, Greece's coastguard said in a statement.
The passengers "overturned the boat" as it was approached by the coast guard, according to Greek officials, who added this was a "common tactic" used by traffickers to force a rescue.
Of the passengers, 46 were "recovered unharmed" and two unconscious children were taken to hospital in Lesbos, the coast guard said. One of these children later died.
The death comes as the number of refugees traveling to Greece's Aegean islands has surged in the last several days, sparking concerns about living conditions in already grossly overcrowded camps and prompting blockades from frustrated local residents, aid workers on the ground told CNN.
Last week, the Turkish government announced it would no longer stop refugees from attempting to cross by land or sea into Greece, saying it had "reached its capacity."
The announcement prompted migrants to head north to the Greek border, leading to clashes with Greek border guards. Greece has not opened its side of the border and has beefed up its presence along it.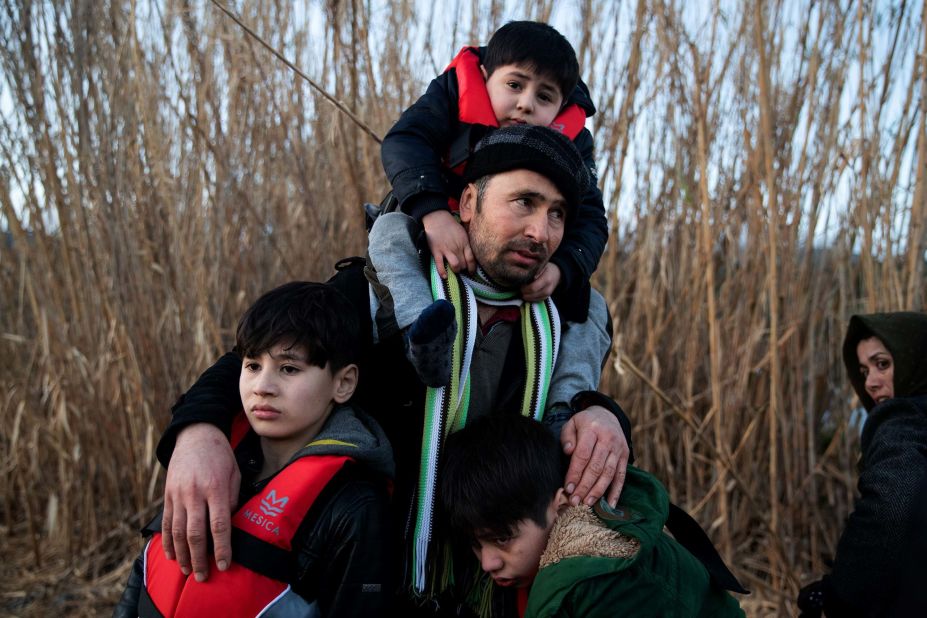 In photos: Migrants flood Turkey's border with Greece
Greek Prime Minister Kyriakos Mitsotakis will visit the Greek-Turkish border region of Evros on Tuesday, accompanied by European Union leaders Charles Michel and Ursula von der Leyen, the Greek leader's office said Monday.
Mitsotakis spoke to US President Donald Trump by phone on Monday about the situation, the PM's office added.
'Appalling' and overloaded camps
The number of migrants attempting to cross the Aegean Sea to Greece has since swelled. On Sunday and Monday alone, some 1,200 migrants arrived by boat on the islands of Lesbos, Chios and Samos, according to UNHCR spokeswoman Carlotta Sami – a mammoth increase on the less than 100 people who were arriving on the islands each day on average in mid-February.
Dire conditions at the camps are now expected to worsen with the influx of new arrivals.
Camps for displaced people on Greek islands in the Aegean Sea have a total capacity of 5,600 but are currently housing more than 40,000 migrants, Sami said, adding that living conditions were "appalling" with limited access to sanitation and reports of young people attempting suicide.
Official government statistics obtained by CNN show that Greek authorities prevented 4,354 attempted illegal entries in the 12 hours starting at 6 a.m. local time (12 a.m. ET) on Monday. Another 42 people were arrested in that period, mostly from Afghanistan, Pakistan and Morocco, the statistics show.
Between Saturday morning and Monday evening, the authorities stopped 24,203 illegal attempts to enter the country, the data show. In that time, total of 183 people have been arrested.
Those arrested have been transported to detention centers and those convicted of illegal entry have been moved to correctional facilities, the government says. Greek courts are sentencing would-be migrants to four years in prison without the possibility of parole, plus a fine of 10,000 euros ($11,163), the documents showed.
The influx has also been met with hostility by local residents, who blockaded camp entrances on Sunday evening, according to Jacob Warn, Programme Coordinator for Action for Education, who is based on the island of Chios.
He said that a few hundred locals gathered at the island's camp entrance, stringing a huge Greek flag across the narrow road leading to the site, before dispersing after a few hours.
Ward said that some locals, already fed up with strained services on the island due to the number of refugees, had expressed fears the new arrivals could also be carrying the coronavirus.
These fears were heightened by shocking sanitation at the camps, where Warn said there was "often one toilet for 300 or 400 people."
Turkey is home to some 3.5 million Syrian refugees, and has long threatened to open its borders if left to shoulder the burden alone.
Turkey's move to open the floodgates tramples on a 2016 deal struck with the European Union to halt migrants traveling from the Middle East towards Europe. Ankara says Europe has failed to hold up its end of that pact.
The developments come after an airstrike by Russian-backed Syrian forces killed 33 Turkish soldiers in Idlib, Syria last week. Turkey's about-face on its migrant deal with the EU is seen as a way of leveraging European support for its military operation in Syria.
CNN's Sarah Dean, Niamh Kennedy, Ivana Kottasová and Chris Liakos contributed to this report