You could plant a tree, start a garden or commit to composting this Earth Day, but don't overlook this very simple act – birdwatching.
Quarantining at home during this coronavirus pandemic has led to more Americans appreciating nature in their own backyards (and front yards) – from spring blooms to cardinals feeding their baby chicks.
Here's how one mother and daughter fast became birdwatchers during lockdown and how you can too.
Rediscovering nature in your backyard
Until they began quarantining, Beth Radtke and her eight-year-old daughter Ellis didn't have an interest in birds. "I've never really been an outdoors kind of person," Radtke told CNN.
But after working from home all day on back-to-back Zoom calls on the computer, the advertising executive and her pent-up 8-year-old daughter began walking in her lushly wooded Atlanta neighborhood. They noticed birdsong like never before.
"The birds sound like somebody turned up the volume," exclaimed Radtke. "I feel like until we had this quiet, I didn't notice them all that much. There's no traffic and other noises distracting you."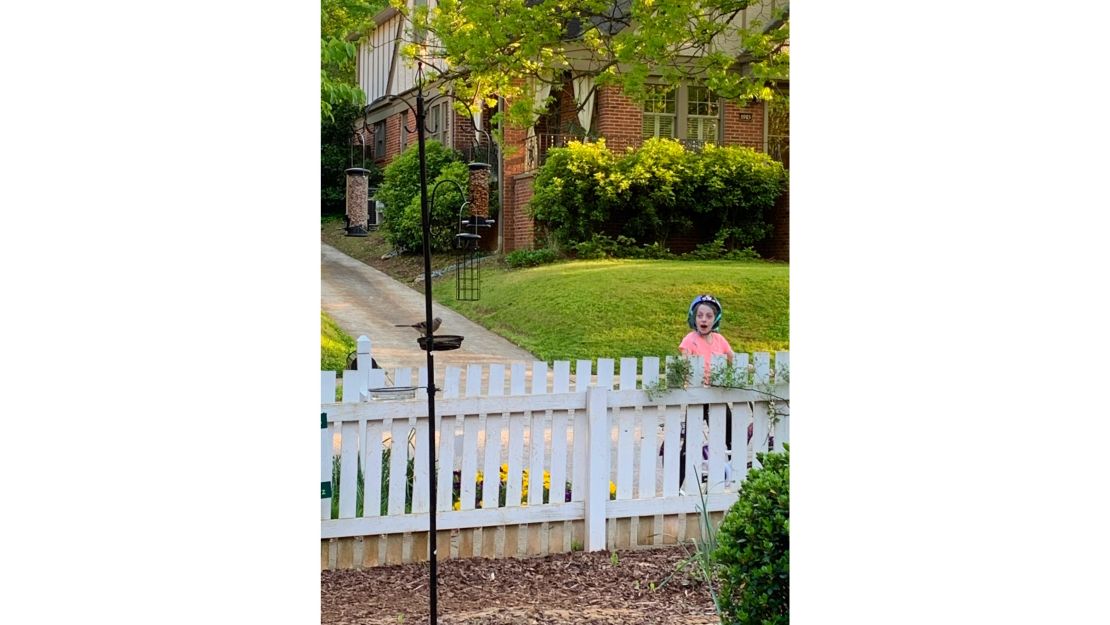 Radtke thought birdwatching would be a good activity for them to share- so she reached out on the NextDoor app to ask neighbors for advice about bird feeders, types of seeds and birding books. Within an hour they had two families offer free bird feeders, one family offered bird books and another birdseed.
"I wasn't looking for anything free … we had a whole complement of stuff to get started," said Radtke. "I'm kind of taken by the kindness and generosity of people right now."
Her daughter immediately started identifying birds she was seeing with those in the field guides.
"She kept saying, 'that's this bird right here' and then we got to compare actual features of a bird, pointing out characteristics trying to figure out which woodpecker we were seeing."
These days Radtke and her daughter look skyward when a woodpecker lets out its distinctive call and she no longer takes her backyard, full of mature trees, for granted. Plus the mother-daughter bonding time has been priceless.
"It's fun … it gives my daughter and I something else to talk about."
Bird-watching is having a moment
Just the act of observing and listening to birdsong can lower people's stress levels. And many birders say watching them, noting their color, their behavior, their markings as they soar from tree to tree brings them peace like yoga or any mindfulness practice.
It's good for the birds too. When we spend time looking at birds, we end up caring more about them and their survival said David Ringer, National Audubon Society's chief network officer.
While millions of Americans already consider themselves backyard birders, Ringer said since the pandemic started, they've added more birders to their ranks.
The number of downloads of the Audubon field guide app this past March were twice that of March a year ago.
Even Audubon's live social media feeds – that feature a bucolic outdoor setting full of birdsong – are getting significantly more views than in the past, he says.
"We're pulling in tens of thousands of people," said Ringer. "We're hearing stories from people who have been forced to slow down by these terrible circumstances and are paying more attention to what's around them."
It's so important at a time when their numbers are dwindling rapidly due to everything from climate change to habitat loss.
"Birds need the same things we do; they need clean air, they need clean water, they need healthy outdoor spaces," said Ringer. "So when we pay attention to birds – not only is that interesting and enjoyable – it also teaches us more about caring for the natural world."
How to watch birds
It doesn't take any special skills to just look at nature but there are helpful techniques you can learn. The National Audubon Society has this new bird guide for children to identify birds with a different exercise to focus on each day. Adults can get a lot from it too. Here are some things you can observe right now as you look out of your window:
What color is the bird? Red like a cardinal? Blue like a bluebird?

How big is it? Small like a hummingbird or large like a crow or woodpecker?

What are its parts, or field markings: Check out its beak. Is it like a triangle? It might be sparrow or a finch.

What does it sound like?

How does the bird behave? Hopping up and down a tree or flighty, darting from branch to branch?
You can download free bird Identification apps on your phone like Cornell Lab Of Ornithology's Merlin and Audubon's bird guide.
Fill in some details of the bird you saw, record bird sounds on your phone and the likely species pops up. Or you can go old-school like Radtke and her daughter and order a bird field guide like Sibley's or Peterson's and thumb through to see the photos or drawings that match the birds you've seen. Eventually a pair of binoculars will be helpful. You can find a binocular guide here.
I've spent many an hour thumbing through to find a photo (or drawing) of the creature I just spied – and finding the right one always sparks joy. You can take photos of them, draw them and share with friends – pulling you into more creative, pandemic-escaping hobbies. Beth Radtke and her daughter are among those reaping the benefits.
"We go out in our backyard which is magnificent. It has this walking trail down to a creek," said Radtke.
"We weren't really enjoying all that before – and now we're enjoying all of our house inside and out and I think the birding was just an extension of enjoying being in the yard – and wanting to see what else is out here."