Marta Gorczynska got in her car and started driving.
She didn't have a destination as she passed through Warsaw's mostly deserted streets, but, just before noon last Tuesday, she got a text with directions: go to Rondo Dmowskiego.
Gorczynska, a human rights lawyer, was among a throng of protesters that used their vehicles to defy Poland's lockdown and block the main roundabout in the capital, honking their horns and shouting slogans against a citizen's bill to tighten what are already some of the most restrictive abortion laws anywhere in Europe.
Some were holding black umbrellas – a symbol of Poland's abortion rights movement – while others had "Women's Strike" posters taped to their windows. Demonstrators dressed head-to-toe in black, and wearing face masks, circled on bicycles. Police shouted over megaphones, warning that assemblies were illegal during the pandemic and urging the women to go home.
As governments across Europe continued to grapple with the worst health care crisis of the modern era, Polish lawmakers debated draft legislation last week that would ban abortion in the case of fetal abnormalities – one of the few remaining circumstances in which the procedure is still allowed in the majority Catholic country.
Ultimately, Poland's lower house voted to send the bill to a parliamentary commission for more work. But the timing, which was slammed by human rights campaigners, presented a fresh challenge for women's rights activists who have been fending off an abortion ban for years: how to protest in the time of coronavirus.
"We saw this as an attempt by the government to use the lockdown to push for this controversial law, because, as history shows, all these attempts of the government to amend the abortion law have always triggered a lot of demonstrations," Gorczynska said, referring to a nationwide "Black Monday" strike in 2016 that drew millions.
"If there was no lockdown, thousands of women would have been on the streets. So we were using other tools, especially online ones."
Those who couldn't come out found other ways of demonstrating. Protesters rallied around hashtags like "black protests" and "women's hell" on social media, sharing photos of themselves in black and white or holding abortion pills in their palms. Others hung posters from their balconies or went out for their daily exercise with messages of resistance taped to their backs.
But the abortion bill is part of a wider problem, according to campaigners and academics who say that Poland's ruling nationalist Law and Justice party (PiS) is using the pandemic to continue chipping away at democracy and tightening its grip on power.
"What's happening now is the next stage in the destruction of our new democratic state," Anna Materska-Sosnowska, a political scientist at Warsaw University, told CNN. She pointed to 11th hour changes to how Poland votes and proposals to extend the length of presidential terms as worrying signs of what's ahead.
The government is still planning to hold a presidential election on May 10, though a majority of Poles – not to mention opposition politicians – want to postpone it because of the outbreak.
On March 28, the PiS rammed a bill through the lower house that would allow the election to go ahead by postal ballot, even though the country's top court previously ruled that no changes can be made to the electoral code within six months of the vote. The bill has now moved to the senate for debate.
CNN has made several attempts to reach out to the PiS and the government for comment.
Materska-Sosnowska fears that changes to the electoral process would put the integrity of the vote at risk. While opposition candidates have had very limited opportunities to campaign, President Andrzej Duda, an ally of the PiS, has unfettered access to airtime and is ahead in the polls.
The European Union's parliament said Friday that holding the elections in the middle of the outbreak could endanger lives and was "totally incompatible with European values." The parliament also singled out Poland's ally Hungary – which recently passed a law allowing Prime Minister Viktor Orban to rule by decree indefinitely – for criticism.
The EU triggered "Article 7" disciplinary measures against Poland after the PiS launched an assault on the independence of the country's judiciary, but the move has led nowhere.
On Monday, opposition lawmakers began talks with politicians from the junior party in the PiS's ruling coalition about delaying the vote, hoping to capitalize on growing divisions in the alliance.
Draginja Nadazdin, the director of Amnesty International Poland, suggested that if the coronavirus was a test of whether governments are committed to human rights, then Poland was failing.
"If you want to use the coronavirus as a kind of test, to gauge how the government supports human rights, neither Poland's approach to abortion, neither its approach to free and fair elections, nor its approach to the right to health, are good signals," Nadazdin told CNN.
Campaigners in Poland worry that women's access to health care is already being curtailed, with or without the latest bill.
Justyna Wydrzynska, an activist with Aborcyjny Dream Team, a charity that helps Polish women with access to abortions, says their hotline, which normally receives around 10 calls a day, started ringing off the hook after the government announced border closures to stop the spread of the virus.
Many of the callers were concerned that they would no longer be able to obtain abortion pills, which are illegal in Poland, and others feared they would not be able to reach clinics abroad in time to have procedures.
Abortions in Poland are only permitted in the case of some fetal abnormalities, rape, incest or a threat to the mother's health. And even in cases when an abortion is allowed, many Polish women still struggle to find hospitals that will perform the procedure.
Wydrzynska was assisting one woman who had to cross the Polish border by foot into Germany, where she caught a train to Berlin and then flew to the UK. After the journey to London, she had an ultrasound and decided not to go through with the procedure.
"It's incredibly stressful," Wydrzynska said, adding that European countries who previously assisted with abortion procedures have told the charity they can no longer provide services to foreigners. "What can we say to them … we hope it's not the end of the story."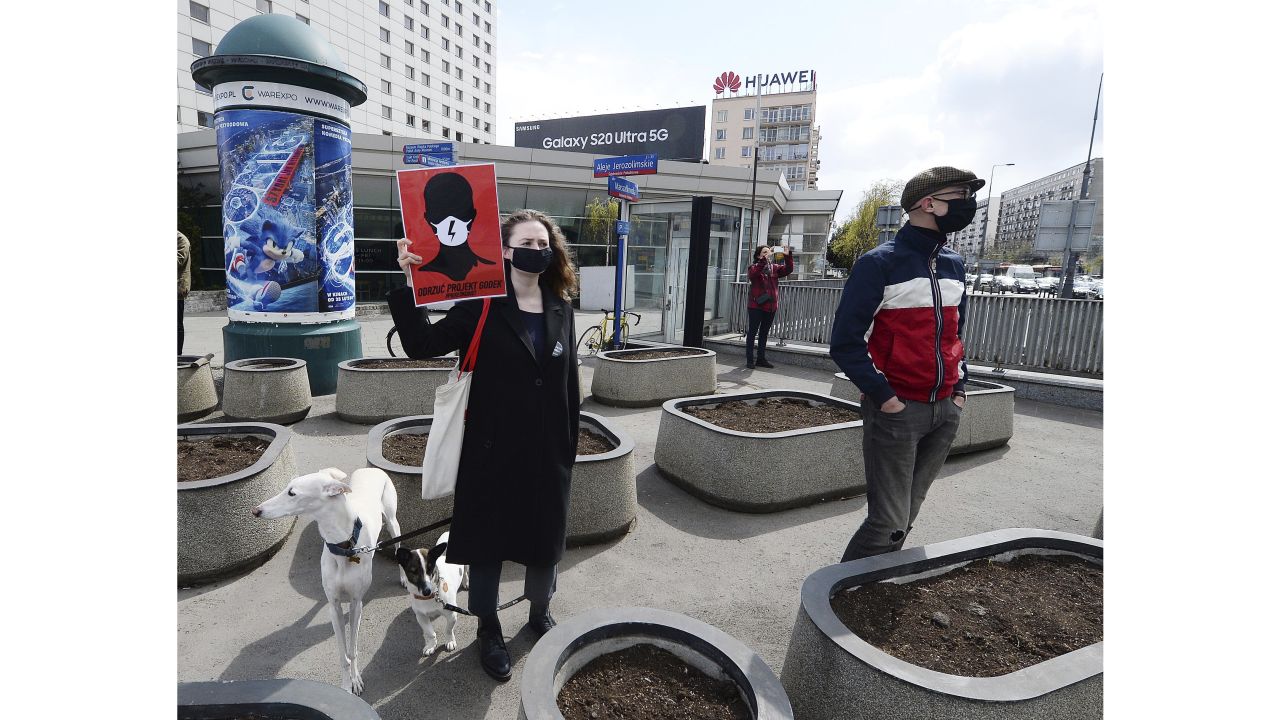 And Poland isn't alone – women's access to abortion has become one of many healthcare provisions thrown into jeopardy globally.
In several US states, lawmakers have tried to introduce new restrictions on abortion, citing public health concerns. Some Republican governors, including Greg Abbott in Texas, have argued that abortion is a non-essential medical procedure and should be delayed during the pandemic to conserve personal protective equipment and other life-saving gear.
Critics have accused these states of exploiting the coronavirus crisis to limit women's access to abortion, and the bans have ended up in the courts.
When it comes to women's rights in Poland, protesters there say they'll continue to fight – lockdown or not.
"It was even more important to show our strength, to show solidarity and to show that this lockdown doesn't mean that we have our hands tied," Gorczynska said.