Deaf New Yorkers are suing Gov. Andrew Cuomo for not providing sign language interpreters during his daily televised coronavirus briefings.
Disability Rights New York, a non-profit advocacy group that represents the interests of disabled New Yorkers, filed the lawsuit in federal court on Wednesday.
The lawsuit, which names four deaf New York state residents, urges Cuomo, a Democrat, to provide an American Sign Language (ASL) interpreter in all of his future briefings.
A failure to do so, the lawsuit states, violates Title II of the Americans with Disabilities Act, which prohibits state and local governments from discriminating against individuals with disabilities, and the Rehabilitation Act of 1973, which requires public entities to provide reasonable accommodations to disabled residents.
"It is inexplicable that during this pandemic, the Governor would choose not to have ASL interpreters at his daily live televised briefings," said Timothy Clune, the group's executive director, in a statement. "As a result, deaf New Yorkers are unable to obtain vital life and death information at the time they need it most."
Since January, health authorities have identified more than a million Covid-19 cases throughout the United States, according to Johns Hopkins University. There have been more than 61,000 coronavirus-related deaths nationwide as of Thursday afternoon. New York is considered the American epicenter of the pandemic, with at least 304,372 confirmed coronavirus cases and 23,545 deaths.
The lawsuit claims that New York is the only state in the US that doesn't provide some form of live, in-frame ASL interpretation during its televised Covid-19 updates. Governors across several states – such as New Jersey, California and Maryland – already have ASL interpreters beside them while addressing residents during the pandemic.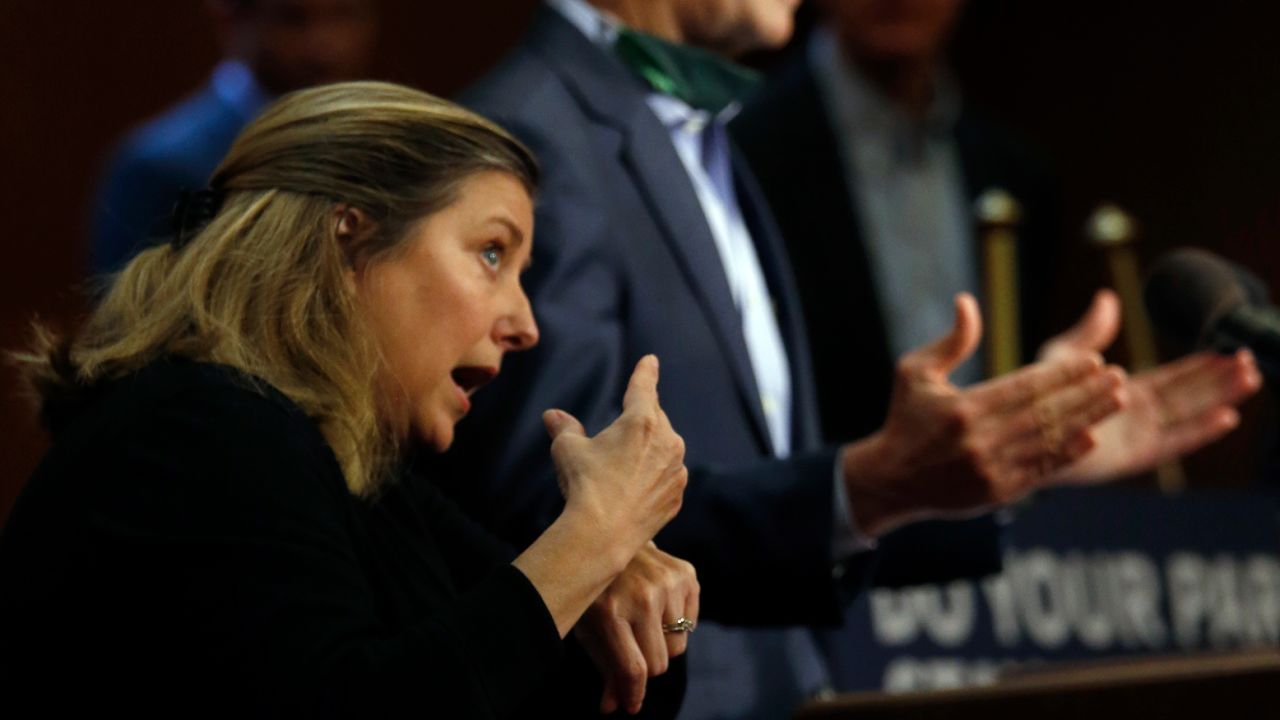 Rich Azzopardi, a senior adviser to Cuomo, said the governor's office has "deployed a dedicated (ASL) stream" – which is available on its website – and "all conferences have been close captioned."
"We'll review the suit, but we've been moving heaven and earth and working with the Albany press corps to reduce density in the room and respect social distancing standards as we fight this pandemic," Azzopardi said in a written statement to CNN.
While the lawsuit acknowledges the governor's office has ASL interpretation on its internet live-streamed feed, it argues some New York residents don't have internet access.
One of the plaintiffs, 63-year-old James Hallenbeck, doesn't have a computer and didn't know about the state's stay-at-home order until his brother called him, the lawsuit states.
Closed captioning, which displays the audio portion of a video as words on a screen, is also used by the White House in its daily livestreams of the coronavirus task force updates, as well as on videos of past briefings uploaded to YouTube.
It's legally required for broadcasters, cable networks and other programmers that play the briefings on air to include closed captioning both on TV and on web streams to make programming more accessible to viewers.
But, the complaint states, "the closed-captioning frequently contained errors or omissions that make it difficult or impossible for individuals who are deaf to understand the information being provided in the briefings."
According to a 2014 Census survey of Americans with disabilities, there are about 208,000 people in New York City who are deaf or hard of hearing.
A judge did not grant the request for a preliminary injunction to compel the governor's office to immediately provide ASL interpretation, but did order New York state legal counsel to submit a memo arguing why the state should not provide it.
The non-profit said it has received "a large number of complaints" from deaf New Yorkers who say they can't understand Cuomo's briefings and aren't being provided access to the important state-issued information about its handling of the coronavirus pandemic, according to the lawsuit. 
Advocacy groups have also voiced concerns about a lack of ASL interpreters during the White House's daily coronavirus briefings.
Last month, the National Association of the Deaf and the National Disability Council sent letters to then-White House press secretary Stephanie Grisham urging the White House coronavirus task force to use American Sign Language (ASL) interpreters during its daily briefings.
"There is no doubt that the coronavirus brings with it significant added concerns for people with disabilities," NCD Chairman Neil Romano wrote in the letter, which was sent on March 18.