With the general election just six months away, and the global economy in shambles because of the coronavirus, there is increasing urgency inside the White House and among President Donald Trump's Republican allies to blame China over its failure to stem the spread of the disease early on.
Now, there's an effort underway to enlist foreign allies to do the same.
In recent weeks, Trump, along with several administration officials including Secretary of State Mike Pompeo and White House economic adviser Larry Kudlow, have spoken to dozens of foreign allies about ways to collectively address what the White House says was China's intentional effort to conceal the severity of the outbreak, according to two people with knowledge of the discussions.
The President himself has scaled up his conversations with foreign counterparts over the past three weeks, and has raised China with dozens of foreign leaders, one person familiar with those conversations said. While many traditional US allies remain wary of ratcheting up tensions with China, in speaking with Trump, some European leaders have expressed concern at how China handled the crisis, according to the person.
Among the retaliatory options being discussed inside the White House are imposing additional tariffs on Chinese products, stripping China of its sovereign immunity, and cracking down further on Chinese telecommunication companies, the people said. Officials emphasized that there is no imminent action expected.
Among those pushing the President to take a harder line is Jared Kushner, Trump's top adviser and son-in-law. According to three people familiar with his thinking, Kushner believes that one way to energize the President's political base is by blasting China over its failure to stem the spread of the disease early on.
"The more you put this on China, the less you can say that we were slow on mobilizing," one person close to the White House said.
Treasury Secretary Steven Mnuchin, who is known to advocate for closer economic ties with Beijing and is viewed as far less hawkish than some of the President's top China advisers, has "started to come around" on taking a tougher stance on China, according to two people familiar with his views. These people caution however that Mnuchin remains reluctant to take any actions that might damage the initial Phase One trade deal the Trump administration agreed to with China last year.
Sources who spoke to CNN added that there has been a concerted effort to isolate trade discussions from the current political tensions so as not to damage the work that's been done. Even in private, administration officials have been careful not to bash China for non-performance on agriculture purchases, which observers say is nowhere near the peak commitment levels they had agreed to, particularly where soybeans are concerned.
China has taken some action with regard to their trade deal commitments on intellectual property, but overall it has been an uneven record on Phase One, these people said, adding that neither side has even broached the subject of Phase Two trade talks.
Trump still wary of Xi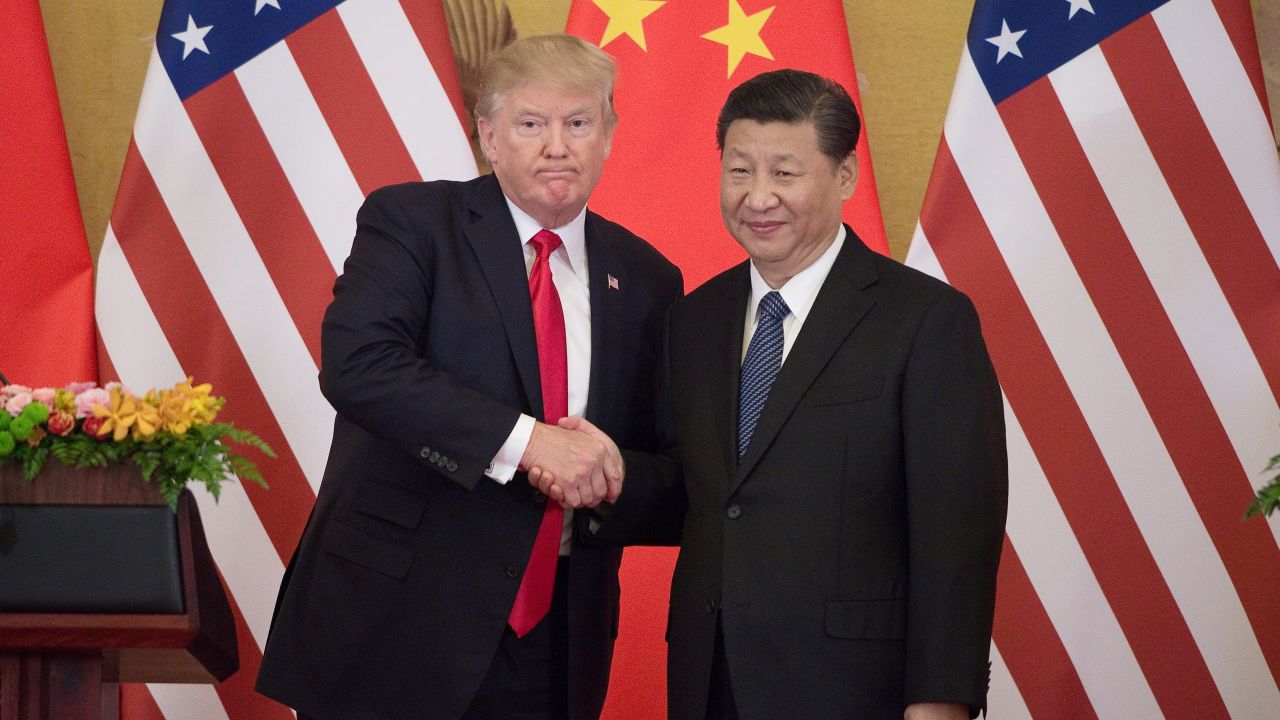 While Trump has ramped up his rhetoric against China recently, he has been careful not to criticize Chinese President Xi Jinping directly, as he is wary of damaging a personal relationship. In conversations with several hawkish Senate Republicans who have encouraged Trump to turn his rhetoric on China into action, Trump has at times wavered, one Senate GOP source said.
"He still has a soft spot for Xi," the source said.
A source close to the White House put it another way: "He's scared s***less. Xi scares him."
Just as at other turns in his trade war with China, some of Trump's business friends have warned him that taking action against China could hurt the US stock market, two sources close to the White House told CNN.
Still, there are reasons it might make sense politically for Trump to target China. A Pew Research poll last month showed that two-thirds of Americans have an unfavorable view of China. That data was bolstered by internal polling conducted by the Republican National Committee that showed similarly negative views on China among voters in several key battleground states, a source familiar with the polling said.
The White House and Treasury Department didn't immediately respond to a request for comment. The State Department declined to comment.
On Sunday, Trump publicly acknowledged that he believes the outbreak, while covered up by China, was the result of a "mistake."
"My opinion is they made a mistake. They tried to cover it, they tried to put it out. It's like a fire," Trump said in an interview with Fox News. "You know, it's really like trying to put out a fire. They couldn't put out the fire."
The President added that his administration was putting together a report on the outbreak that will be "very conclusive."
Trump referenced the contentious relationship between the two nations last Thursday, when he told reporters at the White House that China does not want to see him get reelected because the US is "getting billions" from the country thanks to their trade deal, a comment that fails to address the negative impact the trade deal has had on farmers and the broader US economy due to higher tariffs.
When asked if China's withholding information about the coronavirus was related to undermining his reelection, Trump said that "China would like to see sleepy Joe Biden – they would take this country for a ride like you've never seen before."
Last week, in a highly unusual move, the Office of the Director of National Intelligence released a statement saying that the US is trying to determine whether coronavirus may have escaped from a laboratory in the city of Wuhan. The statement said that the intelligence agencies agree, with broad scientific consensus, that Covid-19 was not manmade or genetically modified. It added that it would continue to evaluate emerging information and intelligence to determine whether the outbreak began through contact with infected animals or if it was the result of an accident at the lab in Wuhan.
Pompeo offered a bit more of a definitive assessment on Sunday, telling ABC News that there is "enormous evidence" that coronavirus originated in a laboratory, while agreeing with the intelligence community's assessment that it doesn't appear to have been manmade or genetically modified.
CNN's Kylie Atwood contributed to this report.