Thousands of mainly female peaceful protesters clutching white flowers and balloons lined the streets of Belarus's capital Minsk on Thursday, on the fifth day of demonstrations following the contested re-election of longtime President Alexander Lukashenko.
Authorities in Belarus say 6,700 people have been arrested and at least one person has been killed in the violent aftermath of the election, a contest that independent observers have criticized as neither free nor fair.
The opposition showed no sign of backing down despite a brutal crackdown by security forces – but it has changed strategy and tactics.
Protesters are now making their stand in a more decentralized way, amid a crowd of women lining the street holding a white ribbon. A CNN crew witnessed an almost two-mile long chain of protesters cheering on one of Minsk's main avenues, with cars passing by and honking to show support for the opposition.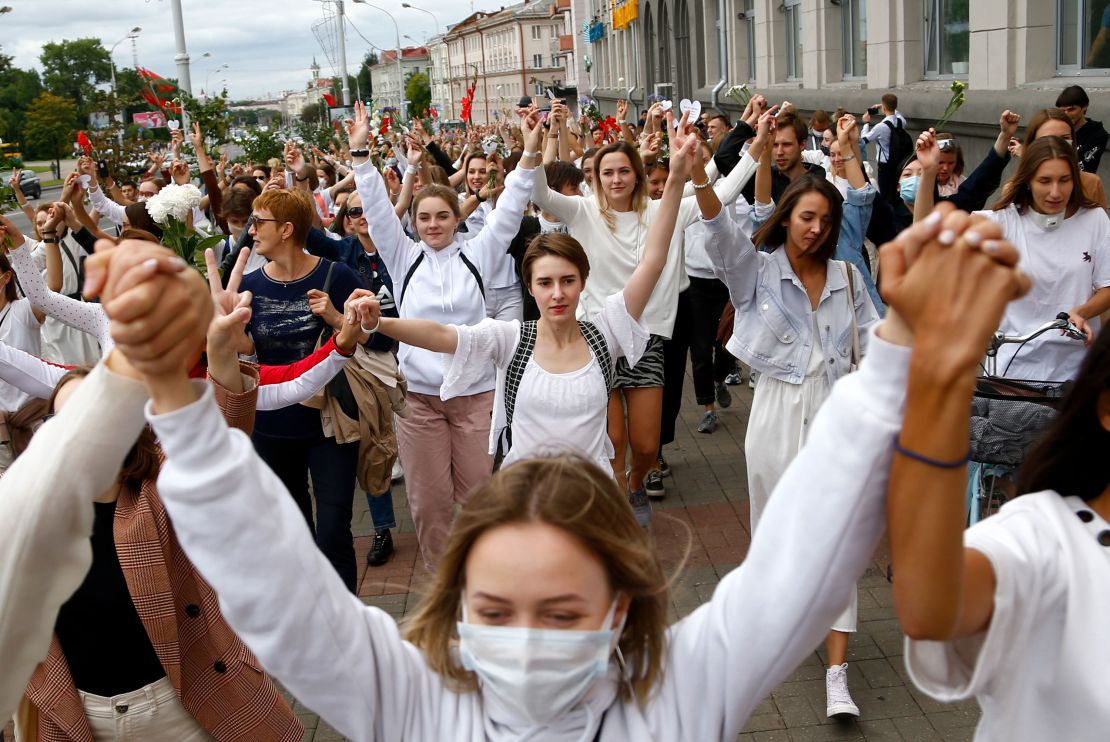 Across the country, women are forming so-called "solidarity chains." White ribbons, bracelets and shirts have become symbols of the movement, initially representing the peacefulness of protesters and later morphing to reflect the old Belarusian flag – white with a red stripe – which can be seen hanging from many windows in the city.
During an interview with CNN on Wednesday, Maria Kolesnikova – the last of the three women who became the faces of the country's opposition still in the country – wore a white suit as she said she believed that the clashes over the disputed elections results signal the decline of Lukashenko's presidency.
"He's already lost. He has to accept that the Belarusian people don't like him and don't like for him to stay the President of Belarus," Kolesnikova said.
Multiple videos show people coming to chant on their balconies in the evening after riot police pushed people out of the central streets during the violent crackdown of recent days.
Military and police officers switch sides
As Belarusian security services continue to crack down on protesters, some of the country's military and police officers appear to be turning against Lukashenko and showing support for the opposition.
A video posted on Instagram by a man named Evgeny Novitski shows his brother – a former special forces officer – throwing his uniform into a trash can, saying he is not proud of his job anymore.
"Hi all! I gave an oath to my people, and looking at what's happening in Minsk right now, I can't be proud of where I've been serving, and so, I can no longer keep this uniform at home," the former officer says.
Another video posted by Belarusian TV station Nexta, shows a police officer named Ivan Kolos saying he refuses to follow "criminal orders." He urged his colleagues to not point guns at peaceful people and be with them instead. He said he would take orders from opposition leader Svetlana Tikhanovskaya, not from Lukashenko.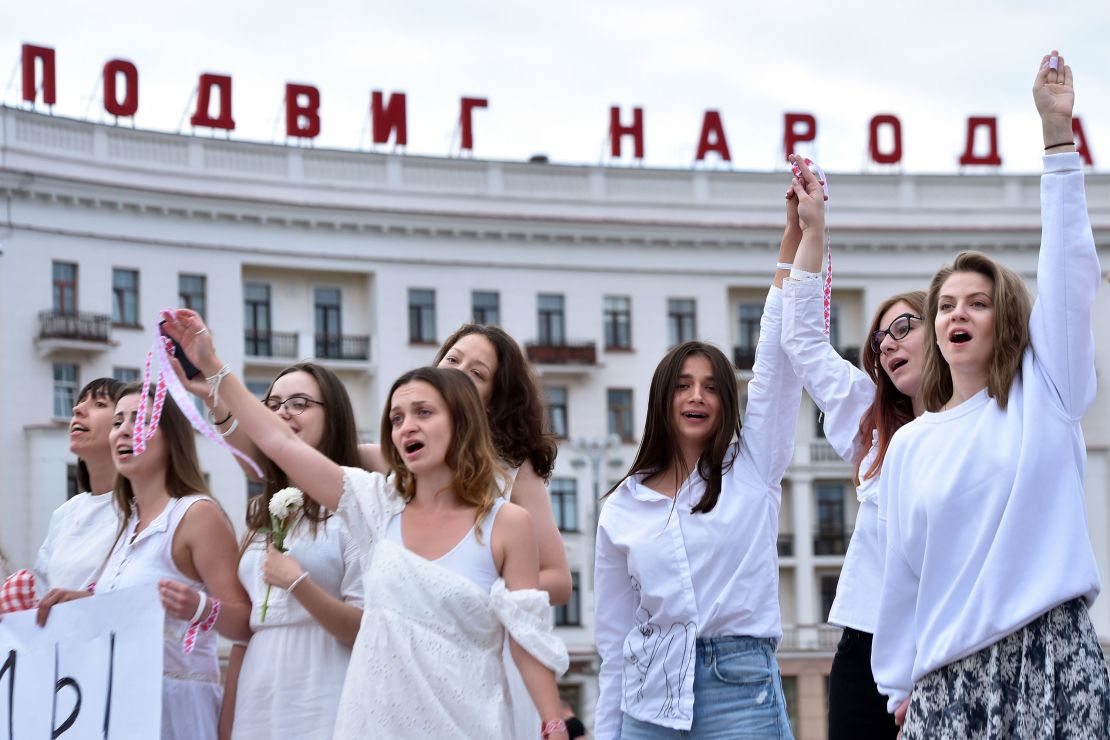 It is one of many social media videos that suggest there are special forces and police officers in Belarus supporting protesters by refusing to follow the orders to arrest them.
Meanwhile, Belarusian heavy vehicle manufacturer BelAZ on Thursday denied reports in local media of a walkout by workers amid nationwide protests over disputed presidential election results, Russian state news agency TASS reported.
TASS cited the company's press service as saying the management of the enterprise had met with workers to discuss events taking place in the country, but added, "Production continues, nothing has stopped."
Belarusian outlet Tut.by posted video of workers outside the plant shouting, "Leave!" – a chant evidently directed at Lukashenko – and images of workers outside the plant in Zhodzina, about 40 miles northeast of Minsk.
While Belarusian state media have downplayed protests, other domestic outlets and Telegram channels have reported a number of walkouts and strikes in the country. The Belarusian ministry of education denied reports of protests by teachers, saying, "At present, the education system is busy with addressing priority tasks that have nothing to do with the electoral process," the Russian state news agency RIA-Novosti reported. The statement from the ministry dismissed open letters from educators in support of the protests, saying the identity of the signatories "is not known for certain."
Claims of electoral fraud
Thousands of Belarusians have been taking to the streets since Sunday, when exit polls showed Lukashenko, who has ruled Belarus for 26 years, received 80% of the vote.
Opposition groups claim the election was marred by widespread ballot stuffing and fraud in order to keep Lukashenko in power, while the independent monitoring group "Honest People" said that according to its data, opposition candidate Svetlana Tikhanovskay had won in at least 80 polling stations across Belarus. Many are now demanding a recount.
Authorities in the former Soviet republic responded by arresting thousands of people in the first night of unrest, periodically shutting down internet access and employing what the European Union called a "disproportionate" use of force.
At least 50 journalists have also been detained or injured during street protests, Belarus' Press Association said in a statement Wednesday.
"We are outraged by the police violence towards peaceful protesters and journalists," United Nations human rights experts said in a statement Thursday. "The security forces do not seem to seek dialogue with the protesters or allow them to exercise their right to freedom of peaceful assembly."
It came as the Presidents of Lithuania, Poland, Latvia and Estonia called for action in a joint message. Their statement called upon Lukashenko to end the use of force against his people, release all detained protesters and initiate a dialogue with the public.
UN High Commissioner for Human Rights Michelle Bachelet condemned the violence in a statement Wednesday, arguing "the use of force during protests should always be exceptional and a measure of last resort, clearly differentiating between any violent individuals and peaceful protesters, against whom force should not be used."
The European Union and the United States are both considering enacting sanctions on Belarus for its response, while autocratic regimes like Russia and China have voiced support for Lukashenko.
Russia can see "clear attempts of outside meddling in the internal affairs" of Belarus in a bid to "create a rift in society and destabilize the situation", Foreign Ministry spokeswoman Maria Zakharova told reporters at a weekly briefing in Moscow on Thursday. She said "unprecedented pressure" was being exerted "by individual foreign partners on the Belarusian authorities."
"We call on everyone to exercise restraint and prudence. We hope that the situation in the country [Belarus] will normalize and return back to calm soon," she added.
Tikhanovskay 'had no choice'
Lukashenko has downplayed accusations of violently cracking down on his opponents. He said he still enjoys widespread support and warned Belarusians that they should not be taking part in unsanctioned rallies.
But his opponents say otherwise.
Two say they have been forced out of Belarus because of threats from the government. Tikhanovskaya, who stood in for her husband as an opposition candidate after he was jailed in the run-up to the vote, fled the country earlier this week. Her campaign told CNN on Sunday that nine people associated with the campaign had been arrested, and her decision to leave was made in part to free her peers.
A representative for Tikhanovskaya, Olga Kovalkova, told Belarusian outlet TUT.BY on Tuesday that she "had no choice," and said that part of the opposition candidate's team was still being "held hostage."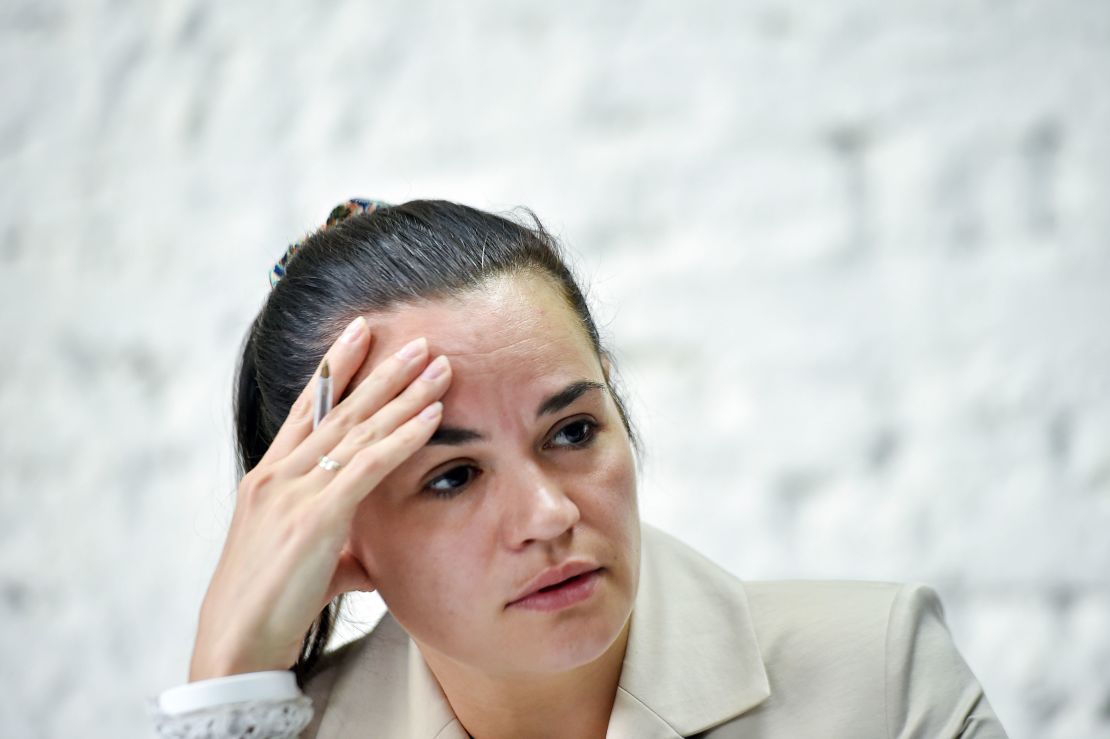 Tikhanovskaya and her children are now in neighboring Lithuania, which has offered to mediate the dispute.
There have been protests reported in dozens of cities and towns, but the bulk of arrests have occurred in the capital, Minsk, where key ring roads and streets were blocked by demonstrators on Monday evening and police deployed tear gas and rubber bullets to disperse crowds.
Analysts said the level of police violence against protesters was unprecedented.
"They have used water cannons, stun grenades, rubber bullets, tear gas," Alex Kokcharov, a political risk analyst at IHS Markit, who specializes in Belarus, told CNN. "I think the response by the police is to cause some casualties, such as injuries, which would demotivate a lot of people from attending the protests."
Lukashenko enjoys wide support from the country's elites, but what would "crack" them "is widespread civic disobedience movement such as long-term labor strikes in state-owned enterprises and transportation networks," Kokcharov added.