Celebrating your team's qualification for the next round of the NBA playoffs should be momentous occasion. But for players across the league, instead of enjoying the fact they were one step closer to an NBA title, discussions were being had about boycotting following the shooting of Jacob Blake by police.
Blake underwent surgery Tuesday and his family says he is now paralyzed from the waist down. His shooting sparked nationwide demonstrations, with protesters demanding police reform.
Toronto Raptors point-guard Fred VanVleet confirmed ahead of the Raptors' first game against the Boston Celtics that its players "had a meeting this morning" where "a number of things have been discussed," while Celtics guard Marcus Smart said that a boycott is "something that's in the back of our minds."
And although VanVleet admitted he was initially "pretty excited" to make it to the next stage of the playoffs following the Raptors' four-game sweep of the Brooklyn Nets, watching Blake's shooting radically changed emotions inside the bubble in Orlando.
"At some point, we're the ones always with the microphones in our face," the 26-year-old VanVleet said in a press conference. "We're the ones always who have to make a stand.
"We're the first ones and the responsibility falls on us to make a change to stop being oppressed. Are we going to hold everybody accountable or we're just going to put the spotlight on Black people who are Black athletes or entertainers and say: 'What are you doing, what are you contributing to the community, what are you putting on the line?'
"And then us, too, we've got to take responsibility as well. Like, what are we willing to give up until we actually give a f*** about what's going on? Or is it just cool to wear Black Lives Matter on the backdrop or wear a T-shirt. Like what does that really mean? Is it really doing anything? I'm in a different place today just emotionally-speaking."
READ: 'Black people in America are scared,' says LeBron James after Jacob Blake shooting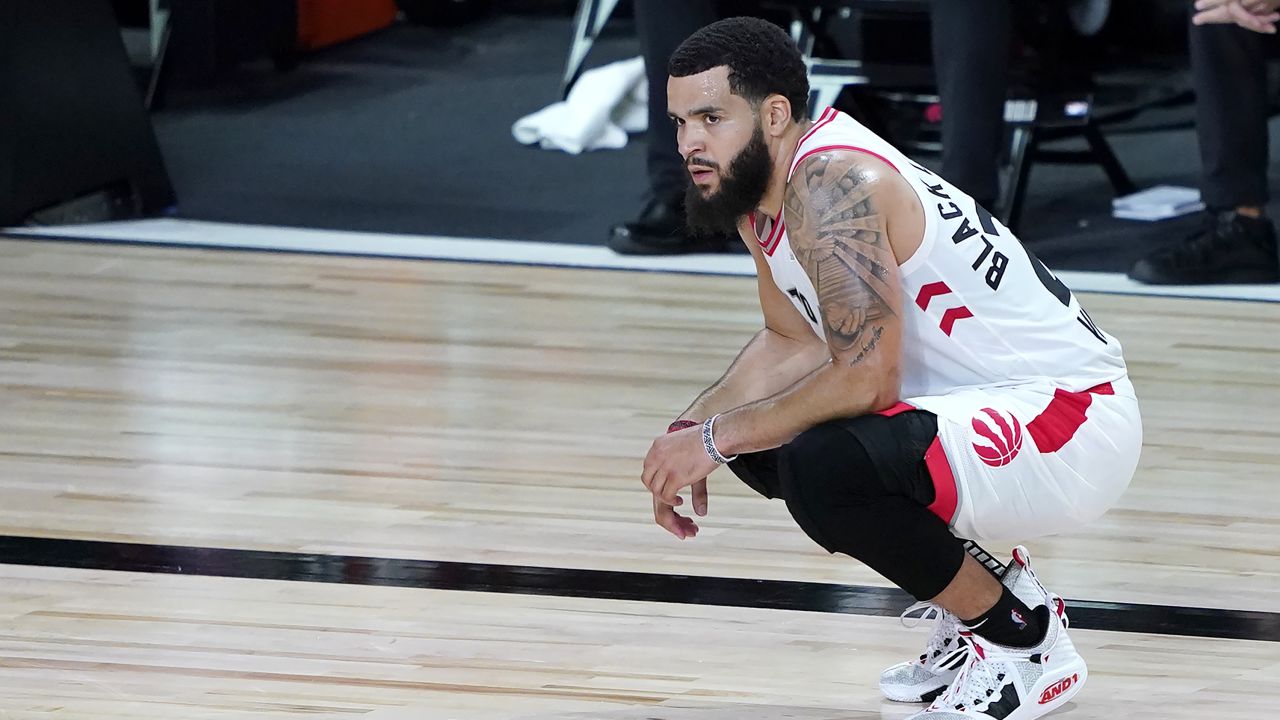 'Are we not human beings?'
The Raptors will face the Celtics in the Eastern Conference semi-finals on Thursday in Orlando.
And Smart, who is playing in his sixth season with the Celtics, says that boycotting games might be the only way to make a difference.
"We tried the peaceful way, kneeling, we tried to protest, we tried to come out here and get together and play this game and tried to get our voice across, but it's not working," the 26-year-old told reporters. "So, obviously, something has to be done.
"Right now, our focus shouldn't really be on basketball. I understand it's the playoffs and everything like that, but we still have a bigger underlying issue that's going on, and the things that we've tried haven't been working. We definitely need to take a different approach."
For Smart's teammate Jaylen Brown, speaking out is nothing new. He is a vice president of the National Basketball Players Association's Executive Committee and has engaged in social justice discussions for years.
However for Brown, these days his No. 7 jersey means something different to him. "Every time I look at my jersey now, what I see is a Black man being shot seven times," he said.
"There is an emphasis in this country on the framing of these instances, such as Jacob Blake. Well, he was a convicted felon. Well, he had a history of police brutality. Well, he possibly had a weapon. This framework is not unfamiliar to people of color and African Americans. Nor does it constitute death or being shot seven times.
"The reality is majority of African Americans and people of color have a history with the police. It comes with the plagues of systemic oppression, lack of education, economic opportunity, housing, et cetera. And most people of color, most minority communities, have history with the police.
"The question is that I would like to ask is: Does America think that Black people or people of color are uncivilized savages or naturally unjust? Are we products of the environments that we participate in? That's the question I would like to ask to America, and America has proven its answer over and over and over again. Are we not human beings? Is Jacob Blake not a human being?"
READ: NBA star Chris Paul says the lockdown bubble has helped players' activism
Fear
As the NBA playoffs roll on, so does the Republican National Convention in Washington, which wasn't lost on Los Angeles Clippers head coach Doc Rivers.
"What stands out to me is just watching the Republican Convention and they're spewing this fear," said an emotional Rivers following his team's dominating win over the Mavericks in Game 5 of their first-round playoff series.
"All you hear is Donald Trump and all of them talking about fear. We're the ones getting killed. We're the ones getting shot. We're the ones who were denied to live in certain communities. We've been hung. We've been shot. And all you do is keep hearing about fear."
As someone who has a familial connection to the police force – Rivers' father was an officer – he is not looking to defund to the police. But he does believe the training must change to avoid the continuing number of Black people shot by members of the police.
"I should just be a coach. And it's so often reminded of my color. It's just really sad. We've got to better. We've got to demand better," Rivers continued.
"It's funny. We protest and we see riot guards, right. We see people in riot outfits. They go to Michigan with guns and they're spitting on cops, and nothing happens.
"The training has to change in the police force. The unions have to be taken down in the police force. My dad was a cop. I believe in good cops without trying to defund the police and take all their money away. We're trying to get them to protect us just like they protect everybody else.
"I didn't want to talk about it before the game because it's so hard to just keep watching it. That video, if you watch that video, you don't need to be Black to be outraged. You don't need to be American and outraged. And how dare the Republicans talk about fear?! We're the ones that need to be scared. We're the ones having the talk to every Black child. What White father has to give his son the talk about being careful if you get pulled over?
"It's just ridiculous, and it keeps going. There's no charges. Breonna Taylor. No charges. Nothing. All we're asking is you live up to the Constitution. That's all we're asking. For everybody. For everyone."
CNN has reached out to the NBA for a comment on what action they would take if a boycott did take place but did not hear back immediately.