When it comes to the United States election, policymakers in China would rather their country was not a topic of conversation.
In a pair of op-eds published by prominent Chinese state media outlets Thursday, the authors called on the Trump administration to stop "scapegoating" Beijing for American problems, particularly the ongoing coronavirus pandemic.
Any hope that renewed racial strife might lead US President Donald Trump to focus on domestic issues rather than China was quickly dashed, however, as he accepted the Republican Party's nomination in a speech at the White House Thursday night.
In a preview of attack lines against his Democratic rival Joe Biden that are likely to play out with increasing intensity in the weeks ahead, Trump claimed Biden "voted to ship our jobs to China."
"(Biden) supported China's entry into the World Trade Organization, one of the greatest economic disasters of all time," Trump said, to boos from the crowd. "He cheered the rise of China as a positive development for America and the world. That's why China supports Joe Biden and desperately wants him to win."
Attacking China has been a major theme of the Republican National Convention, including in speeches by Secretary of State Mike Pompeo and Chinese dissident Chen Guangcheng earlier in the week. Ahead of Trump's speech Thursday, an anti-Biden advert accused the Democratic candidate of "flacking for the Chinese government," while Republican Sen. Tom Cotton accused Biden of having "aided and abetted China's rise for 50 years."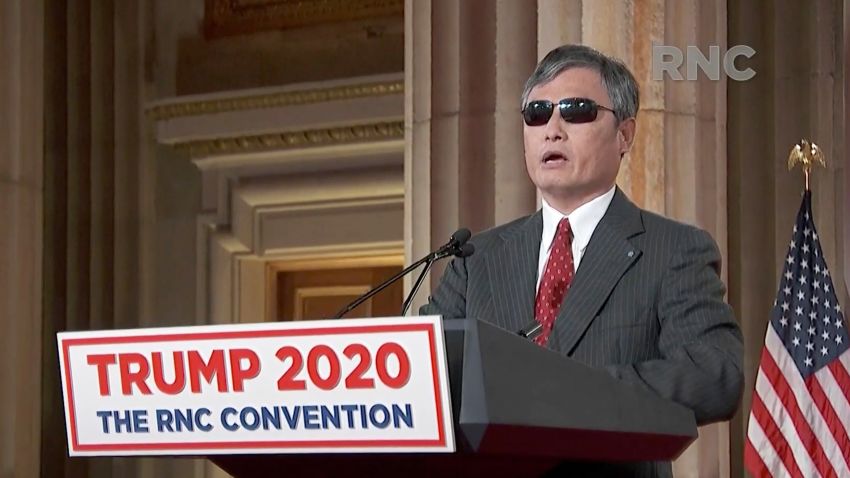 Dissident brought to US by Obama administration praises Trump
Relations between Washington and Beijing have plummeted under Trump, as he started a trade war that has yet to result in a comprehensive deal and attacked China's leaders over the coronavirus, while Pompeo and others have been tough on alleged human rights abuses in Xinjiang and Hong Kong.
That China would feature heavily at the RNC will have come as little surprise then, but that doesn't mean the rhetoric hasn't caused alarm in Beijing.
"One of the most bizarre characteristics of America's 2020 presidential election is that political attacks on China have gone well beyond common sense," said state-run news agency Xinhua this week.
"The vicious rhetoric against Beijing has hit one fresh low after another this week at the ongoing Republican National Convention. At the gathering, China hawks in Washington trumpeted the White House's hard-line approach toward Beijing, attacked China over so-called transparency issue during the Covid-19 pandemic, and continued spreading xenophobic language over the origin of the pathogen."
Another piece, published by the state-backed tabloid Global Times, urged US politicians to stop "scapegoating" China.
"US domestic problems are ignored and fictive foreign problems enlarged," wrote Song Guoyou, a professor at Shanghai's Fudan University. "This means the more that economic problems and contradictions form in the US the more Washington will target Beijing as a scapegoat."
Both pieces were published ahead of Trump's speech Thursday, and essentially predicted its content.
Referencing devastating employment figures due to the pandemic, Trump said that "before the China virus came in, (we) produced the best unemployment numbers for African Americans, Hispanic Americans and Asian Americans ever recorded."
"China allowed (the pandemic) to spread around the world, they could have stopped it but they allowed it to come out," he said, later adding that "Joe Biden's agenda is made in China, my agenda is made in the USA."
For all Trump's rhetoric, analysts however are split on whether Beijing would prefer Biden – who may repair relations somewhat, though even the Democrats have tilted hard in the China hawk direction – or rather keep Trump in office and continue the gradual retreat of the US from international engagement.
Earlier this month, the US intelligence community's top election security official said that China would rather Trump is not reelected. "We assess that China prefers that President Trump – whom Beijing sees as unpredictable – does not win reelection," said William R. Evanina, director of the National Counterintelligence and Security Center, in a statement ahead of the November election.
Responding to Trump's accusation that Beijing was backing Biden, Global Times editor Hu Xijin tweeted that "on the contrary, Chinese netizens wish for your reelection because you can make America eccentric and thus hateful for the world."
But while China may benefit from Trump's policies elsewhere in the world, the bilateral relationship with the US is the most important to Beijing, and its one that is looking shakier than ever. Come November, China will be hoping it can turn things around, whomever sits in the White House next year.