Former Indian president Pranab Mukherjee has died at the age of 84, according to a tweet from his son.
"With a heavy heart, this is to inform you that my father Shri #PranabMukherjee has just passed away in spite of the best efforts of Doctors of RR Hospital & prayers, duas, and prarthanas from people throughout India! I thank all of You," tweeted Abhijit Mukherjee on Monday.
India's Prime Minister Narendra Modi tweeted a tribute, saying the country grieved the former president's passing.
"He has left an indelible mark on the development trajectory of our nation. A scholar par excellence, a towering statesman, he was admired across the political spectrum and by all sections of society," Modi wrote.
The Prime Minister praised Mukherjee's "long-lasting contributions in key economic and strategic ministries" in another tweet.
"He was an outstanding Parliamentarian, always well-prepared, extremely articulate as well as witty."
India's government announced seven days of mourning in response to the news of Mukherjee's death. Flags will be flown at half mast, and there will be no official entertainment, it said in a press release.
Coronavirus diagnosis
Pranab Mukherjee had previously announced on Twitter that he was to undergo a surgical procedure in the second week of August and did not emerge from the hospital following treatment.
Prior to the surgery, the former president tweeted that he had contracted Covid-19, but there was no announcement from the hospital or his family about the cause of death.
"On a visit to the hospital for a separate procedure, I have tested positive for COVID19 today. I request the people who came in contact with me in the last week, to please self-isolate and get tested for COVID-19," Mukherjee tweeted on August 10.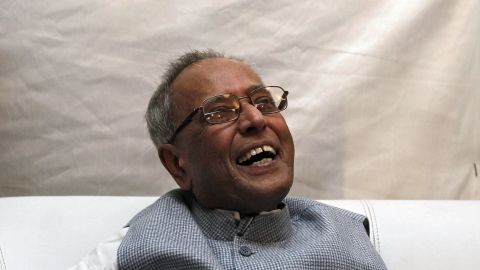 Mukherjee was elected to India's upper house of parliament in 1969, as a member of the Congress party, serving under India's first female Prime Minister, Indira Gandhi.
He served as foreign, defense, commerce, and finance minister under various administrations for almost five decades, and as a member of the Indian Parliament seven times.
His most influential period in Indian politics came during the last two terms of the coalition government formed by the Congress party from 2004 to 2014.
Under former Prime Minister Manmohan Singh, he served as a senior cabinet minister and was eventually elected as as the thirteenth president of India in 2012.
Mukherjee served the remainder of his term as president under Modi, before stepping down in 2017.
Mukherjee was born on December 11, 1935, in the state of West Bengal. He graduated from the University of Calcutta (now known as Kolkata) and began a career in teaching before going into politics.
The former president hailed the enduring legacy of Mahatma Gandhi, the leader of India's struggle for independence, during a lecture in 2019.
"The ideas of truth, openness, dialogue and non-violence espoused by Gandhiji provide the best way forward for a world confronted with intolerance, bigotry, terrorism and xenophobic politics," he said. "His values and vision are more relevant today than any time before, in a world desperately searching for permanent solutions to conflicts and tensions."
Mukherjee was awarded the Bharat Ratna, India's highest civilian honor, in 2019, after being given its second-highest civilian honor, the Padma Vibhushan, in 2008.
He is survived by two sons and a daughter.