Pernille Harder has signed for Chelsea from Wolfsburg for a "record transfer fee for the women's game," according to the German side's sporting director.
The Danish international joined the London club on Tuesday, signing a three-year-deal having spent three and a half years at Wolfsburg.
And while the official transfer fee was not disclosed – it's been reported it is £300,000 ($400,500) – Ralf Kellermann, Wolfsburg Frauen sporting director, admitted that the size of the offer from Chelsea meant the move was beneficial to both parties.
"Taking into account the fact that we are dealing with a record transfer fee for the women's game – without going into the precise nature of the sum involved – and that Pernille was only going to be with us for another 10 months and had just played in the UWCL finals tournament for us, we decided that this was a fair solution for all involved," he said in a statement.
"We are obviously aware of Pernille's many qualities and the value that she has on the pitch for our team. On the other hand, I'm sure that other players who have not yet fully realized their potential will now come into focus, and that this will allow us to continue down the path that we have been on for the past few years."
READ: From Somalia to Wembley: The trailblazing referee told that football 'is a man's game'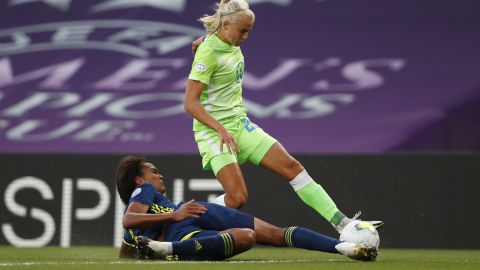 Harder, who is regarded as one of the world's best players, scored 103 times in 113 matches for Wolfsburg, including 25 Champions League goals from 28 games.
During her time in the Frauen Bundesliga, she won the league and cup double four years in a row and finished top scorer in the league in two of those seasons.
She was named UEFA Player of the Year in 2018 and won Germany's 2020 Footballer of the Year award just a few days ago.
Harder's last game for Wolfsburg was a 3-1 defeat to Olympique Lyonnais in the Champions League final on Sunday. She had scored four goals in Wolfsburg's 9-1 victory over Glasgow City in the quarterfinals.
"Pernille is one of the best players in the world. Her record at Wolfsburg and Linkopings, as well as internationally with Denmark, shows how valuable she has been to her teams," Chelsea Women manager Emma Hayes said.
"She is a fantastic team player who wants to take her game to the next level. She chose Chelsea as the club that can push her to that level. She can play for any team in the world, but she chose us.
"She chose the players, the staff, the environment, the playing style. You can't get a bigger compliment than that from one of the best players in the world."
The 27-year-old will help form an exciting, attacking Chelsea front-line, along with Australia's Sam Kerr and England's Fran Kirby and Bethany England.
Visit CNN.com/sport for more news, features, and videos
Harder's partner, Sweden defender Magdalena Eriksson, is Chelsea's captain and lifted the Community Shield at Wembley on Saturday.
Chelsea, who were awarded the Women's Super League title last season by just 0.1 points after it was canceled because of the coronavirus pandemic, begins its title defense at Manchester United on Sunday.