Puerto Rican architect Carla Gautier Castro stands overlooking the remains of a home after a string of earthquakes hammered the town of Yauco, on the southwest of the island.
It's a painful scene she has seen again and again. It is also the reason she now dedicates her life to ensuring everyone on the island has a safe dwelling.
The pillars of this concrete house collapsed, crushing three vehicles underneath. Furniture and personal belongings are strewn around, unreachable, unsalvageable.
"I'm traumatized," homeowner Luz María Morales Vargas tells Gautier Castro. "We've lived here for 27 years."
Morales Vargas and her husband were sleeping inside their home when a 5.8 magnitude earthquake hit on January 6, 2020. Then a second, stronger one the following day. It forced hundreds of residents like Morales Vargas to move into makeshift outdoor camps.
"I haven't lost nothing. This is all material. I got my life," she says.
The emotional burn Morales Vargas feels is all-too-familiar; three years ago, she felt similar heartache when Hurricane Maria damaged her home.
"I was devastated," she recalls. The 2020 earthquakes took a brutal toll on Puerto Rico. But Hurricane Maria remains the worst natural disaster the island has ever seen, a Category 5 storm that caused more than 3,000 deaths, $40 billion in damages and destroyed 70,000 homes. Two years after the storm, some 30,000 families were still living under blue tarps, their homes not repaired, according to local government estimates.
"It doesn't have to be this way," Gautier Castro says.
On the island, life after Maria
"Hurricane Maria changed everything for everyone here in Puerto Rico," Gautier Castro says.
Her own life shifted course as she found a new mission after witnessing her homeland's devastation.
Days after Maria, she took a job as a FEMA construction inspector.
"I remember this one case. This lady came to us and we couldn't find her house. We realized that we couldn't find the house because there was absolutely nothing left. The desperation in that woman's face was just… I'm just never gonna forget it."
Gautier Castro takes a deep breath, holding back tears, the memories still raw.
"That was the type of reaction that drove me to find a different solution, because I knew that this was actually a case for most people in Puerto Rico."
The people needed shelter, durable structures. That's when the young architect had an idea: shipping containers.
Gautier Castro first saw container home structures while visiting Europe and the mainland US as an architectural student.
The containers, she explains, are already built "to withstand the most adverse weather conditions."
"I realized that if we could make an entire home – a basic home that could cover all your needs with this structure – it meant that we can do it a lot quicker and a lot cheaper because we're substituting the columns, beams, walls with just one piece," she says.
She took her idea to a structural engineer who validated the concept.
The result, by using an anchored shipping container, Gautier Castro created a home that could withstand both earthquakes and hurricanes with winds in excess of 175 miles per hour.
Ready to put the concept to work, Gautier Castro founded KONTi Design Built Studio, a San Juan firm dedicated to transforming shipping containers into hurricane and earthquake-proof housing.
"KONTi is challenging the way we look at construction in Puerto Rico. We want everyone to feel safe when disaster hits," she says.
Affordable construction for everyone
Gautier Castro's work as a FEMA inspector became an eye-opening experience for this third-generation architect. She realized that one reason so many homes were destroyed during Maria was because many people could not afford formal, code-compliant construction. A 2018 Puerto Rico Home Builders Association study found that around 55% of the island's housing units were built informally, outside of existing regulations governing construction and land use.
Additionally, the median household income in Puerto Rico is about $20,000 compared with a median home value of about $113,500, according to census data.
Construction costs can be prohibitive for many families since materials must be imported onto the island.
"The math just doesn't add up. This is where KONTi comes in. We're designing a home that for $39,000, you can have a safe, sustainable home that includes two bedrooms, one bathroom, kitchen cabinets, security windows and doors," says Gautier Castro.
The units are built in Puerto Rico using local labor and materials. A basic KONTi model can be built in less than two months.
For an additional cost, a KONTi home can function completely off the grid, equipped with a solar panel system, rainwater collection tank, and a bio garden septic tank system.
A dream come true
For KONTi homeowners Mildred Díaz and Luis Amador, their container home is a dream come true. For years, they tried to build a forever home on a vacant lot on the island of Vieques, off the southeast coast of Puerto Rico. But high construction costs and concerns over future hurricanes halted the project.
"Every year, everyone in Vieques lives with their hair standing on end waiting to see if we will get hit by another hurricane," says Díaz. "This is the best option."
Today, the couple sits in their new living room, where two massive doors provide a vista of the ocean.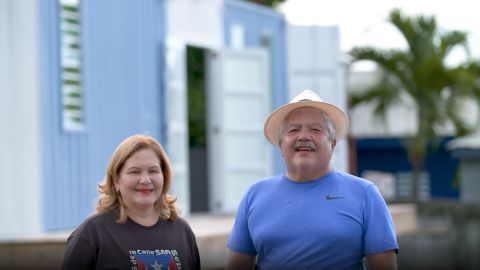 "I open those doors," says Amador, pointing at the view, "and I'm in paradise."
"It is affordable, and feasible. You feel safe. It's a long-term investment. And if you want to take it with you, you can move it anywhere," says Amador.
Gautier Castro says building this house for Diaz and Amador is one of her proudest moments.
KONTi's ultimate goal is to produce 100 units a month from a factory in Puerto Rico, where they can be shipped all over the globe. Gautier Castro believes container homes are a worldwide solution to housing crises caused by natural disasters and refugee influxes.
"It's important that we build for this new generation," she says. "Because their future starts with their basic needs and a home is just that. They need to be safe in order to fulfill their full potential."