When it comes to his golf game, Bryson DeChambeau is happy to be an outlier.
But, confronted with the sight of his parents on a video call following his debut major victory at the U.S. Open on Sunday, it turns out the 27-year-old is just like the rest of us.
Having romped to a six-shot victory at Winged Foot Golf Club in Mamaroneck, New York, DeChambeau was surprised with his mother and father on a big screen, pushing the golfer to the verge of tears.
Spectators have been forced to watch from home because of the ongoing coronavirus pandemic.
After navigating some screen orientation issues – DeChambeau's parents flipflopped between vertical and horizontal – he exclaimed "I did it!" which elicited a cheer of celebration.
DeChambeau admitted that the reason behind his emotion was because he "wouldn't be here without" the sacrifices his parents had made during his childhood.
"I always wanted my parents, especially my dad, to witness not only a PGA Tour event but a major championship," DeChambeau told CNN Sport's Carolyn Manno.
"I knew I could get it done. I knew I could win. I had the game to do it but I didn't know how long he had. Being on dialysis for three years, battling diabetes. That's why I work as hard as I do. Because I know I can't let them down.
"I don't talk about it much but it's always there in the back of my head. I definitely didn't grow up affluent. We had the opportunity to go to the golf course and practice and meet all the needs of me, for sure, no problem.
"But my parents gave up everything for me to play golf. They didn't have any free time. Every summer, they'd be driving me to golf tournaments. No matter what, they gave their whole life for me."
READ: Why record-breaking drives could change golf as we know it
'The Scientist'
DeChambeau has been the talk of golf since the sport's return from its Covid-19 hiatus.
With golf put on hold, the American kept working in the gym – with the help of his coach Chris Como and some experimental technology – and returned to action 40 pounds heavier. His willingness to test his boundaries and new technology has earned him the nickname "the Scientist."
DeChambeau, who has now moved up to world No.5, hopes that he can "inspire people to try new things" with his approach to the sport.
"I feel like I'm inspiring people to try new things and do anything they want, they think they can do. For me, that's getting strength and getting distance. I think there's a tremendous advantage there and I think it'll inspire a lot of people to do the same.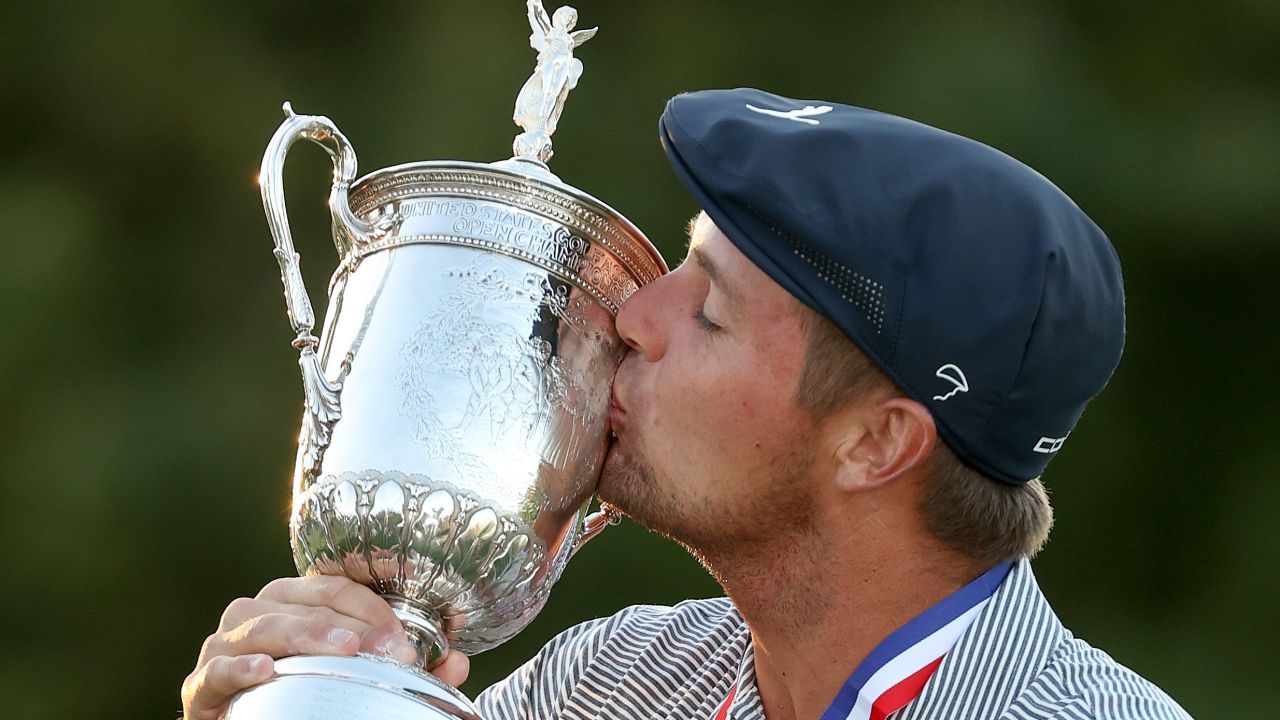 "And I hope people can take that and look at that and go, there was an opportunity to improve one's life in these difficult times. I hope that inspires people whenever they're in a difficult time or struggling things. It's still an opportunity to get better each and every single day."
The Dallas native dominated the final day of the 2020 U.S. Open at Winged Foot, posting the lowest final round by three strokes with a three-under 67 to coast to victory.
He finished six shots ahead of fellow American Matthew Wolff. The 21-year-old had had a two-shot heading into the final day but shot 75 to finish second on level par.
DeChambeau becomes only the second player to win the men's U.S. Open at Winged Foot with a score under par, joining 1984 champion Fuzzy Zoeller.
And while critics have complained about DeChambeau's unique approach to the golf, the speed with which he saw dramatic improvement justified his decision to see if he could add more length to his game.
"If I could gain length, if I could gain strength, I could get out of the rough, I could hit it really far, if I could learn to hit it straight while hitting it far, it would give me this distinct advantage over everyone in the field," said DeChambeau, who is the PGA Tour's longest driver on average.
"And we started going after it and I started seeing massive improvements really, really quickly. I gained some strength in the first three months and I said: 'You know what, I'm going to keep going.' I kept doing it and then unfortunately, quarantine hit but fortunately for me, it gave me an opportunity to hone in my body and make it even stronger."
Visit CNN.com/sport for more news, features, and videos
The U.S. Open, which was originally scheduled for June, was pushed back due to the coronavirus pandemic and served as the second major played this year.
The Masters Tournament, golf's final major of 2020, will be played on November 9-15 at Augusta National Golf Club in Augusta, Georgia.