After windows were broken Thursday night, Louisville police declared gatherings downtown were an unlawful assembly and told people protesting the grand jury decision in the Breonna Taylor case to disperse.
The order came as demonstrators stayed out after a 9 p.m. curfew. Police could be heard yelling over loudspeakers for the hundreds of protesters to go home or be subject to the use of chemical irritants.
A CNN crew saw one person hitting a window seven times with a hatchet.
Protesters later gathered at a church, where they were welcomed onto the property. The demonstrators continued to chant and yell at police and because they were on private property, it appears they weren't violating the curfew.
The protests in Louisville and cities across the country came amid growing calls for the Kentucky attorney general to release evidence in the fatal shooting in the wake of a grand jury declining to charge three officers with her killing.
Earlier, as people marched in downtown Louisville, dozens of demonstrators veered off the route and confronted a group of people dressed in military-style outfits and carrying rifles.
The protesters chanted "Black lives matter" and "No justice, no peace" as they ringed the group.
Other members of the march eventually called the demonstrators back to the protest.
Earlier, the governor led the calls to make public the evidence presented to the grand jury.
"We ought to be able to see the evidence and see the facts that led to that conclusion," Gov. Andy Beshear told CNN on Thursday, adding that he asked the attorney general to post the grand jury evidence online. "I trust the people of Kentucky with the truth. I trust them to be able to look at the facts, but they're not able to do that right now."
More than six months after Taylor was shot to death after Louisville police officers broke down the door to her apartment while executing a warrant, a grand jury decided to indict only one of the three officers involved on first-degree wanton endangerment charges.
The charge applies to the risk put on Taylor's neighbors but does not aim to hold the officer responsible for her death.
Now, Taylor's family wants Kentucky Attorney General Daniel Cameron to release transcripts of the grand jury proceedings, according to family attorney Ben Crump.
"What did (Cameron's office) present to the grand jury? That is the question everybody is asking," Crump said Thursday.
Steve Romines, an attorney for Taylor's boyfriend, also called for the release of the grand jury file, saying it would "show the information they presented to the grand jury was simply designed not to charge these officers."
"Throughout the last six months, there hasn't been really any explanation of the process, the evidence you'd have to secure, what it even takes to make certain charges," Gov. Beshear said. "And then the evidence itself, to date, has not been shared. Certainly, I think that now is the time."
Mayor Greg Fischer said Thursday the city was working with the attorney general's office and the FBI to determine what information could be released without interfering with a series of ongoing investigations, including one by the FBI.
'Breonna Taylor did not get justice,' family attorney says
The officer, former Det. Brett Hankison, intends to plead not guilty when he is arraigned, his attorney, Stew Matthews, told CNN. Evidence in the case does not support the charges against his client, he added.
Hankison was booked in the Shelby County Jail, posted a $15,000 bond and was released, Matthews said.
The long-anticipated announcement was met by outrage and heartbreak from activists and community members, not only in Louisville but nationwide. Protesters filled streets in numerous American cities, and in Louisville, demonstrations continued after a 9 p.m. ET curfew.
Fischer on Thursday extended the nightly curfew, which ends at 6:30 a.m., through the weekend.
Taylor, a 26-year-old Black emergency room technician and aspiring nurse, was described by relatives as a hard-working, goal-oriented young woman who put an emphasis on family. Crump called demonstrations over her death "righteous anger."
Tamika Palmer, Taylor's mother, posted an illustration of her daughter on Instagram on Thursday. She captioned the image: "It's still Breonna Taylor for me," along with the hashtag "#ThesystemfailedBreonna."
For months, Taylor's case has been a rallying point for protesters across the country as they demonstrated against racial injustice and police brutality. Chants of "Say her name" echoed across the country, along with calls to honor other Black people killed or hurt in police custody, including George Floyd.
"We somehow got our hopes up in this case. We wanted to believe the system would change," Sadiqa Reynolds, president and CEO of the Louisville Urban League, told CNN. Instead, Wednesday's announcement by Cameron, she said, was "devastating."
"We will go to our graves proclaiming that Breonna Taylor did not get justice from the Kentucky attorney general's office," Crump told CNN.
The pain and anger boiled over into protests across the country. Protesters in New York on Thursday chanted Taylor's name as they carried banners and other signs demanding, among other things, the defunding of police.
During a protest Wednesday night, two Louisville police officers were shot and suffered non-life-threatening injuries, police said. Both officers are expected to recover, according to LMPD interim Police Chief Robert Schroeder.
A 26-year-old suspect has been arrested in connection with the shooting. He faces two counts of first-degree assault of an officer and 14 counts of wanton endangerment of a police officer.
Nearly 130 people were arrested in the unrest, according to Schroeder.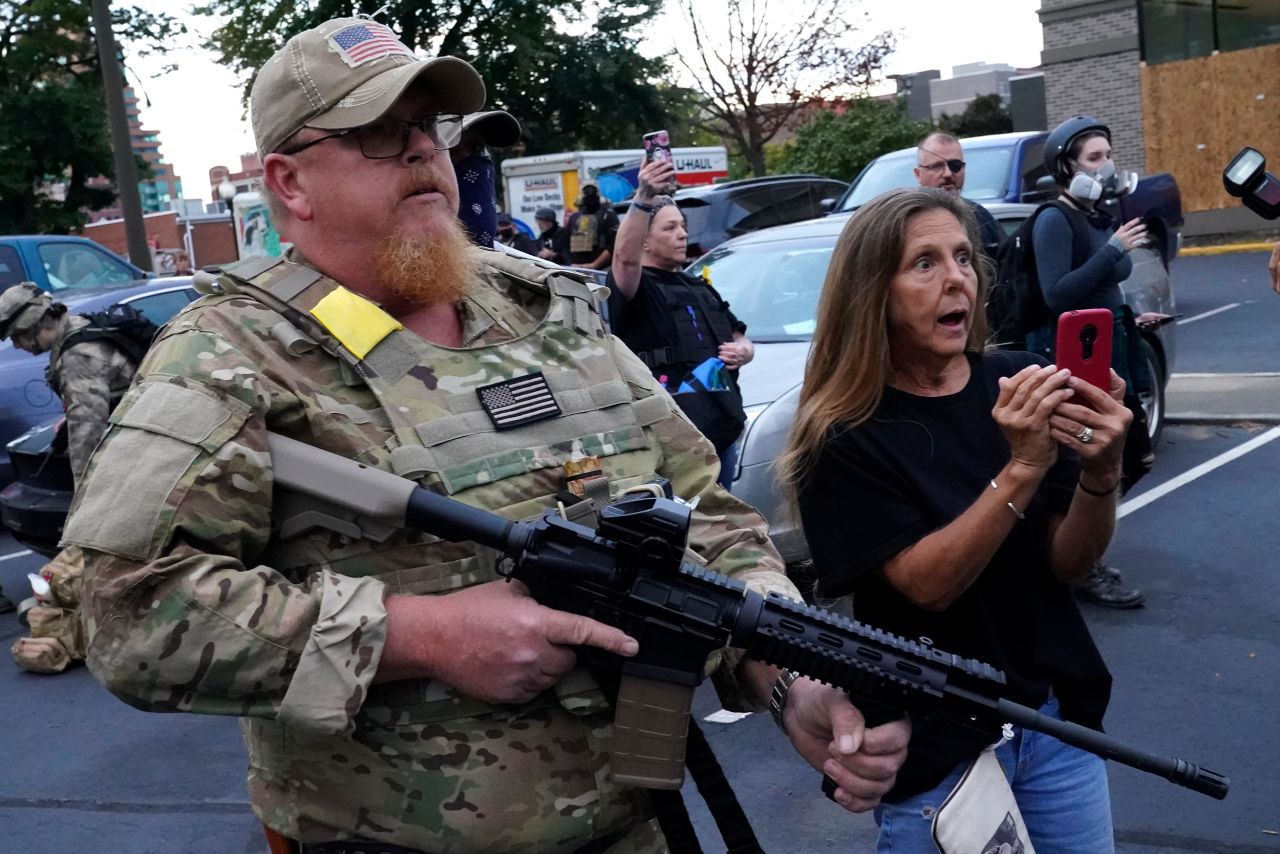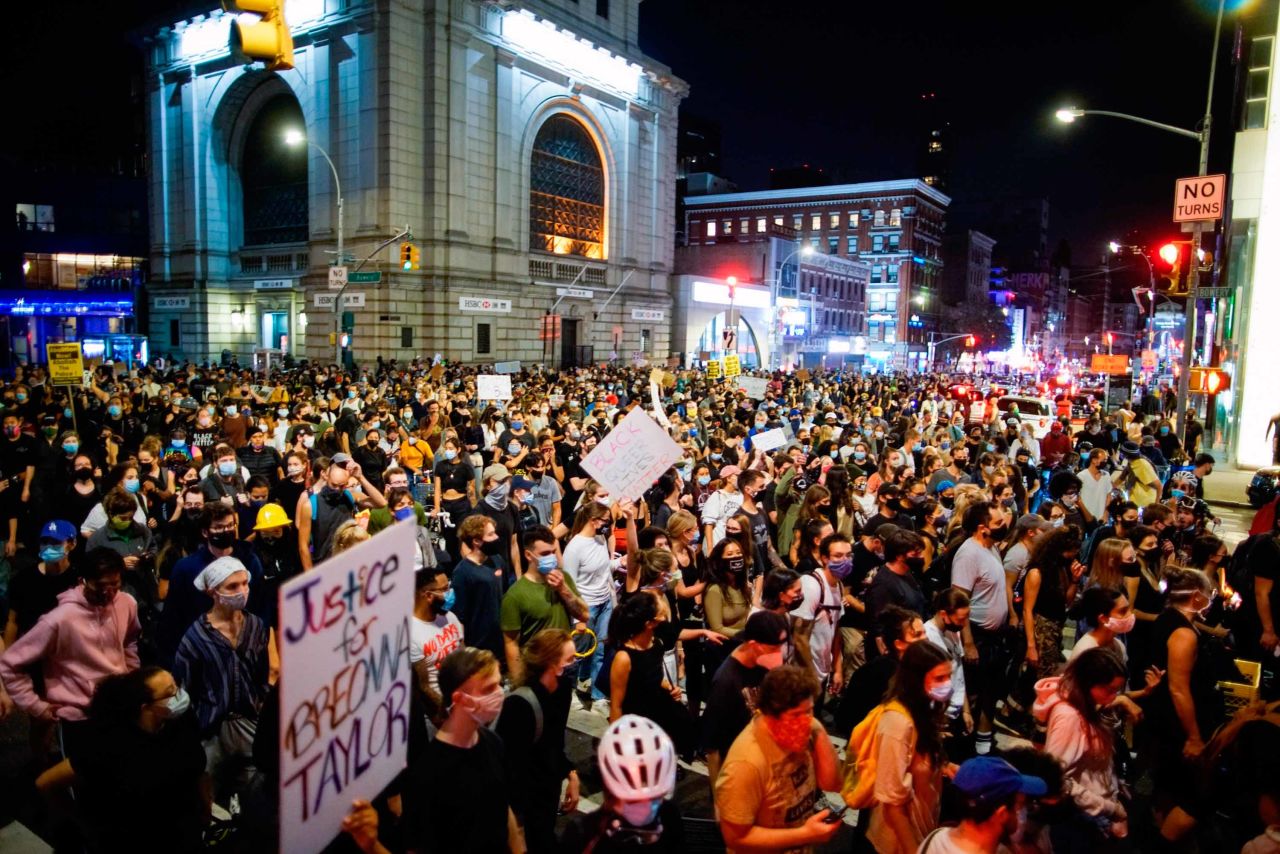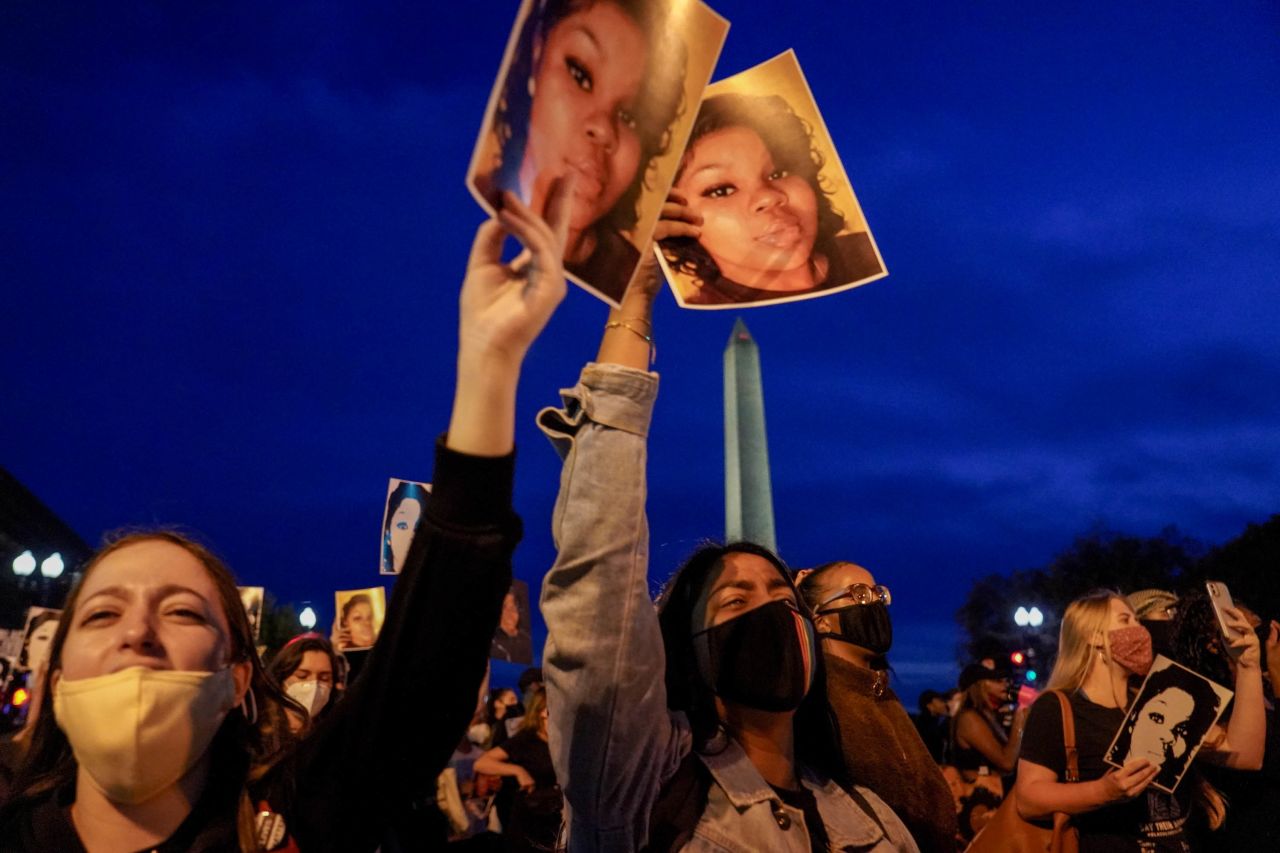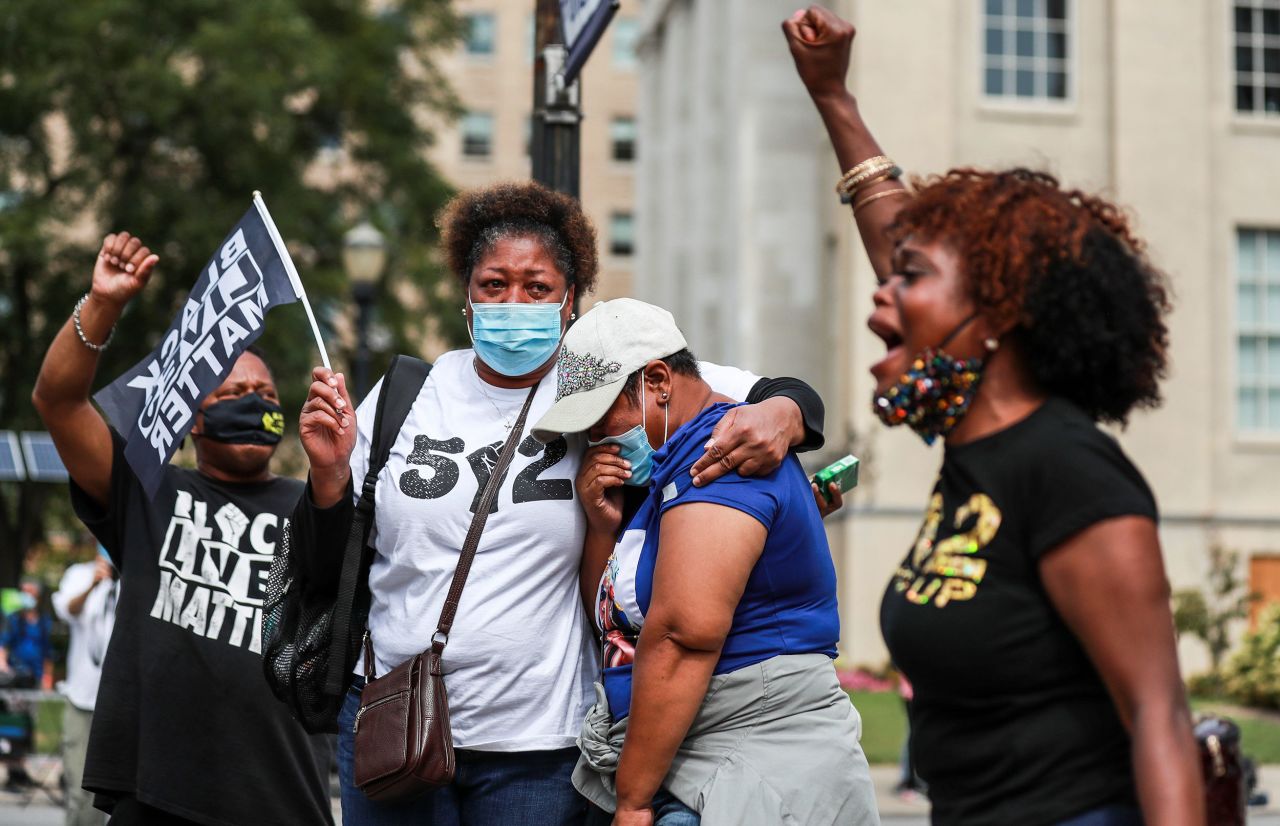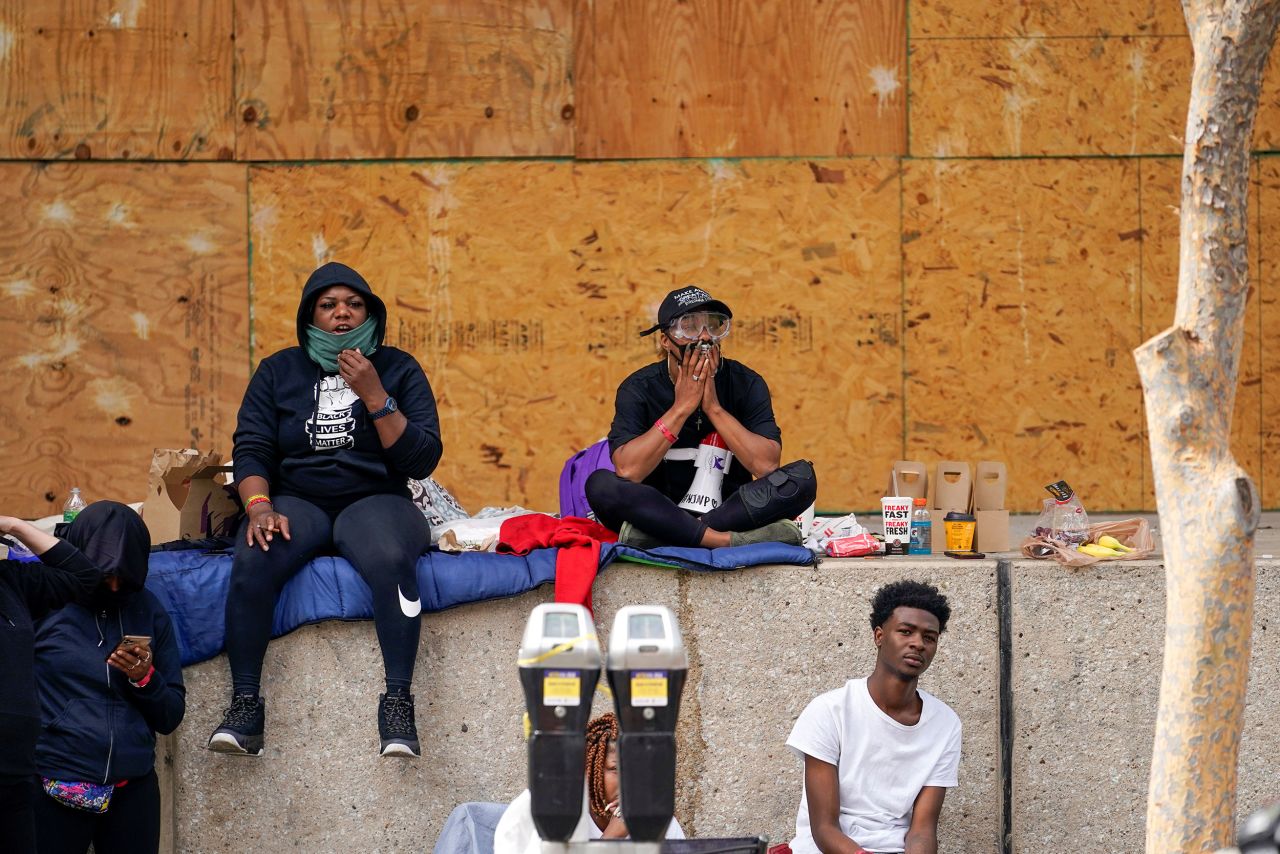 In pictures: Breonna Taylor decision sparks protests
The deadly raid on Breonna Taylor's home
The incident that ended Taylor's life began with a narcotics investigation on March 13.
Hankison, Sgt. John Mattingly and Det. Myles Cosgrove were executing a search warrant on Taylor's home, though her ex-boyfriend was the focus of the probe. Her ex-boyfriend was later arrested on drug charges and told a Kentucky newspaper that she had nothing to do with the probe into an alleged drug trade that spurred the warrant.
Taylor was sleeping next to her boyfriend, Kenneth Walker III, in the early hours of March 13, when they heard a noise. They both got up and walked to the door.
"She's yelling at the top of her lungs – and I am too at this point – 'Who is it?'" recalled Walker. "No answer. No response. No anything."
Police forced entry into the home, and Walker said he couldn't see but he fired one shot. After entering, Mattingly was shot in the leg, Cameron, the attorney general, said Wednesday.
The chaotic police operation that night was exacerbated by Hankison, who was accused by his own department of "blindly" firing 10 bullets into Taylor's apartment from an outdoor patio. Hankison was fired in June, the Louisville police chief said, but he is appealing his termination. His attorney, David Leightty, has declined to comment.
Cameron argued the officers were "justified in their use of force" because Taylor's boyfriend fired first.
An attorney for Taylor's mother said the grand jury's decision "does not make legal sense" and questioned Cameron's statement that the officers' actions were justified.
"One shot that Kenny Walker fired does not justify 32 shots being fired blindly into Breonna's apartment without target acquisition," lawyer Lonita Baker told CNN.
Romines, Walker's attorney, also disputed Cameron's assertion, telling CNN on Thursday morning, "That's what a jury is for."
"We have to present our evidence to a jury and let a jury decide if they were acting in self-defense or not," he said.
Charges aren't related to her death
Hankison was charged with endangering not Taylor's life, but those of the people in the next apartment, Crump said.
The decision was an insult to Taylor's family and an outrage to the community, he said.
"The fact that you're going to charge for bullets going into an apartment but not for bullets going into Breonna Taylor's body is outrageous," Crump told CNN on Wednesday. "There are two justice systems in America: one for Black America, one for White America."
First-degree wanton endangerment is a Class D felony, the lowest of four classes of felonies. The maximum sentence is five years; the minimum is one year.
The NAACP in a statement said the justice system "failed" Taylor and the charges against one officer do "not go far enough."
"The decision before my office is not to decide if the loss of Breonna Taylor's life was a tragedy," said Cameron, the first Black person to serve as the state's attorney general and a rising Republican star. "The answer to that question is unequivocally yes."
Cameron called Taylor's death "a gut-wrenching, emotional case." He defended the length of the investigation, saying the time reflected "how important it was to get this right."
"I certainly understand the pain that has been brought about by the tragic loss of Ms. Taylor. I understand that as an attorney general who is responsible for all 120 counties, in terms of being the chief legal officer – the chief law enforcement officer, I understand that. I understand that as a Black man how painful this is, which is why it was so incredibly important to make sure that we did everything we possibly could to uncover every fact."
CNN's Jason Carroll, Jamiel Lynch, Eric Levenson, Konstantin Toropin, Mark Morales and Shimon Prokupecz contributed to this report.