A 19-year-old woman from the Dalit community in the northern Indian state of Uttar Pradesh died Tuesday, two weeks after she was allegedly gang-raped and strangled by upper caste men, local authorities said.
Hathras district Police Superintendent Vikrant Vir said in a statement posted on Twitter that the incident took place on September 14. The victim was first admitted to a hospital in Uttar Pradesh and and later transferred to New Delhi due to the severity of her injuries.
Four men have been arrested and booked for rape and murder and an investigation is underway, according to the police in Hathras.
All four men were from an upper caste and have also been booked under the law for crimes against minorities, according to the statement.
In India's caste-based hierarchy, Dalits – who are ranked the lowest and have been referred to as "untouchables" in the past – experience severe discrimination. India's caste system was officially abolished in 1950, but the 2,000-year-old social hierarchy imposed on people by birth still exists in many aspects of life. The caste system categorizes Hindus at birth, defining their place in society, what jobs they can do and who they can marry.
Rahul Gandhi, a senior leader with India's main opposition Congress Party tweeted that "Uttar Pradesh's 'class-specific' rule of the land has killed another woman. The government said it was fake news and left the victim to die. This unfortunate incident, the death of the victim and the callousness of the government – none of this is fake news."
According to human rights organizations including the United Nations Human Rights Council, Human Rights Watch and Amnesty International, Dalit women are particularly vulnerable to caste-based violence and discrimination.
Last month, a 13-year-old Dalit girl was raped and murdered in Uttar Pradesh. Last year, two Dalit children were allegedly beaten to death after defecating in the open. In 2018, a 13-year-old girl from a lower caste was beheaded in the south of the country, allegedly by an assailant coming from a higher caste.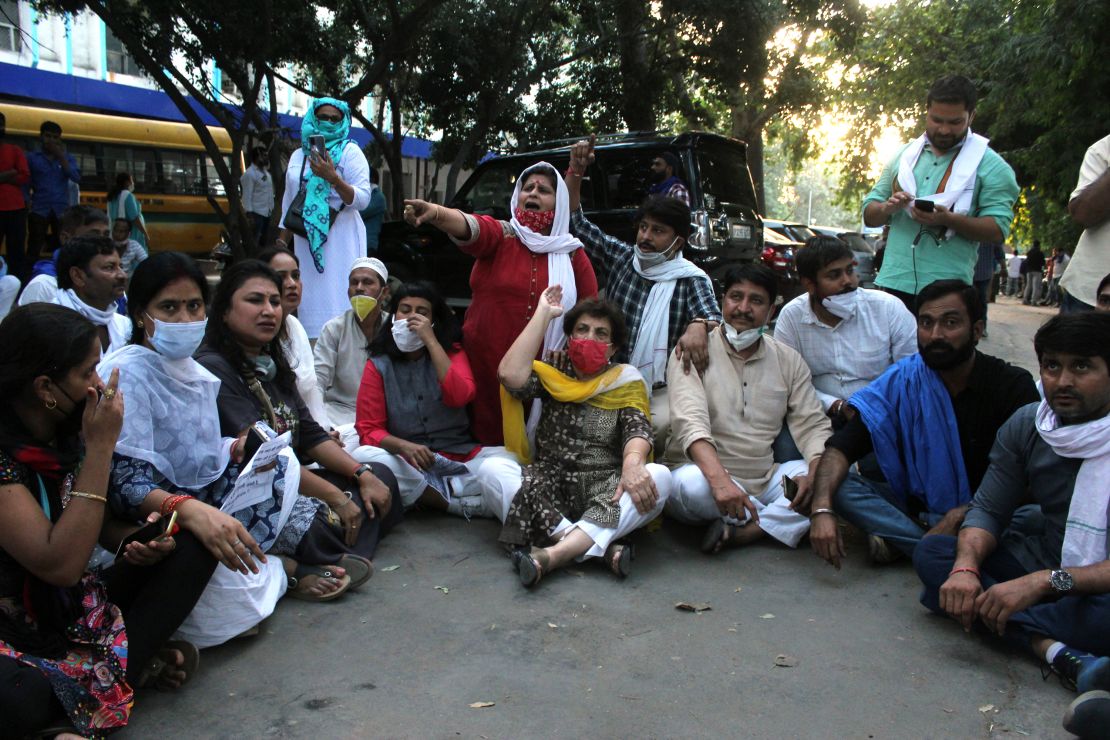 Advocates for equal rights for Dalits organized a small rally outside the Delhi hospital where the woman was being treated on Monday.
The leader of the group, Chandrashekhar Azad tweeted: "Me along with the victim's family are protesting outside Safdarjung hospital right now. We will not tolerate this anymore. We will get justice."
A number of Indian celebrities, including Bollywood actors and professional athletes, have used their social media to call on the government to adopt policies to protect women.
According to India's National Crime Records Bureau, more than 33,000 cases of alleged rape were reported in the latest available figures from 2018 – roughly 91 cases each day. But experts say that the real number is likely much higher, owing to the shame attached to sexual assault and the social barriers faced by victims that prevents them from reporting attacks.
Swati Gupta reported from New Delhi and Ivana Kottasová wrote in London.