California's relentless fire season is leaving residents stressed, scared and wondering how much more they can take.
Nearly four million acres have burned across California in 2020 alone and more than 8,000 structures have been damaged or destroyed, according to California fire officials.
The devastation, combined with the impact of the coronavirus pandemic, has longtime California resident Jan Zakin exhausted by the cycle of worry and repeated evacuations.
"It's just devastating this is happening again," Zakin told CNN. "It doesn't stop. We just had this happen a month ago and also last year and it was so frightening. It's like we can't run away from the fires."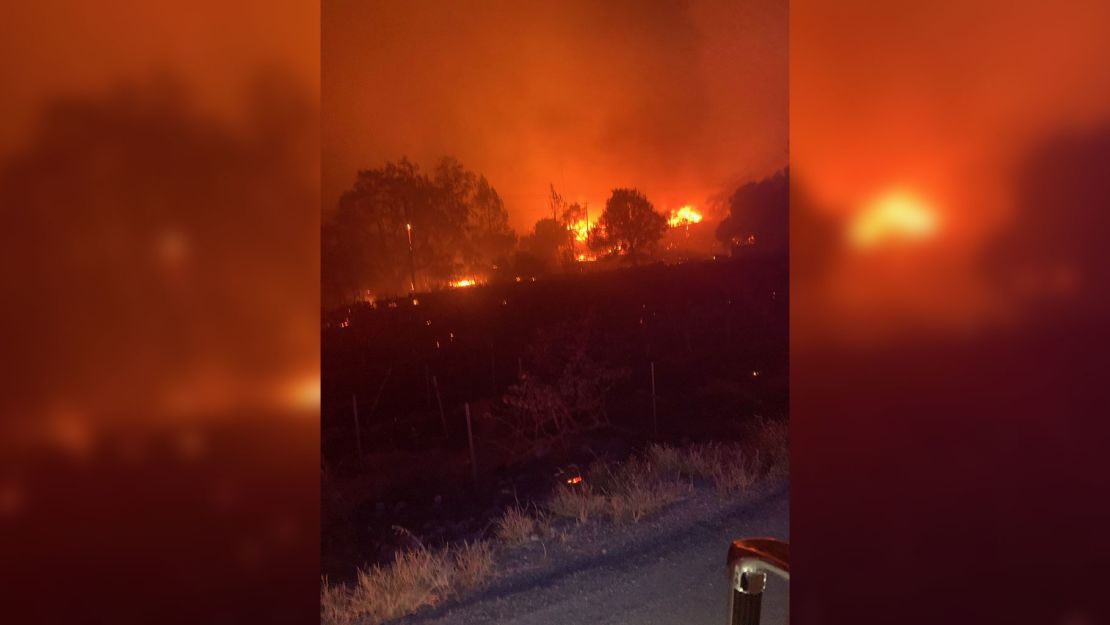 Zakin lives in St. Helena near Napa Valley, which is threatened by the Glass Fire. She and her family were forced to evacuate in the middle of the night Sunday as the flames closed in.
"We didn't have any notice," Zakin said. "My husband woke up to go to the bathroom and he looked on his phone to see what the warning was, and it said evacuate immediately … and within minutes there was a wall of fire that we could see. I was in my underwear. I didn't even have time to put pants on."
As Zakin and her family traveled a short distance down the road from their home, there was fire on both sides and very heavy smoke that reminded them of previous years. The family checked in to the nearby Wine Country Inn but within hours, they were asked to evacuate there as well.
"We then went to further into St. Helena to stay with a friend but within 30 minutes, the fire came there too and we got evacuated again," Zakin said. "The third evacuation, I felt like I just kept reliving the horror."
While some Californians have made the decision to relocate altogether, the Zakin's threshold to leave is extremely high because they own vineyards situated on 150 acres. Although they are deeply tied to the property they purchased in 1998, Zakin said the recent evacuation was stressful enough for them to reconsider staying.
The Glass Fire in Sonoma and Napa counties has burned 56,781 acres since it sparked Sunday and is 5% contained.
The Zogg Fire in Shasta and Tehama counties also started Sunday and has grown to scorch 55,303 acres and is 26% contained, according to Cal Fire.
Wildfires are a natural part of California's landscape, but this year in particular has been extremely devastating because warmer spring and summer temperatures, reduced snowpack, and earlier snowmelt are creating longer and more intense dry seasons. Climate change, a key driver of this trend, is making forests more susceptible to severe wildfires, Cal Fire said.
After a couple days of active fires and intense uncertainty, Zakin went back to her property Thursday to find it mostly intact. The family attributes this to the protective measures they took to clear away highly flammable material and brush so there were few paths for the fire to travel.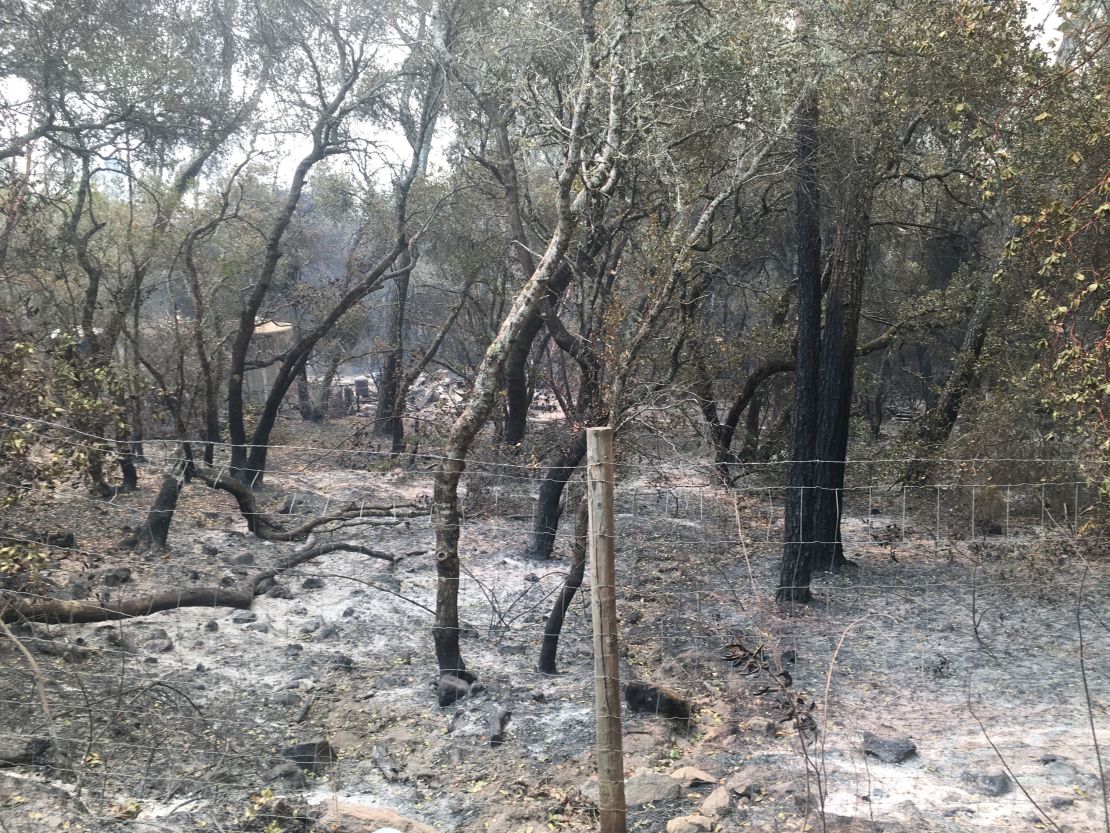 "Basically everything around the property has burned, but after the last year's fires, we did everything they told us to do," Zakin said. "We really cleaned up the perimeter, so we were lucky. But all of our cypress trees are gone. All of our rosemary is gone."
Zakin said she was glad to learn no one in the immediate area was hurt in the fire, but she was devastated to learn one of her two dogs that ran away during the evacuation died from burns.
Anna and David Matherly also fled the Glass Fire and their dream home in the Skyhawk neighborhood, they thought they would never see it again.
"When we drove out and looked back, I told my son, Skyhawk is gone. They cannot stop this fire," David told CNN affiliate KGO.
On Tuesday they made the eight-mile hike to learn the fate of their home. Much to their relief, it was still standing, with two bottles of sparkling wine they left waiting in their refrigerator, KGO reported.
But elsewhere families are feeling intense loss from the blazes. Combined, the Zogg and Glass fires have already taken down at least 350 structures and tore through vineyards.
One man who was taken to the hospital with significant burns on the day the fire started has become the fourth person to die in the Zogg Fire.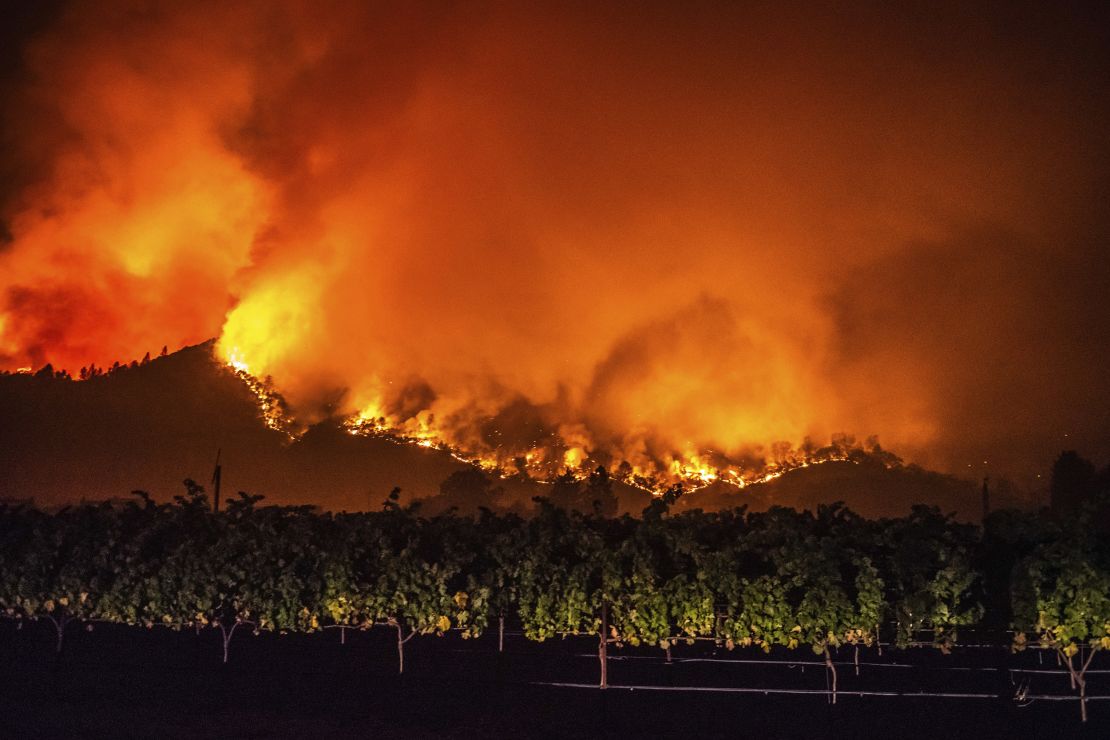 Weather conditions fuel the fires
The blazes that began Sunday have been fueled by little rain, high temperatures and strong winds.
"The fire continues to burn in grass, oak woodland, chaparral, and mixed timber," a Cal Fire Incident update said Wednesday. "Hot and dry conditions are forecasted again for the evening with a northwest wind developing across the area."
The National Weather Service has warned that the hot weather will continue, issuing a heat advisory Tuesday for the region, with temperatures possibly reaching 105 degrees in the hottest locations. Nearly 30 million people in the state are under those heat advisories.
Red flag warnings were also issued in the North Bay area, where the Glass and Zogg fires exploded in a matter of hours, starting Wednesday night due to low humidity and breezy conditions anticipated overnight, NWS Bay Area said on Twitter Wednesday.
Wind will likely also push smoke from numerous fires to cover Napa and portions of the Bay area through at least Friday, the weather service said.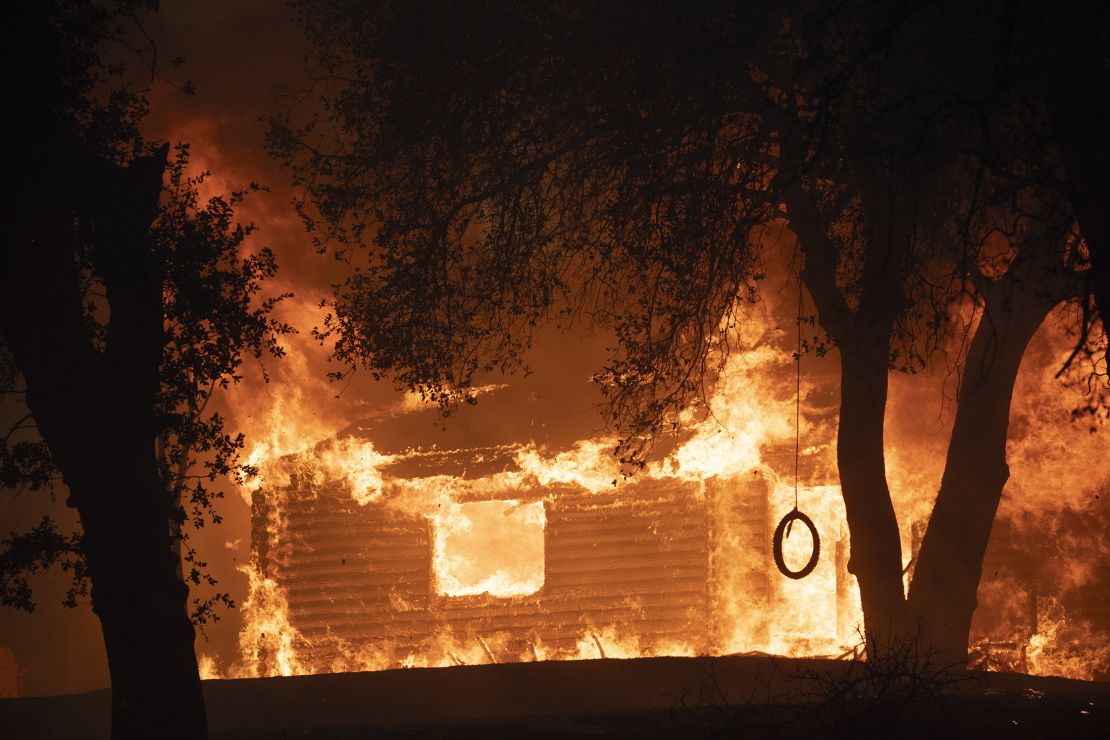 Firefighters received some good news Thursday as Cal Fire announced the massive SCU and LNU Lightning Complex Fires are now fully contained.
The SCU Lightning Complex Fire is the third largest in state history and scorched 396,220 acres in the Central Valley and Northern California. The LNU Lighting Complex Fire burned 363,220 acres in Northern California and is fourth largest fire in state history, Cal Fire said.
Fire crews overwhelmed by the blaze
Those on the front lines have been exhausted by a long season and by the fires themselves.
"Most of (the firefighters) been going since the middle of July, without rest from fire to fire to fire here in the northern part of the state," said Cal Fire Incident Commander Billy See.
And many have spent long hours working to get the Zogg and Glass fires under control.
A fast-moving blaze forced two firefighters to deploy shelters Sunday night as they were overtaken by intense conditions fueled by high winds, Cal Fire said in a release. The shelters are aluminized cloth tents that reflect radiant heat and offer breathable air.
The firefighters were uninjured but several transport vehicles were damaged.
"We still have months to go for fire season," said Cal Fire Unit Chief Shana Jones. "And that means that this could happen again. I pray to God it does not, but we still have a lot of fire season to go."
CNN's Jason Hanna, Dave Hennen, Nicole Chavez, Justin Lear, Stella Chan, Sarah Moon, Cheri Mossburg, Jon Passantino and Joe Sutton contributed to this report.