Editor's Note: Kate Andersen Brower is author of "The Residence," "First Women," "Team Of Five" and "First In Line," and consultant on the CNN Original Series "First Ladies." Kate Bennett is a White House Correspondent for CNN. The views expressed here are their own. View more opinion on CNN.
"Sometimes you can only be what you know exists in the world. And no one like me was ever the first lady of the United States."
Those are some of the first words you hear Michelle Obama say in the opening scenes of "First Ladies," CNN's new series profiling six women who've held the position. And as with so many Obama quotes, this one works on multiple levels.
Obama, of course, is a singular FLOTUS: She's made history as the country's first African American first lady. She's also faced and overcome more criticism, and has had to walk a narrower tightrope, as a result.
And as we see in the "First Ladies" premiere, Obama brought something truly distinct to this role: Her unfailing ability to be unapologetically herself. This pushed all of us to look at the position of first lady in a new way, and four years after she departed the White House we're still learning about her impact.
Below, we're breaking down some of our favorite moments and key takeaways from this episode (and maybe even sharing a little dirt along the way). Let's dig in!
Kate Andersen Brower: My first thought: There's been so much stunning news coming from the East Wing in the last few days, this feels like another lifetime.
Kate Bennett: That Isabel Toledo yellow Michelle wore is still such a great look. I love that Toledo had no idea she was even going to wear her design. A lot of the clothes Michelle wore reflected diversity; she always thought, "They're going to talk about my clothes anyway, might as well use them for good."
And yes, um, no question there about the crowd size!
Brower: 🤣
I like this early video of Michelle campaigning before she was carefully styled. How would you describe her style before the days of Meredith Koop?
Bennett: I think she was teetering on that line of, "Am I dressing as a professional woman? Or am I dressing in a way that reflects my personality?" And when Meredith started working for her in 2010 I think she helped Michelle see how she could be both.
I think it was smart – and a huge gamble in a way – for Michelle to pluck Meredith from the Ikram Goldman boutique in Chicago. Meredith was a sales associate, and when Ikram couldn't be on call for Michelle it was Meredith who would step in. Meredith had a vibe Michelle liked, and more than a decade later she's still styling her.
It's also amazing to see in this early footage how good Michelle was at the mic right off the bat as a novice to presidential politics. A natural, really.
Brower: Absolutely. And her willingness to be vulnerable, to tell strangers about her father's multiple sclerosis and about growing up without much money – it's so endearing that it's easy to forget how much pressure she must have been feeling every single day.
Like this scene when David Axelrod recalls asking her to watch a video of herself from the 2008 campaign trail so she could see how she was being perceived as "angry." And I remember when she said this in Wisconsin in 2008: "For the first time in my adult lifetime I'm really proud of my country, and not just because Barack has done well, but because I think people are hungry for change."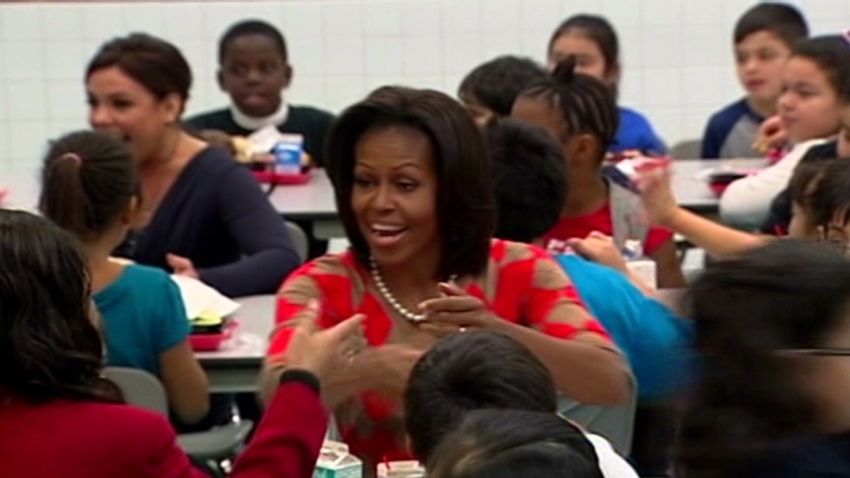 First lady tries to shed 'angry' image
It was really her first misstep, because some people took it as her saying she didn't value America – though I never understood why people were so critical. Of course it's incredibly difficult to be Black in this country; Barack Obama had to have a security detail earlier than any other candidate in presidential history because there was concern for his safety.
I wonder if we've made enough progress that Kamala Harris could say what Michelle did without anyone batting an eye. I hope so.
Bennett: It's amazing that was even a controversy. Michelle's ability to allow people to see and understand how she feels is always very clear to me.
Like when she says, "I felt like our family got launched out of a cannon and into some strange underwater universe" after they won the 2008 election – that is such a good description.
Ah! And the great Jason Wu inaugural gown with the white flowers! Launched his entire career!
Brower: That is the most gorgeous inaugural gown ever.
And her description of what it's like being first lady: "A strange kind of sidecar to the presidency," indeed.
Bennett: When she started calling herself "Mom-In-Chief" I thought that was good because she was attaching a viable label to the first lady role, but I felt it sort of downplayed what her other talents were? She's so multidimensional.
Brower: I always thought so too. In a way I saw it as undermining her incredible accomplishments, which I now think was unfair. I didn't have the perspective to see how she was making a powerful point by celebrating her role as a mother.
Bennett: Definitely. And she was also acknowledging that motherhood writ large is a daily struggle and a job of its own. Balance is not always possible.
I remember she once said she brought Sasha to a job interview when she was four months old. She never glossed over the challenge of being a working parent, which is why she's so relatable.
The thing that Michelle got so right was being able to portray that she's all of these things – mom, wife, first lady, accomplished career woman, modern observer of contemporary trends, intelligent. By saying mom-in-chief, for me, it felt a little limiting. But I never felt like some did that she was giving up her career or her independence by using that label.
Also, it wasn't a role that we, the American people, always saw her play, right? We weren't in the moments of being home or hearing her have conversations with her daughters to make sure they were okay each and every day. Which I also think was to her credit! I always say the best thing Melania Trump has done is make us forget a minor child lives in the White House …
Oh no. And now we're talking about the arms.
Brower: The arms! I always thought they were magnificent, and everyone wanted them.
Bennett: Me too! I don't know anyone who didn't envy her! I started going to Solidcore – where she still goes, by the way – because I wanted those arms!
Clearly shows the criticism about her going sleeveless must have come from some man somewhere 😒 The comments felt sexist – and for me also smacked of racism. When previous first ladies didn't wear sleeves, no one freaked out or commented or noted their muscles, or lack thereof.
Again, it's an example of this underlying baggage that Michelle had to really carry as the first African American first lady. That micro-aggression that rears up, even when she's just saying "hi" to the Queen.
Brower: Oooh, I loved her hugging the queen. She said she would do it again.
Bennett: I DID think the cardigan to meet the Queen was too informal. I was part of that peanut gallery 🤷🏻‍♀‍
Brower: It was really just an arm, not a full hug, to be fair.
Bennett: Didn't mind the hug. Did mind the cardi.
Brower: If you don't cry watching this scene at Elizabeth Garrett Anderson school in London, then you don't have a pulse. So heartfelt.
Bennett: OMG so true. She's best off the cuff, especially to girls.
I know it sounds melodramatic, but I really think she made being first lady relatable.
Brower: Couldn't agree more. ✔️ Michelle learned from Hillary Clinton: Don't get too political. People did not want a first lady weighing in.
Michelle did end up working with President Obama to pass legislation around the Let's Move initiative, though; he joked that he had to make sure the bill passed or he "would have been sleeping on the couch," it was cute.
Bennett: Eating healthy is such a bizarre thing to politicize, but she did sort of walk right into it; the White House garden was a brilliant conduit. And sorry but Sam Kass is 😍
I also think social media humanized the Obamas in a way that had never happened before in a presidency, and definitely not since.
Brower: This is what Tina Tchen said about that: "As a lawyer I will say that I was one of the strong naysayers against the president or the first lady ever having a Twitter account, because words matter. Every presidential statement is heavily vetted." 🤣🤣🤣
Bennett: It sounds so precious now, right??
Brower: I always thought Michelle Obama tried to "go high" the whole time she was first lady. It must have taken an incredible personal toll.
I'm sure you feel the same, but any time I wrote about Michelle I would get the most racist, sexist emails. People saying she looked like a man and all sorts of things I don't even want to repeat.
Bennett: Totally. It was out of control. Still is. It sometimes feels like those people who say awful things about her feel free to do it openly now, as though that's just the climate we live in. It's almost like she gets it more today than she did as a first lady. Which is terribly sad.
Brower: Have you ever asked Melania if she regrets being a birther? I'm curious since you've covered her so closely …
Bennett: Trust me, I've asked! I think I've asked her about those birther comments she made at least once every few months. Never get an answer.
Brower: Now we're up to the horrific Sandy Hook shooting in 2012. I've never understood how they keep it together. Going to Hadiya Pendleton's funeral, meeting with Sandy Hook parents. I mean, how do you not cry all the time? They must wall themselves off.
Bennett: I know. That's also where she had a balance. Strong and stoic but also allowing herself to cry, or have her voice break.
How Michelle Obama responded to gun violence as first lady
Brower: Thinking of all of the terrible things that have happened during this administration, including all of the lives lost in the pandemic and the Parkland shooting, I have to ask: Do you think Melania breaks down in private, when no one is watching?
Bennett: I really don't. The one thing that maybe broke her was the little boy in Italy she visited in the hospital – she even recounted the story in her RNC speech this year. I think she really felt his story.
I've seen Melania encounter many, many sad things; when we were at a border facility with little babies, she was down on the floor playing with them, talking to their mothers, seeing the setting. It was … a lot. Her nature is so private and protected; we don't often hear from her on her own views. Even this week, it was through secretly recorded tapes.
One of the press pool reporters, a new mom, lost it, just cried and cried. But Melania held it together. I would imagine Michelle had experiences like that times a million.
Brower: I think the timing of this conversation in the episode is amazing. When racial injustice is at the forefront of our national conversation, it's important to remember the Charleston church shooting, Michael Brown and Trayvon Martin – all that happened during the Obama presidency, and the delicate dance the Obamas did. Their progress really did lead to some of the darkest parts of this country emerging.
Bennett: Completely. And the way they've handled it now that Barack is out of office. The timing, the need for the discussion and the honesty. They are such a part of the national conversation.
Do you think we'll hear more from Michelle before the election?
Brower: Yes, absolutely. But it will be very targeted. She will talk to audiences who she can persuade and/or energize to vote. She's very methodical; she hates politics but she's a natural politician.
What do you think of the outfit Michelle wore on Inauguration Day 2017? It was quite a statement, much more subdued than usual.
Bennett: So good. I loved it.
Brower: I thought she was so devastated that day. It showed on her face and in her choice of outfits: beautiful, but somber. I love the authenticity that she brought to the White House.
Bennett: I honestly think the gift of Michelle Obama's tenure as first lady is that we saw the struggle between being in this antiquated spousal support position and trying to bring it into modern times in the middle of all of these important and major issues. And we read them through her.
It can be a complicated and messy role, and people can be wonderful but also incredibly cruel and critical. Her story reflected all of that.
Brower: You're so right; the tension of bringing this anachronistic, nebulous role into the 21st century is still alive and well.
Next up, we'll talk about Jackie O.
Until next week, Kate.
Bennett: Talk soon!
"First Ladies" airs Sundays at 10 p.m. ET. Catch up on past episodes on CNNgo.