When Alvan Godwin suffered a psychotic episode linked to schizophrenia in November 2018, his parents took him to church for prayers. His mother was of the opinion that his illness was a 'spiritual attack' linked to evil spirits.
"My mum thought it was something spiritual from her side of the family. So they took me for prayers with the hope that I'd be cured of whatever was wrong," he told CNN.
"My aunt advised my dad that they should take me to camp for prayers against evil spirits. I remember I was laying down on the ground and people were all over me praying. I didn't want to react but the prayer wasn't working," Godwin said.
He added that when they realized on the way back home from camp that the expected healing didn't happen, they brought in another pastor to pray for him at home.
In parts of Nigeria, it is common to attribute mental illness to supernatural factors such as witchcraft or repercussion for sins against God, according to a report in the Integrative Journal of Global Health.
As a result, people with perceived symptoms of disorders are believed to be possessed or in need of unorthodox healing from traditional healing centers, and at Christian and Islamic faith-based facilities.
At the time Godwin was 18 and he recalls being overwhelmed with fear, hearing voices and crying in distress.
"I felt irritation all over my body. The sound of the fan in the room made me paranoid, I felt like it was rolling too fast and it would cut off and kill me. There were so many confusing voices talking to me in my head," he said.
Godwin's family doctor eventually referred him to a specialist after hearing about his symptoms, "that's when we went to the psychiatric hospital," he said.
In his case, he was later diagnosed with paranoid schizophrenia and placed on drugs. "I was so relieved to know what was going on with me. My parents too were relieved knowing it was nothing spiritual," he said.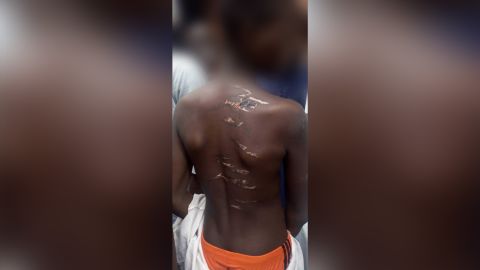 Chained and locked up
Mental health illness is so poorly understood that in some cases, people with these conditions are chained and locked up in unorthodox facilities across the country including traditional healing and religious centers.
According to a 2019 report by Human Rights Watch (HRW), people in these facilities are subjected to different forms of abuse including force-feeding them medicine and herbs and whipping as part of their treatment.
A 22-year-old woman who suffered a mental health crisis after her mother's death told the human rights group that she had been held captive in a church for five months and denied food as part of a "spiritual cleanse" for her condition.
"I was tied with chains for three days straight so I could fast. For the three days, I had no food or water. It wasn't my choice, but the pastor said it was good for me. Sometimes if they say I should fast and I drink water or take food, they (the church staff) put me on a chain," she said in the report.
Similarly, an Islamic faith healer in northern Nigeria told HRW that he whips patients, leaving scars on their body, as a way to 'treat' them.
"If you are treating someone who is mentally unwell and he acts in a way that is causing a disturbance, you will have to treat him. Some of them might be talking to themselves or suffer from lack of sleep…. For some of them, getting enough sleep will help. For others, we need to whip them – once, twice … up to seven times," he said.
Dr. Nancy Orjinta, a resident psychiatrist at the Federal Neuropsychiatric Hospital in Lagos, said keeping people with mental illness in such facilities can impact their health negatively and damage their self-esteem.
"I have seen patients who were chained for months battle with self-esteem issues. Keeping someone locked up will not only harm them physically, but they will start to feel low and dehumanized too," she said. She added that such conditions can lead to post-traumatic stress disorder (PTSD), an anxiety disorder caused by traumatic or distressing events.
Not enough psychiatrists
One of the reasons people visit religious and traditional healing centers for mental illness is a lack of understanding of mental health issues in the country, according to Dr. Orjinta.
Dr. Orjinta, told CNN that in many cases, Nigerians seek mental health care from unorthodox places, especially religious centers before considering going to the hospital.
However, delaying mental care by not immediately going to hospital prolongs the time the patient stays without appropriate care and "may create the worst outcome for the patient as they have more symptoms," she said.
"There is still a stigma around mental illness. People perceive it in a negative light and as a result they don't want to address it if they have symptoms. They want to keep on hiding it," she explained.
She also added there aren't enough mental health professionals in the country, making it difficult to access mental health care. For example, with a population of more than 200 million people, there are only 250 practicing psychiatrists in the country.
"There is a disproportionate sharing of mental health professionals, we don't really have them in rural areas. And if someone lives in such areas without mental health care, of course, they will find alternatives for care like traditional healers or churches," Dr. Orjinta explained.
Clampdown on rehabilitation centers
In recent times, authorities in Nigeria have rescued hundreds of people held under inhumane conditions in a clampdown on religious rehabilitation centers.
In September 2019, for example, police rescued more than 300 men and boys from an Islamic school in Kaduna, northern Nigeria. Some of them told the police they had been sexually abused and tortured by their teachers.
President Muhammadu Buhari also said in October of the same year that he would look into the activities of some Islamic rehabilitation centers, which have long been accused of abuse.
But mental health advocates say this is not enough.
Hauwa Ojeifo, a mental health activist and coach told CNN that Nigeria needs strong legislation that will set the standards for psychiatric treatment.
Data on mental health in the country is hard to come by, but an estimated 20-30% of the country's population is suffering from mental disorders, according to a 2016 report in the Annals of Nigerian Medicine Journal.
And in 2017, a World Health Organization report found that Nigerians have the highest incidences of depression in Africa, with more than 7 million people in the country suffering from depression.
Ojeifo who is also the founder of She Writes Woman, a non-profit focused on providing mental health support in the country said she wants a mental health bill that will encourage mental awareness in the country to be passed.
She described Nigeria's 1958 Lunacy Act, the current legislation governing mental health in the country as "outdated" and "discriminatory."
Under the act, people with mental health conditions are allowed to be detained, even without the provision of medical treatment.
"I don't just want any mental health bill to be passed. I am very particular about the content of the bill too. I want it to be respectful and accommodate the rights of persons with mental health conditions," she told CNN.
Mental health awareness
Mental health awareness is needed to combat the widespread use of religious and traditional healing centers for mental care, according to Dr. Orjinta.
"The media needs to come in to report mental health without framing it in a bad or scary way like some do. The same way you can say someone has a problem with his leg, you should be able to say someone has a brain problem. It should be like every other illness," she said.
She added that she is optimistic Nigeria will eventually get to a place where there is a minimal stigma regarding mental health. "It won't be drastic and it will require many people like the government, media, and religious institutions putting in the effort, but I am optimistic."
Godwin who was initially taken to church for prayers says care outside medical facilities should not be the first resort.
"There are drugs and medical facilities that can help with mental illness. I am not saying people who attribute it to spirituality are wrong, but I'd say there are other ways. Medicine is capable," he said.
He added that in his case, he wished he was taken to the hospital first for quicker diagnosis, before being subjected to religious healing.