For the second time in as many weeks, France is reeling from the devastation of a brutal knife attack that authorities are ascribing to an Islamist terrorist.
On Thursday, three people were stabbed to death at a church in the French city of Nice. While the investigation is still underway, French President Emmanuel Macron said after the incident that the country was under attack by "Islamist and terrorist madness."
Thursday's killings follow the murder on October 16 of Samuel Paty, a teacher in the northern Paris suburb of Éragny. He was beheaded after showing cartoons published in the satirical magazine Charlie Hebdo depicting the Prophet Mohammed to students in his class. An 18-year-old Chechen refugee admitted to the killing in a social media post before being shot dead by police.
The name Charlie Hebdo will be familiar to anyone who remembers the terror attacks that took place in 2015, when gunmen forced their way into the magazine's offices in Paris and murdered 12 people. The attackers allegedly said they were avenging the Prophet Mohammed. Charlie Hebdo, a small magazine known for provocative and often offensive images and articles, had published caricatures of the Prophet in 2012.
Many Muslims consider images of the Prophet Mohammed to be highly offensive. "'Of course, these caricatures are bothering me but I don't look at them, I just think nothing justified killing a soul, whatever happens," said Rania, a 22-year-old student in Paris. "I believe in God enough to think that it's not up to me to make the law."
The recent attacks are reminders of the tensions in France's secular society, which frequently extols the values of free speech and freedom to practice religion. France is home to 5 million Muslims, many of whom live in poorer areas and are often marginalized in politics and media.
The vast majority of France's Muslims do not support Islamic extremism, but often face unfair stereotypes, experts say.
"I believe there's been an attempt to Islamize poverty in France by the far-right which had bled into mainstream politics and media, making people see crime in suburbs as a Muslim problem, rather than a socio-economic problem," says Myriam Francois, a research associate at the Centre of Islamic Studies, SOAS, University of London. "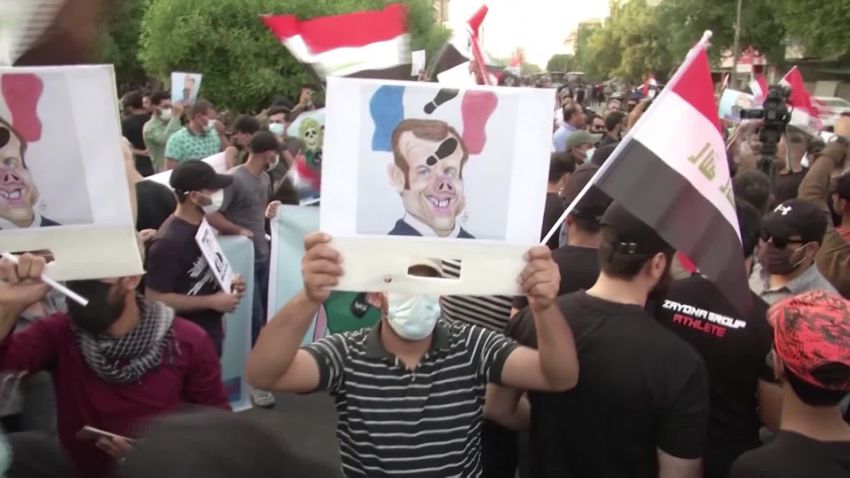 Anger against Macron grows among Muslims over comments on Muhammad cartoons
The fact that there's an audience for anti-Muslim rhetoric in the country will not come as news to anyone who remembers the French election of 2017, which came down to a second-round run-off between now-President Emmanuel Macron and Marine Le Pen, who then led the far-right French National front.
Macron may have won comfortably, but over 10 million French voters went with Le Pen, an anti-immigration candidate who claimed that France was "being attacked by radical Islam." The rising popularity of Le Pen's party pushed concerns about Islam into the mainstream, with French politicians introducing controversial laws in 2010 which prohibited Muslim women from wearing niqabs and burqas in certain settings.
Both far-right attitudes and France's long tradition of secularism may play into decisions by public figures in French media and in politics to criticize Islam in sometimes sweeping and derisive ways. The University of Bath's Aurelien Mondon, who specializes in right-wing populism, describes this as "punching down" on an already struggling minority.
"France has a long history of satirical media, and it traditionally punches up as Charlie Hebdo once did. In recent years, it has started punching down, particularly when it comes to Muslims. When you do that in a country where there is structural Islamophobia, there is a real risk to create more stigma and exclusion," says Mondon.
Mondon believes that some are misinterpreting France's historic principle of secularism. "The law of 1905, which separated Church from state, clearly stated you would face penalties if you force someone to follow a religion and equally if you prevent someone from following their religion. In the context of modern France, what we are seeing is the latter with women and girls being forced to remove their hijabs, niqabs and burqas."
"The climate of Islamophobia is pushing me to think about my own position, as a Muslim in France, and I'm thinking of alternatives if the situation keeps getting worse," says Seydi Ba, a Paris-based law student who is 25.
Hear from Nice's mayor after deadly knife attack in church
France has a long and cherished tradition of freedom of expression, and there can be no justification for attacking cartoonists or journalists for what they say or draw.
After the Charlie Hebdo attacks, many French people signaled their support for its unconditional exercise of free speech with the slogan #JeSuisCharlie. But hateful speech should not be mistaken as an integral part of French identity, says Francois. "It's entirely possible to be horrified at the murders that have taken place while also believing what Charlie Hebdo does is offensive," she says.
"The problem for France is when people start pretending that Charlie Hebdo's right to offend is a barometer of national identity. It basically prohibits a point of view and implies that if you don't support Charlie Hebdo, you are not fully French."
Things get even messier when the state appears to back a particular side. Macron has publicly supported Charlie Hebdo's right to publish whatever it wants. The images Paty showed were in a class about freedom of expression backed by the French education system. And a Charlie Hebdo front page was projected onto public buildings in Toulouse and Montpellier, which both have substantial Muslim populations, last week.
"The decision of Macron to support caricatures does not seem very wise, it only accentuated division," says Leila, who is also 22 and studying in Paris. "The fact that the government supports Charlie Hebdo signals to Muslims of France and in the world that we can disrespect religion."
Leaders in the Muslim world have also taken sides this time. Turkish President Erdogan has accused Macron of discriminating against Muslims, questioned if he needs "some sort of mental treatment" and encouraged a global boycott of French goods. Pakistan's Prime Minister Imran Khan also also accused Macron of attacking Islam.
A spokesperson at the Elysée Palace, home of the French presidency, told CNN that Erdogan's attacks are "dangerous in every way."
And this is the seemingly impossible problem France faces once again. On one hand, freedom of expression – even the right to offend – is a cornerstone of French society. On the other, when the state champions crude, provocative or hateful expressions of opinion, it risks encouraging bias against the majority of French Muslims, who are not extremists and do not support terrorism.
Mondon says, "If we don't start discussing the broader societal issues facing France, we allow the narrative of two Frances: Muslims on one side; French people on the other. And that sort of division is not only incorrect but exactly what terrorists want."